Russia May Resort to 'Unconventional' Warfare After Losses: Former Colonel
Russian President Vladimir Putin may resort to desperate measures including "unconventional" warfare due to mounting losses in Ukraine, according to a U.K. military expert.
British Army Colonel Hamish de Bretton-Gordon on Thursday told GB News that the Russian war effort had been going "very badly" and that Ukraine may be "getting on the front foot." He said that Putin likely believes he "can't afford" a military failure in Ukraine, while warning that tensions surrounding Ukraine's Russian-occupied Zaporizhzhia Nuclear Power Plant (NPP) and threats by Russian officials suggests that a nuclear incident could be in the cards.
"Conventionally, the Russians are performing very badly," said de Bretton-Gordon. "We've seen the amount of tanks that they've lost, and troops. And they're now losing some sort of ground, which is why it is of increasing concern that the Russians may turn to unconventional—what we call asymmetric—warfare."
"We know that Putin, in his own mind, probably can't afford to fail in Ukraine because he will be over," he continued. "As we hear stories of nuclear power stations and others, and we get threats from the Russian Ministry of Defense and some of its supporters about the nuclear issue, we need to be absolutely on the balls of our feet."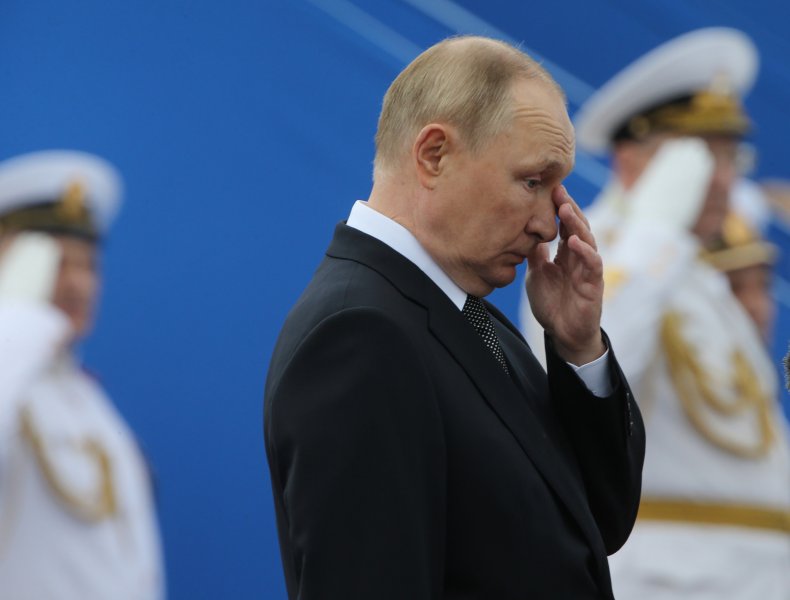 De Bretton-Gordon said that political concerns outside of the Russia-Ukraine war could become "horrifyingly unimportant if Ukraine doesn't prevail and we get involved in some dreadful sort of nuclear accident or attack."
He said that he believed the war in Ukraine was responsible for high U.K. inflation rates, which have also plagued the U.S. and many other countries since the conflict began on February 24.
"The reason that [fuel prices are high] is because of the Ukraine crisis pushing up the price of fuel because of its lack of supply," de Bretton-Gordon said. "The reason that food prices are going through the roof is because there's 40 million tons of grain stuck in Ukraine.
"If we want to get over the inflation drama at the moment, we need to make sure that Ukraine prevails," he added. "This is a generational fight that we're involved in, indirectly at the moment. We must make Ukraine prevail, otherwise we might be directly involved."
Although exact figures are unclear, the Russian military has suffered a large number of casualties during its war with Ukraine.
Earlier this month, U.S. Department of Defense official Colin Kahl estimated that Russia has experienced up to 80,000 casualties in less than six months—more casualties than the U.S. suffered during the Revolutionary War, which lasted over eight years.
The U.K. Ministry of Defense said this week that Russian failures to "enforce low-level battle discipline" had been causing recent "poor performance of Russia's forces," while noting that failures by poorly trained Russian tank crews in particular had caused "heavy attrition" in combat.
Newsweek reached out to the Russian government for comment.