Russia May Run Out of Missiles in Three Months: Intelligence Report
Russia may not have enough missiles to continue conducting massive strikes against Ukraine for more than three months, an Estonian intelligence official said in the wake of the newest Russian onslaught against its eastern European neighbor.
Since October 2022, Russia has been carrying out waves of attacks against Ukraine, targeting civilian areas and critical infrastructure like energy facilities. The strikes began after the Kerch Strait Bridge, which connects Russia to the occupied Crimean peninsula, and is also a key supply route for Putin's troops, was hit with an explosion in October. Ukraine did not formally claim responsibility for the explosion, but Putin blamed it on Ukraine, calling it an act of "terrorism," and vowed to respond.
The latest wave of strikes took place on Thursday. Valerii Zaluzhnyi, commander-in-chief of Ukraine's Armed Forces, said in a Telegram post that Russia fired 55 air and sea-based missile from aircraft and ships stationed in the Black Sea. Ukraine was able to destroy 47 of the missiles, including 20 that were "in the region" of the Ukrainian capital of Kyiv, Zaluzhnyi said.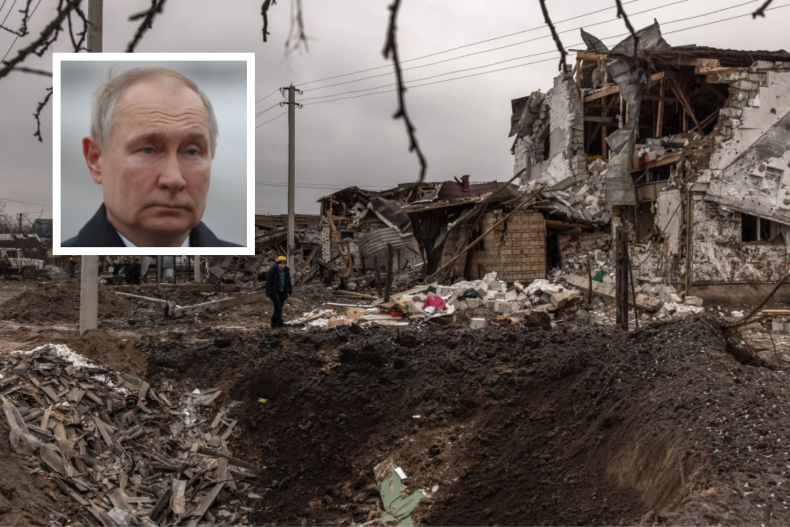 "The goal of the Russians remains the same—psychological pressure on Ukrainians and the destruction of critical infrastructure," he added. "But we cannot be broken!"
Estonia's Intelligence Chief Margo Grosberg said that based on Russia's current capability for producing precision-guided munitions, it could continue to carry out the missile strikes against Ukraine for three to four more months, Estonian public broadcaster ERR reported Friday. But this is the "most optimistic" outlook for how long the strikes could continue.
The "more pessimistic" outlook is that Russia could potentially continue the strikes for six to nine more months, Grosberg said.
How long the attacks will ultimately last depends on how many precision-guided munitions Russia had before the start of the war in February 2022—estimated to be around 2,500 missiles—and the continued production of missiles, Grosberg said.
Newsweek was not able to independently verify the intelligence and reached out to Russia's Defense Ministry for confirmation and comment.
Grosberg is not the only official who has predicted an eventual end to Russian strikes due to missile supplies. Ukrainian National Security and Defense Council Secretary Oleksiy Danilov told Ukrainian news outlet Pravda last month that Russia only has enough missiles to carry out three to four more strikes.
Ukraine's Defense Minister Oleksii Reznikov also said in a Twitter post earlier this month that Russian forces only had 90 Iranian-made drones, which have been used to attack Ukraine, left at their disposal.
Russia's Defense Ministry pledged in late December that it would "never" run out of Kalibrs, a type of Russian cruise missile.