Russia Military Aircraft Bursts into Flames, Crashes to the Ground in Video
Video shared on social media captured the moment a prototype of a Russian military aircraft burst into flames and crashed during a test flight.
The Ilyushin Il-112V military transport aircraft crashed near Moscow on Tuesday, the aircraft's manufacturer United Aircraft Corporation (UAC) said in a statement posted on Twitter.
A video of the crash that was posted online captured the plane flying at low altitude with one of its wings on fire. The aircraft is seen making a sharp turn before plummeting to the ground seconds later, prompting flames and smoke to rise from the crash site.
The crash occurred in a forested area as the aircraft was coming in for a landing at the nearby Kubinka airfield, the UAC said in its statement.
Two test pilots and a flight engineer were aboard the plane.
The RIA news agency cited a source as saying the crew died in the crash. But a spokesperson for UAC told the TASS news agency that the fate of the crew remains unknown.
"The plane was piloted by chief pilot of the Ilyushin Aircraft Company, 1st-class test pilot, Hero of Russia Nikolai Kuimov, 1st-class test pilot Dmitry Komarov and 1st-class test flight engineer Nikolai Khludeyev," the spokesperson told the agency. "The fate of the crew is still unknown and rescue works are underway."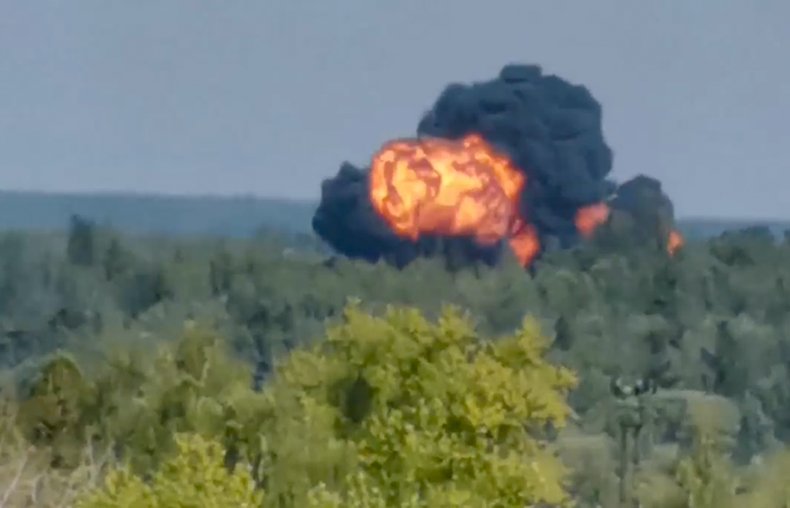 A special commission will be established to determine the cause of the crash, UAC said in a statement.
The company is developing and testing the Il-112V as a replacement for the aging Antonov An-26 and is the first military transport plane to be developed in Russia from scratch since the collapse of the Soviet Union.
The plane flew to Zhukovsky near Moscow last week ahead of its unveiling at the Army-2021 forum later this month.
According to the Associated Press, the Il-112V has turboprop engines and is capable of carrying up to five tons of cargo.
The plane's debut flight was on March 30, 2019, but it was reported to be too heavy and in need of improvements. Testing of the plane resumed in March this year.
According to TASS, serial production of the Il-112V is expecting to begin in 2023 at the Voronezh Aviation Enterprise, which will reportedly have a capacity to produce up to 12 of the planes a year.
Update 8/17, 8.35 a.m.: This article was updated to include additional information and a picture.