Russia Military Conducts Combat Training as U.S., Allies Drill in Baltic, Setting Stage for Further Rivalry
Russia has launched combat exercises in the Baltics as the United States and its allies held joint military exercises in the same region, a strategic flashpoint for the rival sides.
Sukhoi Su-24 frontline bombers and Su-30SM fighters of the Baltic Fleet conducted "conditional strikes on surface targets in naval ranges in the Baltic Sea," the Russian military's Western Military District press service reported Thursday. Under the cover of Su-27 aircraft, the warplanes "carried out training attacks on targets simulating a detachment of enemy ships."
The report noted that the drills took place "against the backdrop" of the BALTOPS maneuvers also being executed in the Baltic Sea region by the U.S.-led NATO Western military alliance.
Around 3,000 personnel, 30 aircraft, and 30 ships and submarines from 19 NATO member states and partners are participating in the 49th annual BALTOPS exercise. The training includes "includes air defense, anti-submarine warfare, maritime interdiction and mine countermeasure operations," according to a NATO press release.
"There is no surprise about BALTOPS as it takes place every year, it's defensive like all our exercises, and has been widely publicized," a NATO official told Newsweek.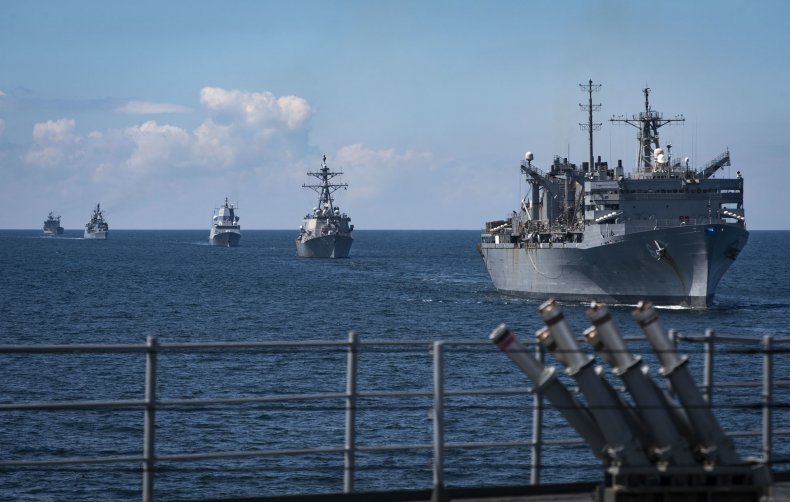 This year's installation of BALTOPS began Sunday is set to run for nine days. Russia's Baltic Fleet said Monday it would be monitoring the exercises and, that same day, conducted exercises of the advanced S-400 surface-to-air missile system and Pantsir-S1 anti-air missile and gun system at the westernmost region of Kaliningrad.
Russia's militarized exclave on the Baltic Sea borders Poland and Lithuania, which, alongside Estonia and Latvia, make up the four host nations of NATO's multinational battlegroup deployment. Moscow has accused the Cold War-era defense coalition of expanding along Russian borders, while NATO member states have argued such measures were necessary to deter Russia from staging cross-border operations and they allege it has done in eastern Ukraine.
"The Baltic Sea is of vital strategic importance for the Alliance and is bordered by six NATO countries, and two close partners," NATO spokesperson Oana Lungescu said in a press release Tuesday. "While we continue to take all the necessary measures to protect our armed forces against the health crisis, our operational readiness remains undiminished."
Earlier this month, the United Kingdom's Royal Air Force reported that Typhoon jets of the 6 Squadron, 135 Expeditionary Air Wing intercepted Russian Ilyushin IL-20 Intelligence, Surveillance and Reconnaissance (ISR) aircraft operating over the Baltic Sea.
In response to Colonel General Sergei Rudskoi of the Russian General Staff claims that the U.S. and NATO were stepping up "provocative" and "anti-Russian" military activities near Russia's borders, including the Baltic region, a NATO official told Newsweek on Thursday that "NATO remains open to dialogue with Russia on military risk reduction and transparency, which is why in February we proposed to the Russian side to hold another meeting of the NATO-Russia Council," though Moscow has yet to respond, the official said.
The following day, Russian Deputy Foreign Minister Alexander Grushko dismissed this argument, telling the state-run Tass Russian News Agency that such meetings "are held not when someone calls for it but when all member countries reach an agreement."
"There is no such agreement at the moment," Grushko said. "There is no positive agenda for the Russia-NATO Council because NATO has suspended all cooperation with Russia. We believe that a Russia-NATO Council meeting should be called when there is a possibility of making a real contribution to efforts to improve the military security situation in Europe."
The NATO official reiterated to Newsweek on Friday that the proposal for another NATO-Russia Council meeting remained open.
This article has been updated to include comments from a NATO official.