Russia Military Fires Nuclear Capable Missile in New Video Amid Tensions With NATO
The Russian military has released footage from one of its latest missile tests, showcasing a deadly nuclear-capable weapon currently deployed along the tense borders between Russian and U.S.-led Western military alliance NATO forces.
The Russian Ministry of Defense published Saturday a 50-second clip showing a 9K720 Iskander short-range mobile missile system being launched from somewhere in the country's Far Eastern Military District. The missile platform, which is in use across Asia and Europe, comprises a major part of Russia's military posture in its exclave of Kaliningrad, a heavily-armed Baltic territory flanked by NATO members Poland and Lithuania.
The movement of Iskander missile systems and other Russian military assets to Kaliningrad has received more attention as relations with NATO deteriorated and both sides sought to expand their war-fighting capabilities.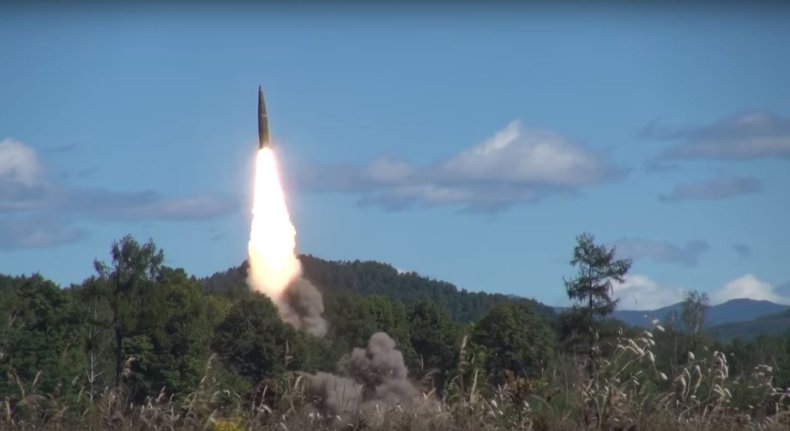 The Russia-NATO feud hit a crisis point after Russia annexed the Crimean Peninsula amid Ukraine's 2014 political uprising that Moscow argued would threaten the majority Russian-speaking population in the neighboring territory. NATO has since accused Russia of fueling conflicts in Ukraine and Syria, interfering in various foreign elections and other violations of international law, including an alleged role in the attempted assassination of Sergei Skripal, the former Soviet double spy for the U.K., in March.
Russia dismissed the charges, arguing that the U.S. and its Western allies were using NATO to surround and essentially disarm it. As part of its enhanced presence in Europe, the U.S. military installed an advanced missile shield that NATO said was intended to protect its member states from rogue countries like Iran. Moscow sees it as a threat to Russia's own growing military capabilities.
Related: Ex-U.S. Military Leader Says 'No General Wants to Fight Russia'
NATO has also sought to reorganize its Cold War–era command structure which, a number of reports indicated, had not kept up with Russian President Vladimir Putin's campaign to modernize his armed forces. Earlier this month, NATO Secretary General Jens Stoltenberg announced the transatlantic coalition would boost its staff by 1,200 personnel and open new headquarters in Norfolk, Virginia, and Ulm, Germany.
A recent deal between southern European rivals Greece and Macedonia (officially known in the United Nations and other international organizations as the Former Yugoslav Republic of Macedonia) may also pave the path for the latter to become NATO's newest addition. In a landmark agreement reached Sunday, Macedonia agreed to change its name to the Republic of Northern Macedonia in order to resolve a long-running dispute with Greece, which lays claim to the historic term "Macedonia" and has blocked its northern neighbor's admission into NATO under that title.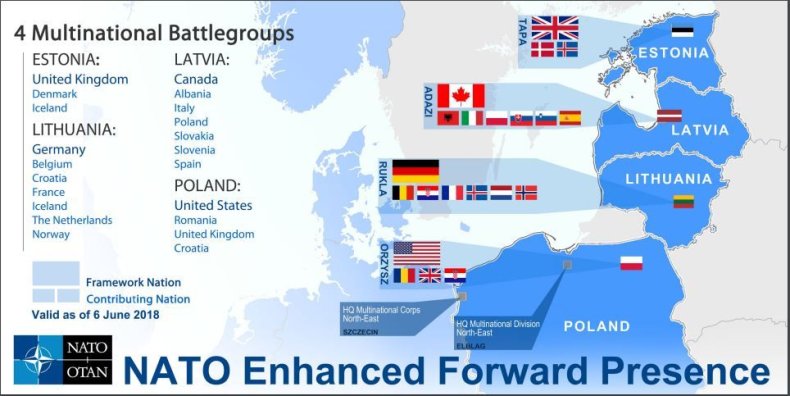 As NATO bolsters its defenses, however, Putin has made his own strides in military power. In March, he announced the debut of several new weapons, including the nuclear-capable RS-28 Sarmat intercontinental ballistic missile (nicknamed "Satan 2" by NATO); a nuclear-powered cruise missile later named Burevestnik; and a nuclear torpedo–bearing submersible known as Poseidon. During his March 1 State of the Nation address, Putin siad that those weapons and others announced that Russia would be invincible against the world's leading defense systems.
A report released Monday by the Stockholm International Peace Research Institute found that as of January 2018, the U.S. led in most deployed nuclear warheads, while Russia topped the list for most overall nuclear weapons. The Iskander that was tested Saturday and deployed on front lines against NATO is also capable of firing conventional ballistic and cruise missiles up to hundreds of miles away, as well as electromagnetic pulses and earth-shattering missiles known as "bunker busters."