Russia Military Holds Drills Near U.S. and Its European Allies While Belarus Festers
Russia has held military exercises near both the United States and its European allies, who are pushing for new elections after a disputed vote that favored the Moscow-friendly government in neighboring Belarus.
Russia's Western Military District finished a large-scale "bilateral command-level exercise" Monday involving up to 6,000 personnel and 1,500 pieces of equipment in naval operations in the Baltic Sea and the Gulf of Finland and on land in the regions of Leningrad and Kaliningrad, a Baltic exclave between Poland and Lithuania.
These same two countries, members of the U.S.-led Western military alliance, also border Belarus, and have sounded alarms about longtime President Alexander Lukashenko's efforts to crack down on post-election dissent there and bolster his country's border forces.
The Russian drills Monday involved measures to stabilize restive environments, including searching for and destroying outlawed armed groups, staging amphibious assaults on enemy shores, and conducting other offensive and defensive operations, according to the Russian Ministry of Defense.
Belarus' own Ministry of Defense said the country's Western Operational Command conducted a "comprehensive tactical exercise" on Monday involving missile and missile artillery brigades as electronic warfare units, in addition to manned and unmanned air systems. The drills took place near Grodna, a region next to Lithuania and Poland, countries which Belarus and Russia have accused of promoting efforts to oust him from office.
Both Lithuania and Poland recently expressed to Newsweek concern over the Belarusian military activity and the role Russia was playing in defending Lukashenko. Latvia, yet another neighbor of Belarus, also said it was monitoring the situation, and continued to call for a second presidential election in Belarus amid accusations of fraud in the first levied by NATO and the European Union.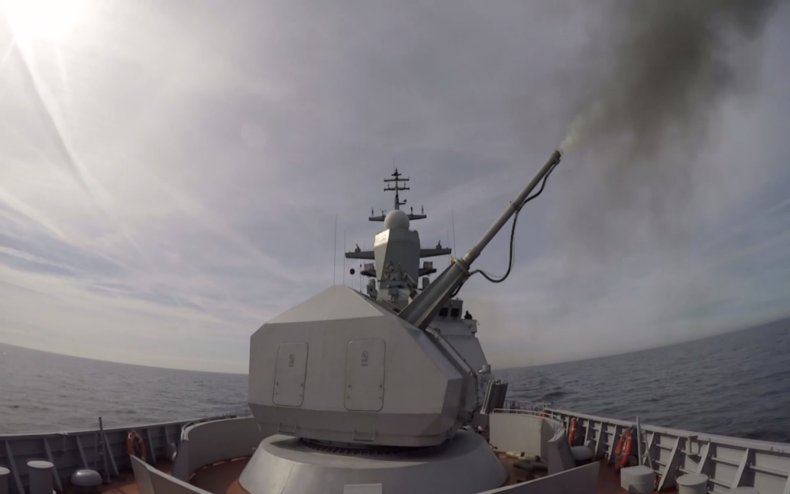 U.S. officials have also shared concerns with Newsweek that Russia may use the deteriorating security situation in Belarus to expand its posture in the former Soviet bloc region that is increasingly aligning with NATO. Lukashenko has been in regular contact with Russian President Vladimir Putin, who revealed Wednesday that he had established a special law enforcement unit at the Belarusian's leader's request in order to quell a potentially dangerous revolt.
In their latest call Sunday, the two heads of state "reaffirmed their mutual disposition to further strengthen the Russian-Belarusian alliance and expand mutually beneficial cooperation in all areas," according to the Kremlin. Lukashenko's office said the pair discussed the situation in and around Belarus.
As of Monday, both Moscow and Minsk officials have said there was no need yet for such a Russian intervention.
Nearly 4,000 miles away, off the coast of Alaska, Russia conducted another set of exercises that attracted the attention of another power, the United States.
The U.S.-Canadian North American Aerospace Defense Command (NORAD) scrambled F-22 aircraft to intercept six Russian Tu-142 maritime spy planes in Alaska's Air Defense Identification Zone about 50 miles off of Alaska's shore. The joint command and U.S. Northern Command also said they spotted a Russian submarine that surfaced roughly 55 nautical miles off of the state's coast that same day.
Newsweek identified the vessel in question as the Artey-class nuclear-powered cruise missile submarine Omsk, which recently participated in the massive Ocean Shield 2020 drills. The exercises included the Omsk launching a Granit anti-ship missile to hit a sea target some 200 miles away, according to the Russian Defense Ministry.
While neither the submarine nor military planes were said to have entered Alaska's maritime territory or airspace, Secretary of State Mike Pompeo told Virginia-based WMAL-FM radio show Mornings on the Mall on Monday that U.S. officials "have watched increasing Russian activity, both there in the region in and around Alaska and in other parts of the world."
These tensions have played out back in the Baltics as well, where Russia and NATO were engaged in a near-constant game of tit-for-tat aerial interceptions also involving U.S. forces.
In the latest incident Monday, the Russian Defense Ministry's National Defense Management Center reported that three Baltic Fleet Su-27s were scrambled to intercept U.S. Air Force B-52 strategic bombers over the region seen as a flashpoint for the two rivals' opposing spheres of influence in Eastern Europe.