Putin, Russian Military Accuse Syrian Rebels of Framing Assad to Draw U.S. Support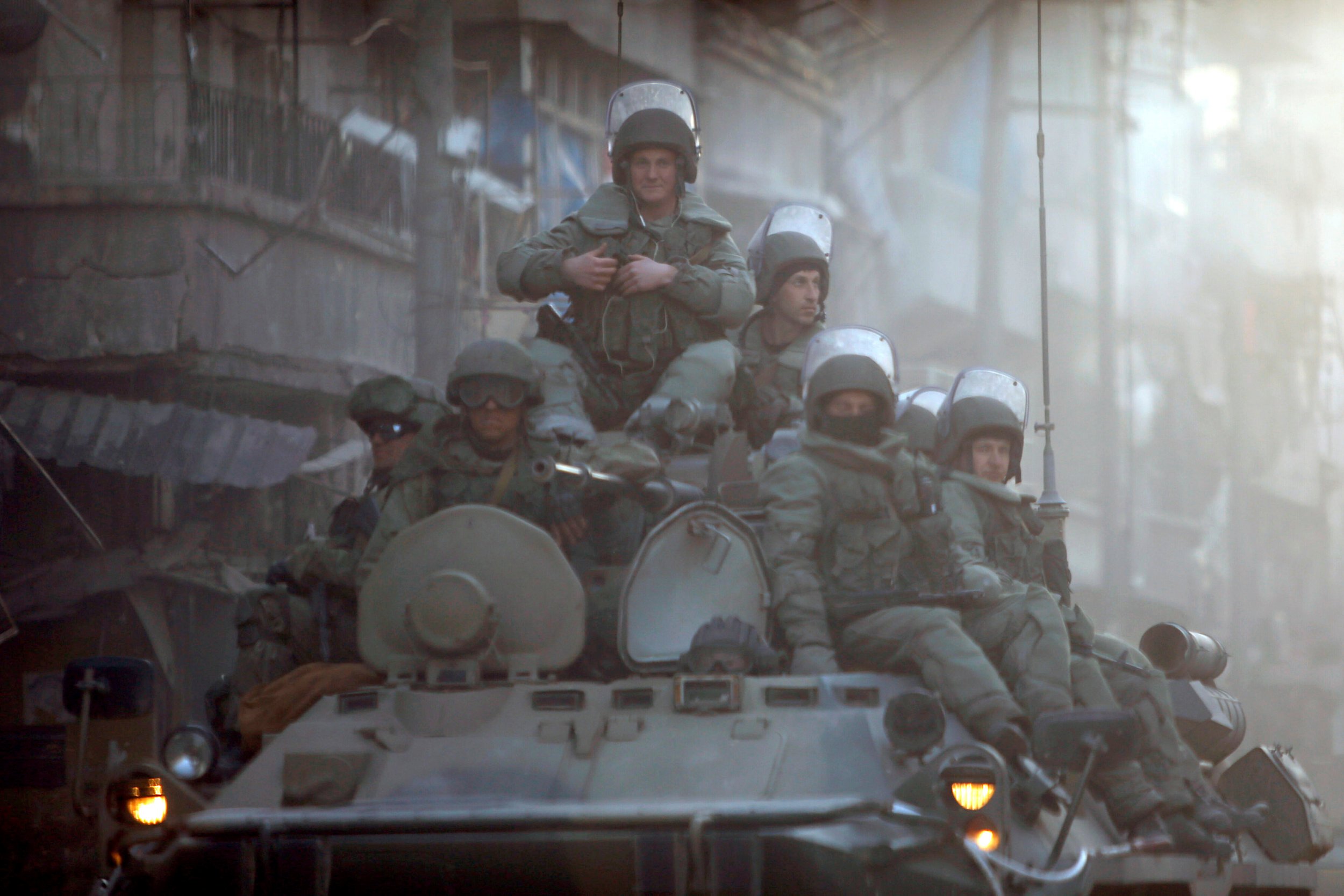 Russia's Defense Ministry denied Tuesday that the Syrian government possessed chemical weapons and accused Syrian opposition forces of staging last week's alleged chemical attack in order to draw the U.S. into the nation's six-year civil war. The statements coincided with comments made by Russian President Vladimir Putin in which he claimed to have evidence that rebels were preparing future chemical attacks.
Russia's defense ministry released a series of tweets in both Russian and English on its official social media account, charging Syrian rebels with transporting "toxic substances" to insurgent-held areas of the war-torn nation in order to convince the U.S. to step up its efforts to remove Syrian President Bashar al-Assad from power.
Related: What Russia's military looks like compared to the U.S.
"Syria has no chemical weapons. This fact was documented and confirmed by official representatives of the OPCW. Cases of chemical weapons usage by opposition were registered. For some of them, investigation materials were sent to the OPCW. Accusations of chemical weapons' use by Syrian government in Khan Sheikhoun were analyzed. Their authenticity attracks [sic] doubts, " Russia's defense ministry wrote. "Insurgents are delivering toxic substances to areas of Khan Sheikhoun, Jira airport, East Ghouta and to the west from Aleppo. Insurgents are aimed to attract another reason for accusations of using chemical weapons by Syrian government & provoke new US attacks," the ministry added.
Last week, the U.S. launched its first-ever intentional attack on the Russian-backed Syrian military less than 72 hours after accusing Assad of conducting a sarin gas attack on civilians in the Khan Sheikhoun neighborhood of the northwestern city of Idlib. Moscow argued that the chemical discharge resulted from a Syrian airstrike on a hidden chemical munitions facility used by rebels and previously recognized by the Hague-based Organization for the Prohibition of Chemical Weapons (OPCW).
Additionally, Putin said Tuesday that, "We have information from different sources that these provocations—I cannot call them otherwise—are being prepared in other regions of Syria, including in the southern suburbs of Damascus where there are plans to throw some substance and accuse the official Syrian authorities," according to The Independent.
In response to the alleged chemical attack, the OPCW released a statement last updated Friday saying that it was investigating the incident and would not release any details before its inspection was concluded. The organization was awarded the Nobel Peace Prize in 2013 after declaring, along with the U.S., that the Syrian government had destroyed its chemical weapons stockpiles. Since then, there have been other instances in which both the government and rebels have accused one another of conducting chemical weapons attacks.
Tuesday's tweets came the same day that Secretary of State Rex Tillerson arrived in Moscow for talks with Russian President Vladimir Putin, who claimed Tuesday he had proof that rebels staged chemical attacks for Western support. Days before the alleged chemical attack and President Trump's subsequent airstrike in Syria, Tillerson had said that the "longer term status of President Assad will be decided by the Syrian people." Like Trump, Tillerson has since expressed harsher criticism of the Syrian leader and was expected to censure Russia over its support for the Syrian government.
The Russian Defense Ministry referred Tuesday to Trump's decision to launch 59 Tomahawk cruise missiles from two U.S. destroyers in the eastern Mediterranean toward the Shayrat Air Base in central Syria as a "violation of international law." Conflicting reports have emerged as to the damage caused by the strikes, with the state-run Syrian Arab News Agency claiming up to 15 dead, including nine civilians. The Pentagon said it warned Russia ahead of the attacks in order to minimize risk to Russian and Syrian personnel. The airbase has since resumed operations.
The Russian Defense Ministry also shared Tuesday via social media a bulletin attributed to the "Russian Centre for Reconciliation of Opposing Sides in the Syrian Arab Republic" that detailed recent Syrian military advances against rebels and reports of ceasefire violations logged by both Russia and Turkey, which supports the opposition. The Syrian military, which has received support from Russia, Iran and allied militias in its fight against rebels and the Islamic State militant group, also known as ISIS, has experienced a string of victories in the last year. Assad has since retaken virtually every major population center in the nation.
Second only to Assad in strength was a Kurd-dominated coalition of Arabs and ethnic minorities known as the Syrian Democratic Forces (SDF) and supported by the U.S. The SDF is currently involved in a U.S.-backed operation to oust ISIS from its de facto capital of Raqqa in northern Syria. The SDF does not formally endorse Assad's government nor the opposition, but has grown closer to the Syrian military in recent months after rebels received support from Turkey, which considered the SDF a terrorist organization for its links to militant Kurdish nationalists in Turkey. In response to the U.S. airstrike on Shayrat, the SDF reportedly told local Kurdish media that it had no comment because the incident fell outside the borders of land claimed by ethnic Kurds in Syria.