Russia Military Planes Arrive in Venezuela, Iran's Warships May Follow to Support U.S. Foe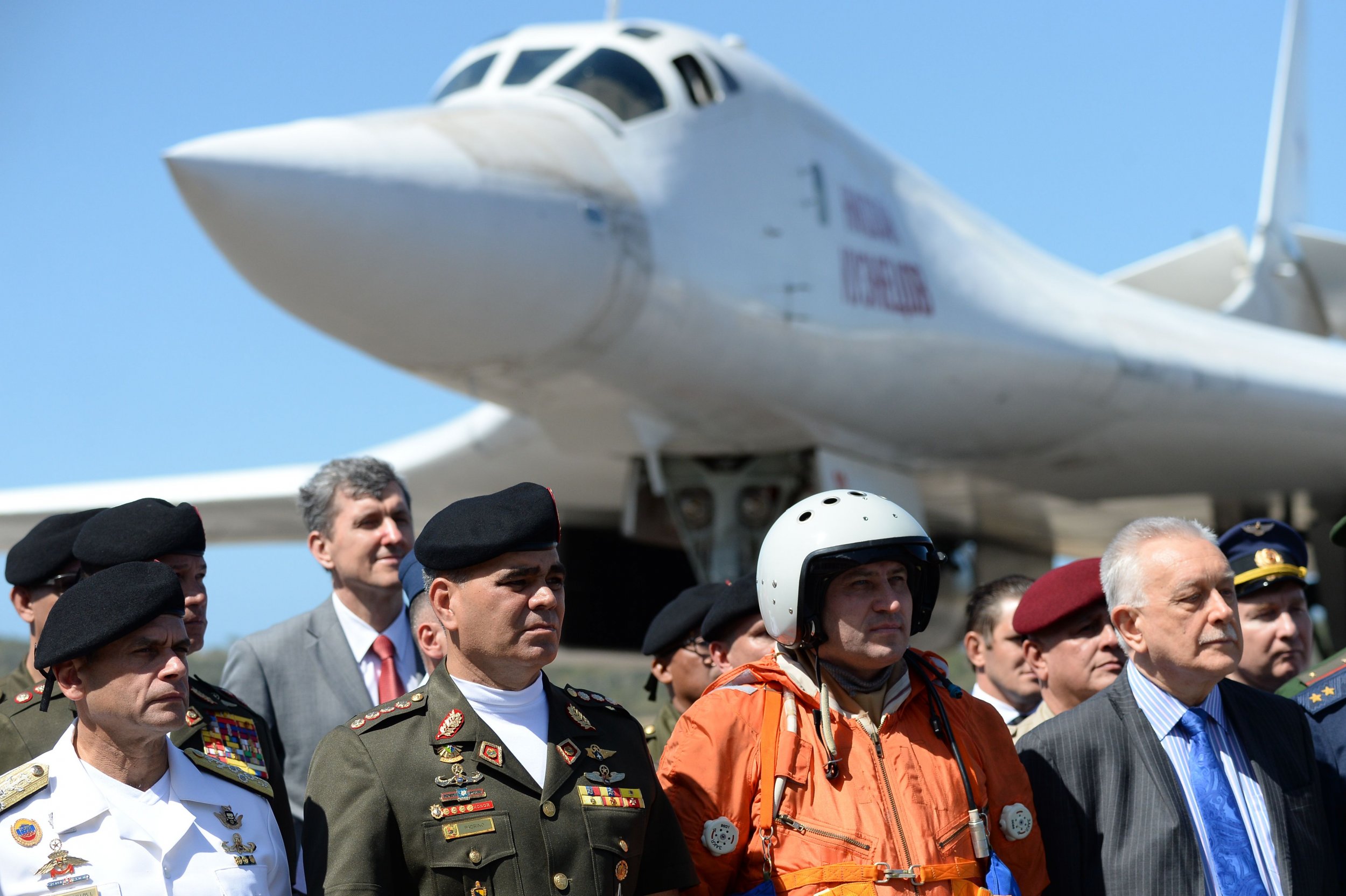 Russia and Iran were both set to send military forces to Venezuela in a show of support to the socialist Latin American nation, whose embattled economy has been further damaged by U.S. sanctions.
The Russian Defense Ministry announced Monday that two Tupolev Tu-160 strategic bombers, an Antonov An-124 heavy military transport aircraft and an Ilyushin Il-62 long-haul plane arrived at the Simón Bolívar International Airport in Caracas. Venezuelan Defense Minister Vladimir Padrino said that up to 100 Russian personnel would arrive as part of a joint air exercise, according to his ministry.
Padrino said "that nobody in the world should fear" the presence of the Tu-160s and other Russian aircraft because "we are builders of peace and not war," touting the country's bilateral ties.
"The aircrew of the Russian Federation are welcome to this heroic land," Padrino tweeted alongside images of the Russian military delegation's arrival. "It is a new opportunity to strengthen our relations in the military field and continue walking a path of cooperation and sincere friendship. Peace is our objective."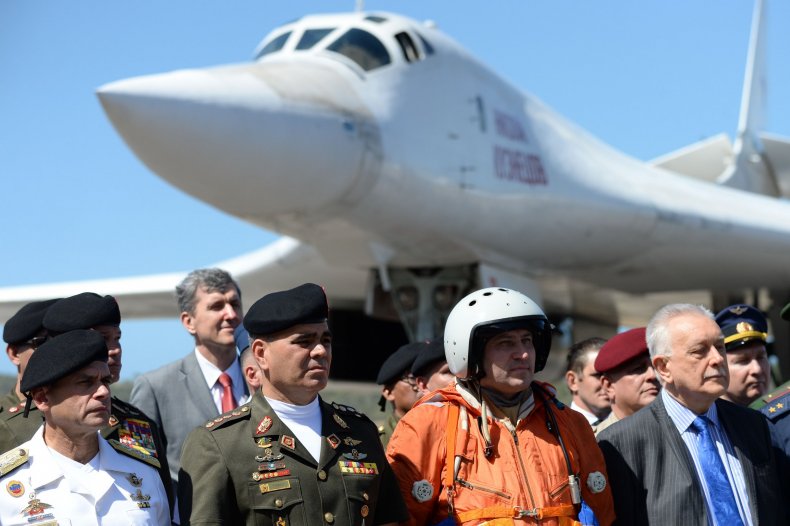 Despite this message, the Russian Defense Ministry noted that, "at certain stages of the flight, the Tu-160 bombers were followed by F-16 fighter aircraft of the Norwegian Air Force while the flight was carried out in strict accordance with the international rules on the use of airspace," as cited by Russia's state-run Sputnik News. Moscow's embassy in Washington also affirmed that the 6,200-mile journey was undertaken in compliance with international aviation law.
Norway, which neighbors Russia, is a founding member of the U.S.-led NATO Western military alliance. Like a number of countries in the region, Oslo has expressed concern over what it viewed to be increasingly aggressive behavior from Moscow. The U.S. and Russia have accused one another of pursuing destabilizing foreign policies and, while Washington hardens its stance toward Moscow through sanctions, the Kremlin has sought to develop new ties with fellow critics of the U.S. in South America.
Following Cuban President Miguel Diaz-Canel's visit to Moscow last month—a trip that inspired comparisons to the Cold War and Cuban Missile Crisis amid U.S. threats to scrap a nuclear missiles deal—Venezuela President Nicolás Maduro traveled to the Russian capital last week to boost ties. Russian President Vladimir Putin was said to have promised both countries lucrative deals, with Maduro's claiming to walk away with up to $6 billion worth of investment.
The money was direly needed as Venezuela's economy has continued to spiral downward, with hyperinflation causing consumer prices to skyrocket some 833,997 percent in the past year. Maduro attempted to introduce a new currency in August, but the government's attempts have so far done little to ease a crisis that has led to massive shortages in essential goods as well as an exodus of millions.
Meanwhile, the Trump administration has doubled down on efforts to undermine the Venezuelan government, reportedly mulling adding it to the State Sponsors of Terrorism list. Maduro has long accused the U.S. of preparing a coup against him, especially after he was apparently targeted in an assassination attempt using explosive-laden drones in August. Trump would later mock the incident.
Last week, Defense Secretary James Mattis said that the Venezuelan strongman must let go of power, but "it's up to the Venezuelan people" and "regional states" to oust Maduro. His predecessor, Hugo Chavez, faced a 2002 coup that, to some degree, was tied to the U.S., though it has denied any direct involvement in the face of repeated Venezuelan accusations.
Russia is not the only country backing Venezuela. Iran, another nation whose soured ties with the U.S. stemmed from regime change, is also offering some support.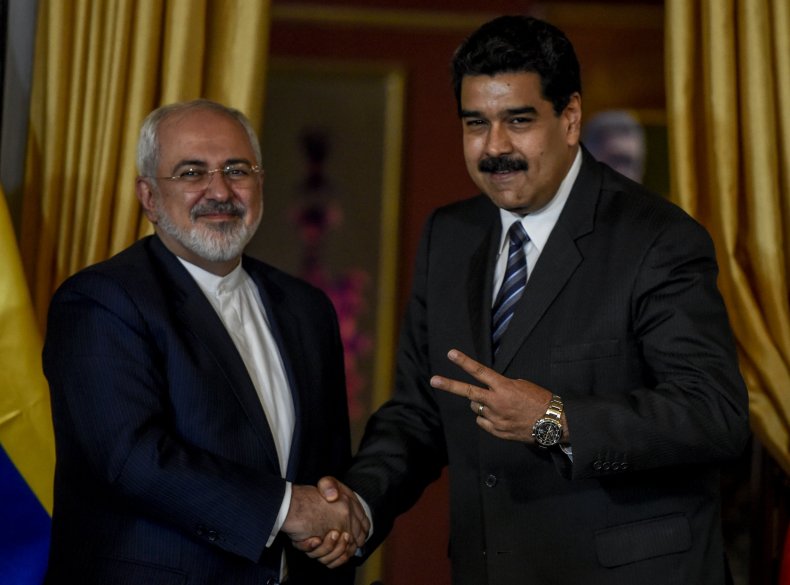 Like Russia and Venezuela, Tehran has been the target of U.S. sanctions. The two countries have been at odds since a 1979 Islamic Revolution that ousted a pro-West monarchy reinstalled by a CIA-backed coup in 1953. Though relations briefly improved as they came together to sign a 2015 nuclear deal together, Trump's decision to abandon this deal over accusations that the Islamic Republic sponsored terrorism and its development of ballistic missiles has brought another fallout, as well as costly sanctions for the revolutionary Shiite Muslim power.
Iran was also in need of international allies, but it was the U.S. that was widely condemned for its unilateral withdrawal of the nuclear accord in May. Fellow signatories China, France, Germany, Russia and the United Kingdom have set out to establish a system to continuing dealing with Iran and bypass U.S. sanctions. Seeing an opportunity to flaunt recent military advances in the Western hemisphere, Iranian naval deputy commander Rear-Admiral Touraj Hassani Moqaddam said earlier this month that Iran's new Sahand destroyer may soon be coming to Venezuela.
"Among our plans in the near future is to send two or three vessels with special helicopters to Venezuela in South America on a mission that could last five months," Moqaddam told the semi-official Mehr News Agency, as cited by Reuters.