Russia Military Asks Weapons Makers to Extend Range and Precision of Nuclear-Capable Iskander Missiles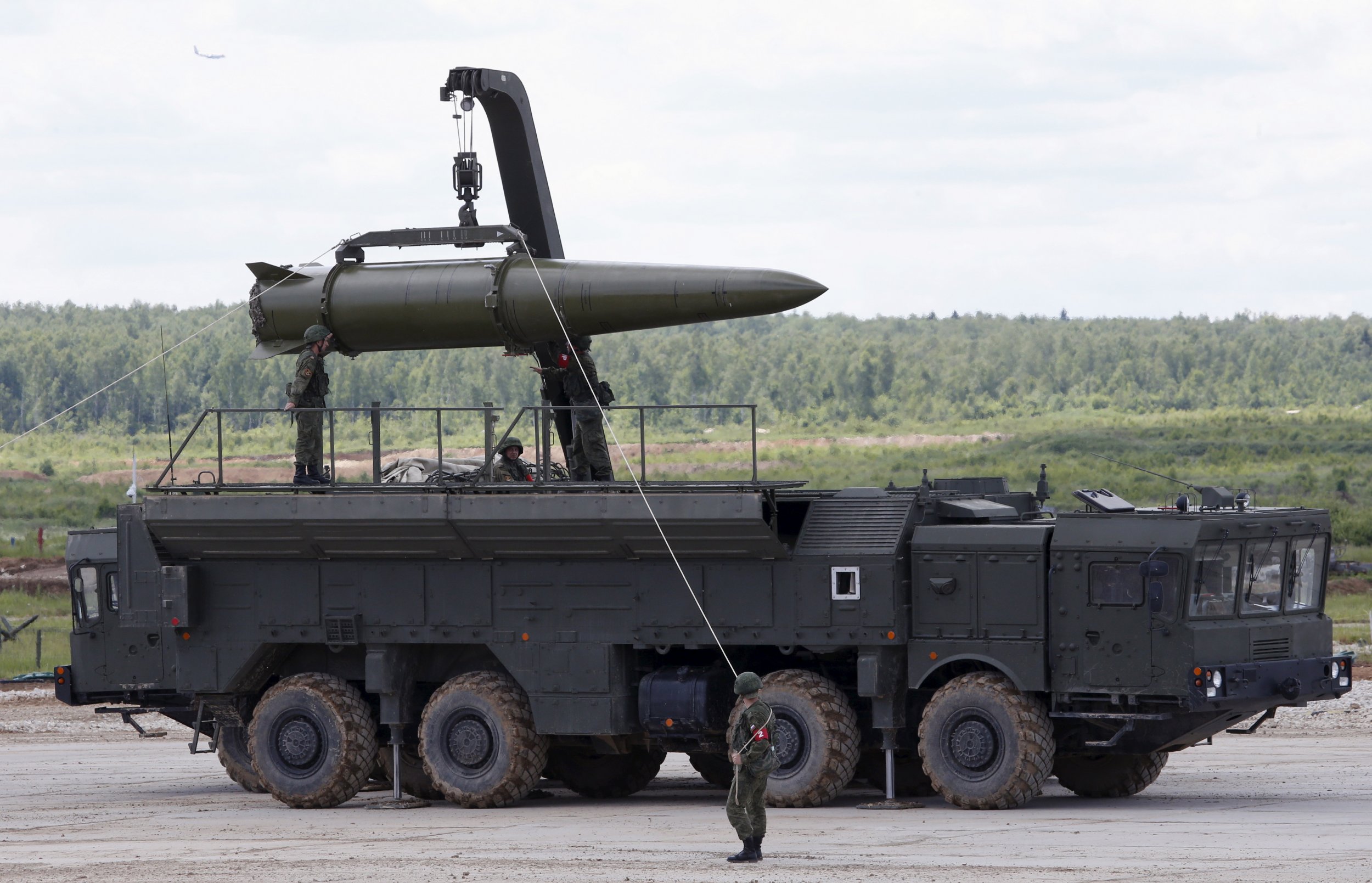 Russia's armed forces have started talks with the country's missile manufacturer to upgrade the range and precision of its nuclear capable Iskander-M missiles, according to reports.
State news agency RIA Novosti reported a statement from the Ministry of Defense, explaining that it sought more accurate versions with a longer range:"A meeting between the chief of the missile troops and artillery with representatives of the military-industrial complex, to discuss issues of increasing the combat capabilities of the Iskander-M complex, through the creation of new types of missiles of increased range and accuracy in combat of the missiles used by the missile system of the army."
Read More: Russia set for rocket fire off Libyan coast, U.S. FAA warns
The missile is Russia's post-Soviet replacement for its Tochka system, designed for tactical strikes on small, high-value land targets. The military is set to replace the aging system across Russia by 2020 as part of an ongoing refurbishment and improvement scheme.
Russia's decision last year to deploy of the Iskander-M to Kaliningrad—a region bordering Poland and Lithuania—prompted concern among both NATO allies, particularly because the system is nuclear capable.
Michael Kofman, Russian arms expert at the CNA Corporation and a fellow at the Kennan Institute, Woodrow Wilson International Center, notes that this deployment is set to take place over the next two years, though on the face of it "there is very little special about the Iskander."
"Because Western media is fixated on it, the weapon system has become politically useful—it's a self-licking ice cream cone in terms of effect," he says, referring to the panic that the mention of the missile often prompts, without Russia coming close to firing it.
"Iskander, like anything else, needs an upgrade," he says. "From military's perspective everything should be upgraded, and always. There is no such thing as a weapon that is too accurate, or too capable, or too reliable—except when it violates arms control agreements but we know that doesn't bother Russia very much," he adds.
The Kaliningrad deployment, where Russia is keen to signal it is not pleased with NATO's nearby deployment of 4,000 troops, violated the deployment limit of ballistic missiles with a range of over 500km (310 miles), according to Lithuania. That range would roughly reach from Kaliningrad to Copenhagen in Denmark, and almost as far as Berlin in Germany. Its stated range is just over 400km, though some iterations of the Iskander can reach 500km, depending on modifications and the weight of the warhead.
Kofman considers Iskander-M's nuclear capability to be less than certain as, depending on executive decision, it could carry non-nuclear warheads too.
"Broadly speaking since the Iskander is a replacement for a much older system that did have nuclear mods for it, we can surmise it too will have a nuclear mission, but that is only some percentage of its intended purpose," he says. "The better way to describe it is as 'dual capable,' which is a system meant for conventional and nuclear missions."
In fact, an increase in range may be intended to widen the reach of the non-nuclear payload specifically, Kofman notes, as its warheads are much heavier than nuclear ones. "So while the maximum range of a nuclear tipped Iskander may be good, the range of various other missile variants may be much less so, and this is likely what they will aim to upgrade."