Ukraine's air defenses thwarted Russia from striking a civilian cargo ship at a port in the Black Sea last month, the U.K. government said on Monday, citing new intelligence.
A Liberian-flagged cargo ship that was berthed at a port in Ukraine's Odesa region was targeted by Russia's military with "multiple missiles" on August 24, the U.K.'s Foreign Office said in a statement. The missiles, which included two Kalibr cruise missiles fired from a Black Sea Fleet missile carrier, were "successfully shot down" by Ukraine's defenses, it said.
Weeks before the alleged attack, Russia had warned that ships traveling in the Black Sea to Ukraine's ports may be considered military targets. That warning coincided with Russia pulling out of the historic Black Sea Grain Initiative, which allowed the safe exports of Ukraine's grain and agricultural products to global markets.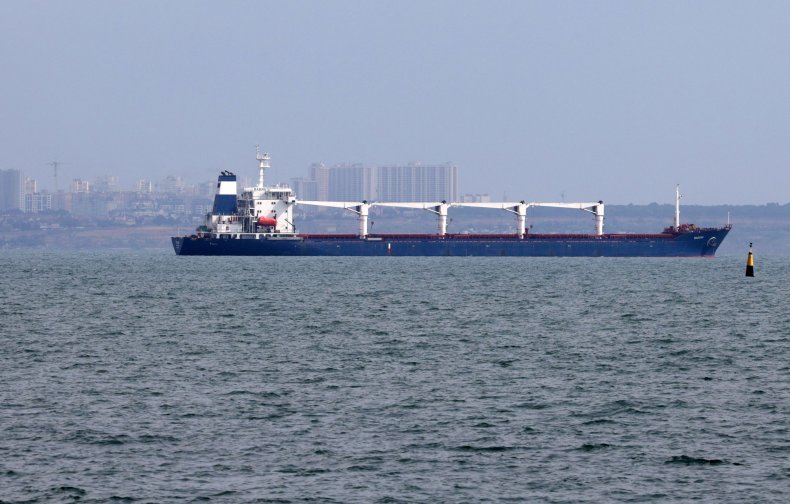 "This attack followed U.S. government warnings that the Russian military may launch attacks against civilian shipping in the Black Sea," the U.K. said. "Thanks to Ukraine's air defense, the attack on the civilian ship failed. Not one of the Kalibr missiles reached its intended target."
Newsweek has contacted Russia's Defense Ministry via email for comment. The Kremlin has not commented on the alleged attack.
British Prime Minister Rishi Sunak repeated the findings in remarks made in Britain's parliament on Monday, citing "declassified intelligence."
The alleged attack demonstrated "just how desperate [Vladimir] Putin is," Sunak said.
The prime minster added: "Ukraine has the right to export its goods through international waters and they have the moral right to ship grain that is helping feed the world."
The U.K.'s Foreign Office said the attempted attack is "a clear demonstration of Russia's continuing attempts to choke Ukraine's economy, and President Putin's disregard for the lives of civilians and the interests of countries in Africa, Asia and the Middle East."
The statement said that since Moscow's withdrawal from the Black Sea Grain Initiative, Russia has damaged 26 port infrastructure facilities in Ukraine and destroyed 280,000 tonnes (308,650 tons) of grain, adding that the amount was "enough to feed over 1 million people for a year."
"Putin is trying to win a war he will not win, and these attacks show just how desperate he is," British Foreign Secretary James Cleverly said in a statement. "In targeting cargo ships and Ukrainian infrastructure, Russia is hurting the rest of the world."
Britain's Defense Ministry said in late July that Russia repositioned its Black Sea Fleet following the termination of the grain deal, and that there is the potential for an increase in violence in the area.
Do you have a tip on a world-news story that Newsweek should be covering? Do you have a question about the Russia-Ukraine war? Let us know via worldnews@newsweek.com.