Russia's New Missile Could Hit U.S. Command Centers in Five Minutes and It 'Breaks Through Any' Defense, Former Submarine Commander Says
A retired Soviet and Russian admiral has claimed that Moscow's new naval hypersonic missiles could hit U.S. military positions within minutes.
Vsevolov Khmyrov, a retired rear admiral who was awarded the Hero of Russia honor and commanded a submarine squadron before leaving the service in 2002, told local media that the White House's decision to exit the 1987 Intermediate-range Nuclear Forces (INF) treaty indicated the U.S. was seeking to deploy new missiles across Europe. Such weapons "from command centers on the territory of the American continent," he said, according to the state-run Tass Russian News Agency.
Khmyrov then predicted that the new 3M22 Tsirkon hypersonic cruise missile would not only be used to target U.S. systems in Europe "but will also ensure the capability to strike key control systems—command centers." He projected a Russian vessel 500 kilometers [roughly 311 miles] from shore could hit a target a further 500 kilometers inland within five minutes.
"Such a hypersonic system like Tsirkon practically breaks through any missile defense system," Khmyrov added, noting that "the number of military ships and submarines with Tsirkon missiles onboard on combat duty in the West Atlantic and East Pacific may stand at two-three ships on each direction with about 40 missiles onboard."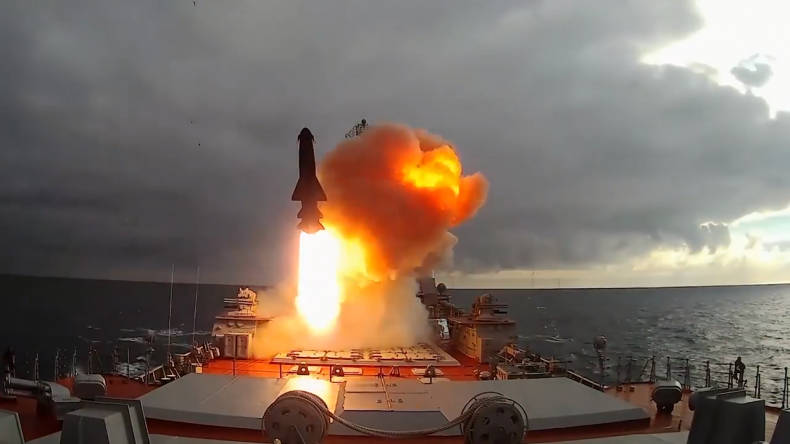 The Russian navy has reportedly been testing the Tsirkon for about four years, though these trials were only officially confirmed Tuesday by Russian President Vladimir Putin during his annual State of the Nation address. After revealing progress on a number of other weapons, including hypersonic and nuclear-capable weapons missile systems, Putin described the Tsirkon as "another promising innovation, which is successfully being developed according to plan."
Tsirkon is "a hypersonic missile that can reach speeds of approximately Mach 9 [6,900 miles per hour] and strike a target more than 1,000 km [621 miles] away both in the water and on the ground," Putin told a gathering of about 2,000 government officials. "It can be launched from water, from surface vessels and from submarines, including those that were developed and built for carrying Kalibr high-precision missiles, which means it comes at no additional cost for us."
During his 2018 State of the Nation, Putin unveiled weapons such as the RS-28 Sarmat intercontinental ballistic missile, the Avangard hypersonic glide vehicle, the Kinzhal hypersonic air-launched missile, the 9M730 Burevestnik nuclear-powered cruise missile, the Poseidon nuclear-powered underwater drone and the Peresvet laser combat system. One year later, he touted successes in developing these advanced weapons he has touted as invincible to existing defense systems.
Another recently unveiled, nuclear-capable Russian weapon, the Novator 9M729 missile, sparked Washington's claims that Moscow was in violation of the INF, which restricts the deployment of land-based missiles with ranges from 310 to 3,420 miles. Russia has denied that its weapon broke these terms and has counterclaimed that U.S. missile defense sites in Europe could be repurposed to attack, thus breaking the treaty.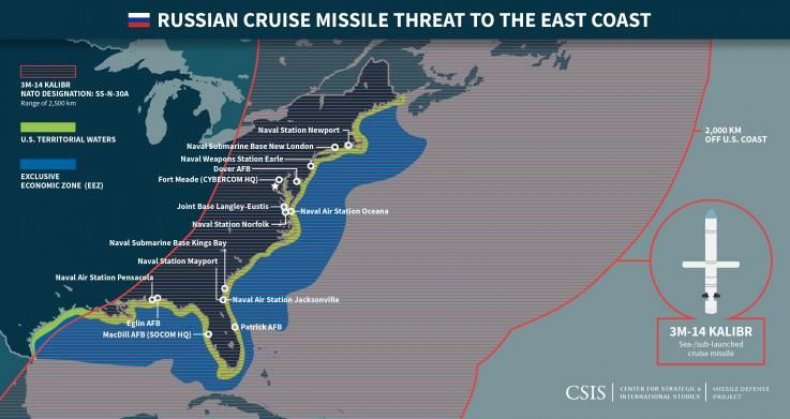 Despite last-minute efforts to solve the dispute, President Donald Trump officially suspended the INF earlier this month and informed that he was looking into "military response options" alongside NATO partners against Russia. In the event of a confrontation, Putin warned Thursday that "Russia will be forced to deploy weapons that can be used … against the decision-making centers that are behind the missile systems which threaten us."
Among vessels believed set to receive the Tsirkon were Kirov-class battle cruisers Admiral Nakhimov and Pyotr Velikiy, which are both reportedly being renovated. It may also be equipped to upgraded Yasen-class submarines.
As Putin mentioned during Tuesday's remarks, the Tsirkon could be used by warships and submarines designed to fire the Kalibr cruise missile, which itself was said to be undergoing a renovation to more than double its range to more than 2,700 miles. The Washington Free Beacon cited officials last month as saying that Kalibr-equipped Russian warships and submarines were set to patrol the Western Pacific, closer to U.S. shores.