Russia is repositioning its air defenses around Moscow as the capital faces a growing number of drone attacks, the British Ministry of Defense (MOD) said on Tuesday.
In recent weeks, Russia has "recalibrated the posture of its short and medium-range air defenses around Moscow in an effort to more effectively defend against the uncrewed aerial vehicle (UAV) attacks the city now experiences most days," the MOD said in an intelligence update.
Russia has been hit with numerous drone strikes since President Vladimir Putin launched a full-scale invasion of Ukraine in February 2022, with attacks more recently targeting the capital, Moscow.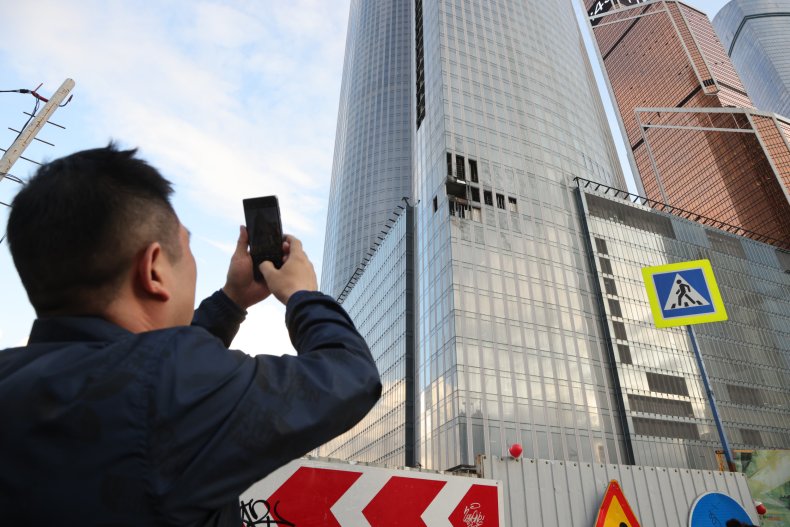 The defense ministry said that since early September, Russian SA-22 air defense systems around Moscow have been pictured positioned on elevated towers and ramps.
"Previously, following strikes against Engels and Ryazan air bases in December 2022, Russia also positioned SA-22 on the roofs of official buildings in Moscow," the MOD said.
"This is almost certainly to allow the system to detect and engage UAV-type targets. However, it is probably also intended to act as a high-profile reassurance to the public that the authorities have the threat under control."
Newsweek has contacted Russia's foreign ministry via email for comment.
An attack on May 30, which Ukraine hasn't claimed responsibility for, marked the first time Moscow had been hit in a large-scale drone strike since the war began. Since then, there has been a string of drone strikes on the Russian capital, which Moscow has accused Kyiv of masterminding.
Ukraine typically distances itself from claiming responsibility for attacks on Russia soil, but Ukrainian President Volodymyr Zelensky has previously said that attacks on Russian territory are an "inevitable, natural and absolutely fair process."
Andriy Yusov, spokesperson for Ukraine's military intelligence, told the Kyiv Post in July that the fact that drones have been able to reach Moscow "testify to the fact that the Putin regime is unable to fully control the sky even for the protection of the most important facilities."
"Obviously, this situation will continue and increase in scale," Yusov said.
A broadcast on the state-run Russian TV channel Russia-1 on September 3 showed the construction of a new site for air defense systems to be set up in Moscow. Radio Free Europe/Radio Liberty reported that it was filmed near one of Putin's residences in Novo-Ogarevo.
"As is customary in Russia, safety is for authorities only," Anton Gerashchenko, an adviser to Ukraine's minister of internal affairs, wrote on X, formerly known as Twitter, on September 4.
Do you have a tip on a world news story that Newsweek should be covering? Do you have a question about the Russia-Ukraine war? Let us know via worldnews@newsweek.com.