Russia Is Now Going After Ukraine's Time Zone
The Kremlin said on Friday it would move to impose a Moscow time zone in parts of Ukraine that were illegally annexed and are partially under the control of Russian forces.
Russia's Ministry of Industry and Trade made the announcement on its Telegram channel, saying that the four Russian-annexed regions of Ukraine—the Donetsk and Luhansk regions, Kherson and Zaporizhzhia—"will switch to Moscow time."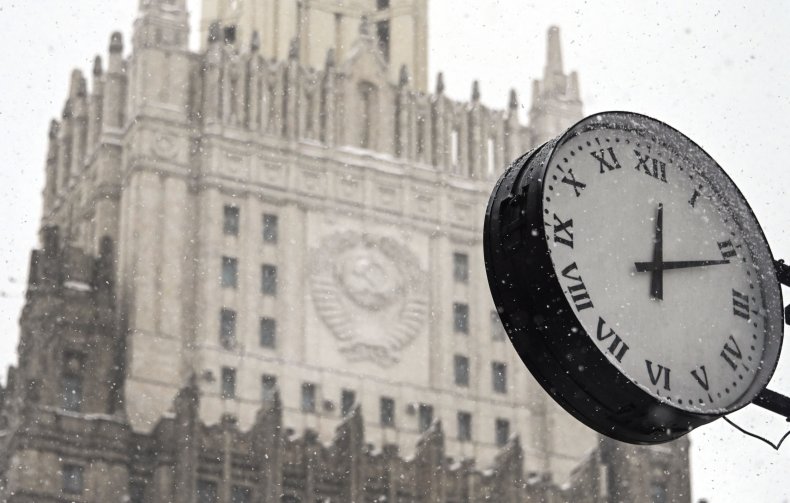 The four Ukrainian regions were illegally annexed by Russian President Vladimir Putin in the fall of 2022 following "sham" referendums. Russia is not fully in control of any of the regions, and foreign governments, including the United States, said the move was illegitimate.
"The gradual synchronization of Russian legislation is underway after four new subjects have been admitted to the country," the ministry said.
"In the near future, the DPR [the self-proclaimed Donetsk People's Republic], LPR [the self-proclaimed Luhansk People's Republic], Zaporizhzhia and Kherson oblasts will be part of the second time zone, in which Moscow time operates."
The ministry clarified it had submitted draft legislation on the matter to Russia's State Duma. It has yet to be signed into law.
It mirrors the move Russia took in 2014, when Putin illegally annexed the Black Sea peninsula of Crimea. In March 2014, the time zone in Crimea was officially aligned with Moscow's, placing the peninsula two or three hours ahead of Ukraine.
It comes weeks after Kremlin spokesperson Dmitry Peskov said that the process of integrating the territories was in "full swing."
He was cited by Russian news agency Tass in December as saying that "the main thing for us is to ensure the security of these regions as soon as possible."
"Ensuring the safety of civilians who live there is the main goal of the [special military] operation," Peskov said.
On Tuesday, Russian Prime Minister Mikhail Mishustin signed a government order instructing the Russian Federal Penitentiary Service to set up 24 new penal colonies in the four newly-annexed regions.
According to the decree from the Russian government, 12 penal colonies will be set up in the Donetsk region, a further seven in the Luhansk region, three in the Russian-controlled part of the Kherson region and an additional two facilities will be built in Zaporizhzhia, where a "settlement-type colony" will also be established.
Newsweek has contacted the foreign ministries of Ukraine and Russia for comment.
Do you have a tip on a world news story that Newsweek should be covering? Do you have a question about the Russia-Ukraine war? Let us know via worldnews@newsweek.com.