Russia Moves S-300 Missiles From Syria Toward Ukraine Amid Losses: Report
Satellite images indicate that a Russian ship carrying powerful artillery has been redeployed from Syria to the Black Sea, as part of a new stage of warfare in Ukraine's southern region.
The move comes as Ukraine is in the midst of an attempt to reoccupy the southern city of Kherson from Russian forces by targeting Russian supply chains and arms systems. United States National Security Council spokesman John Kirby said on Monday that the counteroffensive is part of a larger picture of growing attrition on the Russian side, where military recruiting has become an issue in recent months.
The Naval News website reported that a "nondescript Russian cargo ship" believed to be the Sparta II traveled through the Bosporus in Turkey, the only waterway connecting the Mediterranean Sea and the Black Sea.
The ship is purportedly carrying the battery for the S-300 surface-to-air missile system (SAM) through the strait, which Turkey closed to warships since Russia's initial invasion. Side-by-side satellite images tweeted by Israeli private intelligence firm ImageSat Intl. showed the former position of the S-300 battery in Syria, and the same location without the battery.
Additional images show the battery on the Sparta II while in transit to its reported destination in the Black Sea.
The Sparta II is mentioned on the U.S. Department of the Treasury's Office of Foreign Assets Control sanction list published May 8.
Bosporus ship spotter Yörük Işık tweeted on August 27 that the Sparta II was seen carrying military cargo en route from Tartus in Syria.
The ship's voyage from Syria reportedly began on August 20, according to Reuters, which added that data monitor Refinitiv Eikon showed that the Sparta II is currently in Novorossiysk, a Russian Black Sea port near Crimea.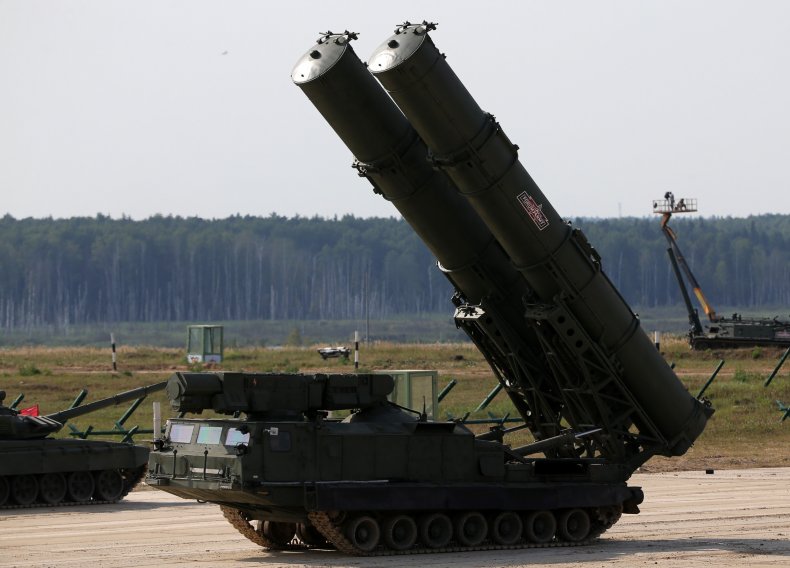 The Drive news site reported that the SAM arrived in Syria in 2018 as "something of a gift" to Syrian President Bashar Al-Assad. However, it was not located at Russia's airbase south of Latakia, or at its prized naval port in Tartus, but was set up inland to "protect Syrian targets."
Battery vehicles for the S-300 were reportedly lined up at the Tartus base as the Sparta II made its way to the area to retrieve them. It's unclear how Turkish officials allowed the Russian ship to pass with military cargo on board, or whether they were even aware it was a non-merchant ship.
Newsweek reached out to the Ukrainian and Russian defense ministries for comment.