Russia Must Suspend Operations in Ukraine: International Court of Justice
The United Nations' International Court of Justice issued an order on Wednesday calling for Russia to end its invasion of Ukraine.
In a 13-2 vote, the court said Russia "shall immediately suspend the military operations that it commenced on 24 February 2022 in the territory of Ukraine," according to a news release.
As the war enters its fourth week, Russia continues to face increasing backlash from world powers. Newsweek reported earlier Wednesday the Council of Europe, which advocates for human rights, expelled Russia from its group. The court's decision adds to the pile of condemnations of Russia's actions.
The court looked into the matter after Ukraine argued Russia violated the 1948 Genocide Convention by using a false accusation of Ukrainians committing genocide as justification for invading, the Associated Press reported.
In a statement posted to his Twitter account, Ukrainian President Volodymyr Zelensky expressed his approval of the court's decision.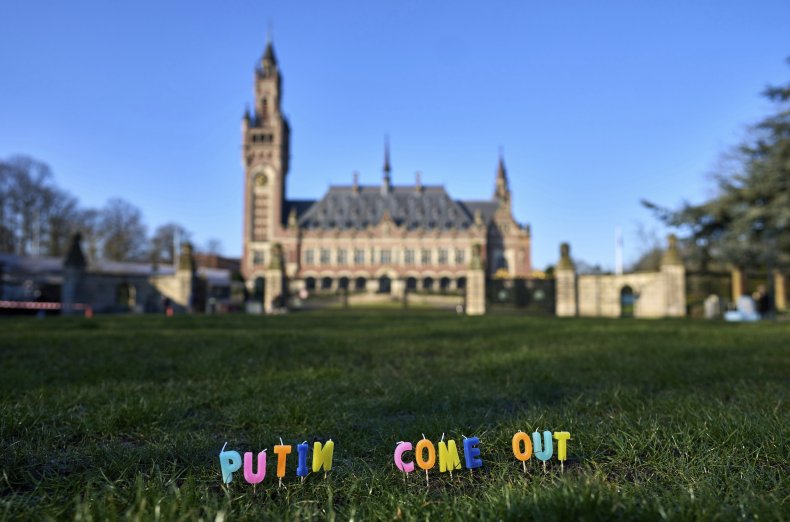 "Ukraine gained a complete victory in its case against Russia at the International Court of Justice," Zelensky wrote, adding that the order is "binding under international law."
"Russia must comply immediately," he tweeted. "Ignoring the order will isolate Russia even further."
The court also ruled 13-2 that Russia must "ensure that any military or irregular armed units which may be directed or supported by it, as well as any organizations and persons which may be subject to its control or direction, take no steps in furtherance of the military operations."
It additionally ruled unanimously that both Russia and Ukraine should "refrain from any action which might aggravate or extend the dispute before the Court or make it more difficult to resolve."
The two people who voted against the order were Kirill Gevorgian, who is vice president of the court, and Judge Xue Hanqin. Gevorgian said in a statement that he disagreed with the decision because he does not believe "that the Court has jurisdiction to entertain this case." In her own statement, Xue said while she supports peace in the region, she does not think Ukraine's accusations fall within the scope of the Genocide Convention.
When an initial hearing for the case took place on March 4, Russian lawyers did not appear and instead submitted a letter saying the court didn't have jurisdiction for this case. The lawyers also did not appear in court on Wednesday to hear the ruling, The Guardian reported.
The report added that while the ruling is binding under the U.N. Charter, there is no way to enforce it.
Update 03/16/22, 1:25 p.m. ET: This story was updated with additional information.