Russia Raises Territorial Questions For Finland Ahead of NATO Application
Russia may bring into question the status of the Åland Islands, an autonomous region of Finland that has long been demilitarized, and the Saimaa Canal, which runs partly through land leased from Russia, as the Nordic country attempts to join NATO, according to reports.
Russia has voiced concern over the prospect of Finland and Sweden joining NATO after they were prompted by the Russian invasion of Ukraine.
Russia's Permanent Representative to the European Union, Vladimir Chizhov, said Finland's membership in NATO would raise two specific territorial issues, according to a RU News 24 report.
"As for Finland, I immediately have a question on two aspects," the Russian news agency RIA Novosti quoted Chizhov as saying, according to RU News 24. He cited the self-governing Åland Islands, which lie in the Baltic Sea between Sweden and Finland, and the canal, which runs for 27 miles to the city of Vyborg inside Russia.
"That is, it leaves central Finland approximately to Vyborg. What will happen to this now? We'll have to see," Chizhov was reported to have said.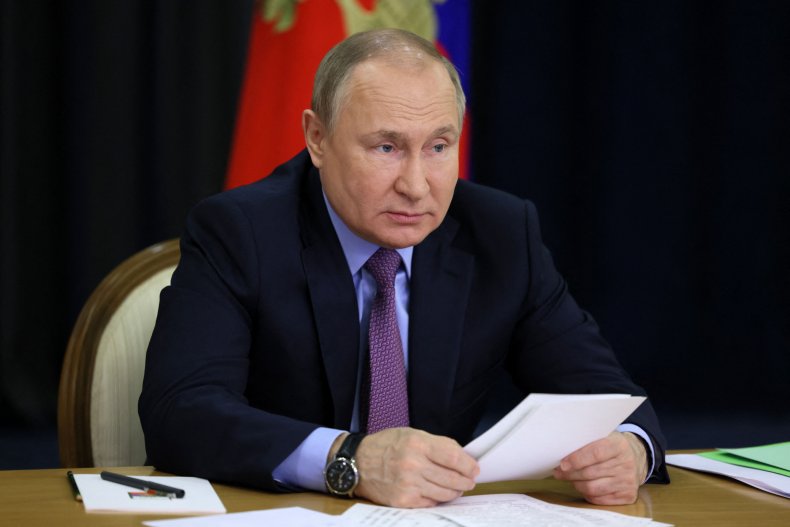 Last week, Russian Deputy Foreign Minister Sergei Ryabkov reiterated that Russia would not accept Finland or Sweden joining NATO.
He made the comments to reporters on Monday, relayed through state-owned news agency TASS. He was discussing the news of Sweden's ruling party approving the country's bid to join NATO on Sunday, as well as Finnish politicians calling for their country to join the alliance "without delay."
However, Russian President Vladimir Putin, on the same day, played down Russia's opposition to NATO expansion.
"As for the expansion [of NATO], including through new members of the alliance—Finland, Sweden—Russia wants to inform you that it has no problems with these states," Putin said while speaking at a gathering in Moscow of leaders from the member countries of the Collective Security Treaty Organization (CSTO), the Russia-backed military alliance.
"Therefore, in this sense, expansion on account of these countries does not pose a direct threat to Russia," he said.
Finland and Sweden have historically been non-aligned militarily. Sweden has not fought a war in more than 200 years, while Finland signed an agreement with the Soviet Union in 1948 that included Helsinki isolating itself militarily from Western Europe. Finland shares an 807-mile border with Russia and gained independence from the nation in 1917.
Finland has been increasing its military budget amid fears that Russia will retaliate after its Nordic neighbor announced its wish to apply to join NATO.
Finland's bid to join the 30-strong military alliance comes amid increasing security concerns across Europe following Russia's invasion of Ukraine.
In a statement issued on Friday, Finland's defense ministry said that the government's second budget for 2022 will allocate around €669.4 million ($706.7 million) in additional funding to the Finnish military, of which €176 million will be allocated to operating expenses and €490 million to fast-start defense equipment procurement.
The government also announced it intends to spend approximately €1.7 billion for the "longer-term procurement" of military materials between 2022-2027. It will fund the acquisition of anti-tank and anti-aircraft weapons, fighter equipment, artillery ammunition, field maintenance material and missiles for naval and air defense, the ministry said.
Newsweek has contacted Russia's Foreign Affairs office for comment.
Finland and the Swedish-speaking Åland Islands were part of Sweden before it was forced to relinquish both territories to the Russian Empire in 1809, according to Finland's foreign ministry.
The demilitarization was agreed as part of the terms of peace negotiations in Paris in 1856 after the Crimean War, which Russia had lost to an alliance including France, Britain and the Ottoman Empire.
Update 5/24/22, 8:43 a.m. EDT: This article has been updated to provide more background details.
Update 5/24/22, 11:38 a.m. EDT: This article has been updated to provide more background details.
Corrected 5/24/22, 12 p.m. EDT: Corrects from Russia to Sweden in second paragraph.