Russia's Neighbors Threaten Jail for Those Who Fight in Ukraine
Russia's neighbors Kazakhstan, Kyrgyzstan and Uzbekistan have all threatened their citizens with jail sentences if they join the Ukraine war, hours after Moscow announced it was opening a military recruitment center for foreign fighters.
The Kyrgyzstan embassy in Russia warned in a statement on Wednesday that its citizens living there would face criminal liability for fighting in Ukraine, and could serve 10 years in jail as punishment.
"The participation of citizens of the Kyrgyz Republic in hostilities on the territory of foreign states is punishable by imprisonment for up to ten years with confiscation of property," the statement from the embassy said.
Separately, the embassy of Uzbekistan in Russia warned its citizens not to create volunteer battalions or participate in the war, saying that those who do could face 10 years in prison. In Kazakhstan, joining the fighting in Ukraine is punishable by a prison term of five to nine years.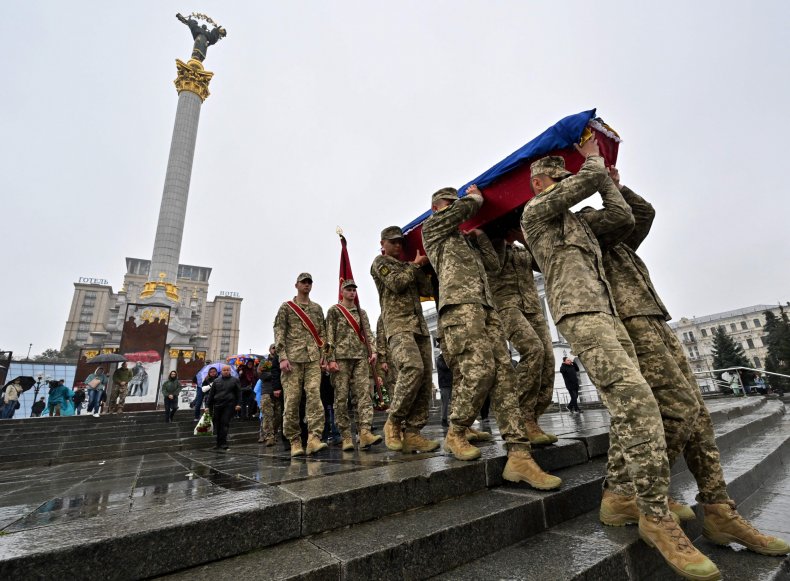 On Wednesday, Russian President Vladimir Putin called up 300,000 military reservists to fight in the war, in the country's first partial mobilization since World War II. In a speech, Putin said that reservists and former military personnel with "certain military specialties and relevant experience" will be subject to conscription.
Politicians in Russia passed legislation on Tuesday that said that citizens and dual nationals that desert during wartime could face up to 10 years in jail.
Mikhail Kasyanov, the first prime minister of Putin's presidency, told Newsweek in an interview published on Thursday that the president's decree will ultimately lead to his ouster.
The announcement sparked dozens of protests in Russian cities, leading to more than 1,300 arrests for opposing the war, according to the independent OVD-Info protest monitoring group. The monitor said that more than 1,311 people had been held in 38 Russian cities by late on Wednesday evening, including at least 502 in Moscow and 524 in St Petersburg, Russia's second most populous city.
These demonstrations were the first national anti-war protests since the fighting in Ukraine began in late February. The Moscow prosecutor's office has warned that organizing or participating in protests could lead to up to 15 years in prison.
After Putin made his partial mobilization announcement, social media footage emerged showing thousands of Russians at the Finnish border trying to flee the country.
Flights from Russia to Armenia, Turkey and Georgia sold out within minutes of Putin's announcement, Russian online newspaper Lenta reported.
"All tickets for direct flights to Istanbul and Yerevan were sold out in a few minutes after Putin's address," the publication wrote on Twitter, sharing screenshots of pages that showed there were no more flight tickets available.
Newsweek reached out to the Russian Foreign Ministry for comment.