Russia Delivers Energy Ultimatum as Nord Stream Pipeline Shut Down
Russia has delivered an energy ultimatum to Europe, saying that the Nord Stream 1 pipeline will not resume until the "collective West" lifts sanctions against Moscow over its invasion of Ukraine.
The EU then accused the Kremlin of weaponizing energy to achieve its aims.
On Monday, Kremlin spokesperson Dmitry Peskov blamed British, Canadian and EU sanctions for Russia's failure to deliver gas through the key pipeline that delivers gas from St. Petersburg to Germany via the Baltic Sea.
"The problems pumping gas came about because of the sanctions Western countries introduced against our country and several companies," Peskov was quoted as saying by the Interfax news agency. "There are no other reasons that could have caused this pumping problem."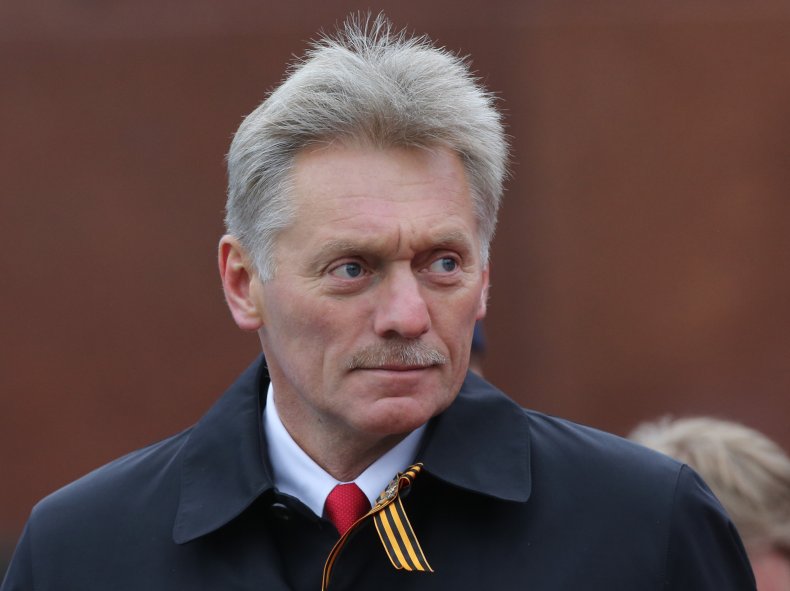 He added that the Nord Stream I resumption depended on whether the West would lift its sanctions targeting Moscow.
Russia's state-run oil company Gazprom, which operates Nord Stream, on Friday evening announced it would suspend gas supplies heading westwards indefinitely due to pipeline "malfunctions." Gazprom had initially said it would halt supplies due to "maintenance work," but only until Saturday. The company said it was due to a technical fault, which it blamed on challenges repairing German-made turbines in Canada. Germany and the EU have disputed the technical justification.
EU spokesperson Tim McPhie told Newsweek: "Gazprom's latest announcements regarding their unwillingness to resume flows through Nord Stream 1 show again Russia's unreliability as a supplier. This is yet another example of the Kremlin's weaponisation of energy supplies. And another reason for us to pursue our work to phase out Russian fossil fuels in Europe."
The spokesperson added that there was no technical impediment to resumption of gas flows based on the information the EU has received.
"And let us be very clear, once again, that there are no EU sanctions limiting any potential repairs. We would also recall that there is more than one gas pipeline from Russia to Europe. If there was a willingness to make up for shortfalls on Nord Stream 1, there is capacity elsewhere to deliver gas," McPhie said.
The EU has been "preparing for months" for a full cut of Russian gas supplies, including through new gas storage obligations and a plan to reduce gas demand in a coordinated manner, he said.
He dismissed the notion that the interruption poses an immediate threat to Europe's energy security, adding that the continent's gas storage stood at 81 percent today.
"Flows via the Nord Stream 1 pipeline were already very small in recent weeks and represented only a small fraction of the gas which the EU was injecting into storage. Nevertheless, the situation is serious and requires close monitoring," he said.
The European Commission called a meeting of the Gas Coordination Group on Monday morning to discuss Nord Stream I and the continent's energy supply. The Commission will also discuss it with member states at the Extraordinary Energy Council on Friday.
Newsweek has contacted the Kremlin for comment.
Global gas prices have been rising since Russian state-owned oil firm Gazprom halted supplies via the 745-mile pipeline to Western Europe on August 31. The price of Brent Crude, considered a global benchmark for oil prices, rose by 4 percent on Monday as of 10 a.m. ET, as the world's largest gas exporter and second-largest oil exporter threatened to keep Nord Stream offline. Nord Stream I is the single biggest gas pipeline from Russia to Europe and is able, when running at full capacity, to deliver 55 billion cubic meters (nearly 2,000 cubic feet) of gas a year.
Europe has been in the midst of an energy crisis since Russia first attempted to invade its neighbor on February 24. Many European countries, including the continent's largest economy Germany, are very reliant on Russian gas. Ukrainian President Volodymyr Zelensky on Sunday warned Ukrainians and their European allies to prepare for a bleak winter. He accused Russia of trying to weaponize the sway it has on the energy markets and run Europe into "poverty and political chaos."
Asked about Russia's move to pose an energy ultimatum over Europe's largest gas pipeline, Russia defense analyst Konrad Muzyka told Newsweek: "It was to be expected. Winter will be cold."
"I don't think they [the West] can respond politically," he added. "Maybe [they will] finally make tourist visas more difficult to get?"
While the European Union on Wednesday, August 31, decided to tighten travel rules for Russians coming into the 27-nation bloc, it did not impose a blanket tourist ban.
Update 09/05/22,13:23 p.m. ET: EU comments were added to this article.