Russia Refuses to Banish Nuclear Weapons and Comply With United Nations Treaty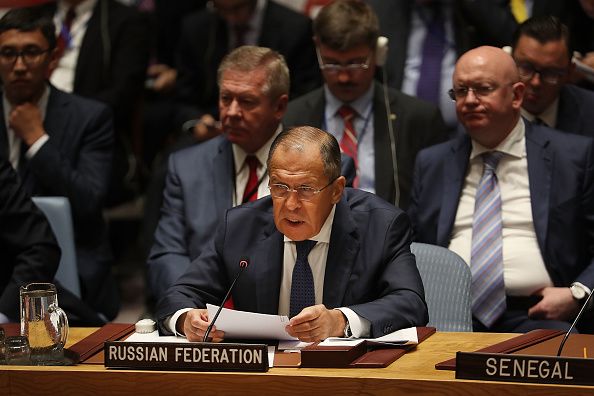 Russia will not join the Treaty on the Prohibition of Nuclear Weapons—the U.N.'s first-ever measure for nuclear disarmament—Foreign Minister Sergey Lavrov told the Security Council on Thursday.
Lavrov said the treaty "triggers strong differences between the members of the international communities," according to TASS Russian News Agency.
More than 120 nations adopted the international treaty last July. However, the U.S., Britain, China, France, India, Pakistan, North Korea, Israel and Russia—nine countries recognized to have or believed to possess nuclear weapons—along with most NATO members remained absent from the negotiations.
The United States, France and Britain in July said in a statement that the ban treaty risked "undermining the existing international security architecture which contributes to the maintenance of international peace and security."
The approach to combat nuclear weapons was not the way to move, Lavrov stressed to the Security Council, because the ban treaty would also lead to a "destabilizing influence on the nonproliferation regime."
Lavrov warned that a failure of a nuclear deal with Iran would indicate a troubling sign.
The 2015 Iran nuclear deal, which lifted aggressive economic sanctions on Iran if it agreed to halt its nuclear program, has been a source of recent contention. President Donald Trump has repeatedly charged that he would withdraw the U.S. from the deal if Iran did not allow "immediate inspections at all sites requested by international inspectors," among other conditions.
U.N. Secretary-General António Guterres earlier Thursday spoke of the "global anxieties" about nuclear weapons, singling out the Korean Peninsula as the "most tense and dangerous peace and security challenge" today.
He also highlighted the relationship between the United States and Russia, regarding trust on nuclear issues that "continues to ebb."
The U.S., Britain, France and other nuclear powers want to strengthen the nearly 50-year-old Nuclear Nonproliferation Treaty (NPT), the basis of a global effort to prevent the spread of "nuclear weapons and weapons technology."
The NPT seeks cooperation to peacefully use nuclear energy while achieving full disarmament. To date, 191 nations and five nuclear weapon states have joined the treaty.