Anti-Putin Politician Facing Kremlin Raid Uses Drone to Fly Hard Drives Away Before Government Officers Can Get Them
An opposition politician in Russia evaded a police raid by loading hard drives onto a drone and spiriting them away before officers could enter his apartment.
As a symbol of political discontent in Russia, there was no more dramatic sight than footage of Sergey Boyko, a mayoral candidate in the Siberian city of Novosibirsk, ensuring that his electronic data would be beyond the clutches of law enforcement officials clamoring at his door.
This week Russian security services have raided supporters of opposition leader Alexei Navalny in 43 cities, from Vladivostok on the Pacific to Krasnodar in the south of the country.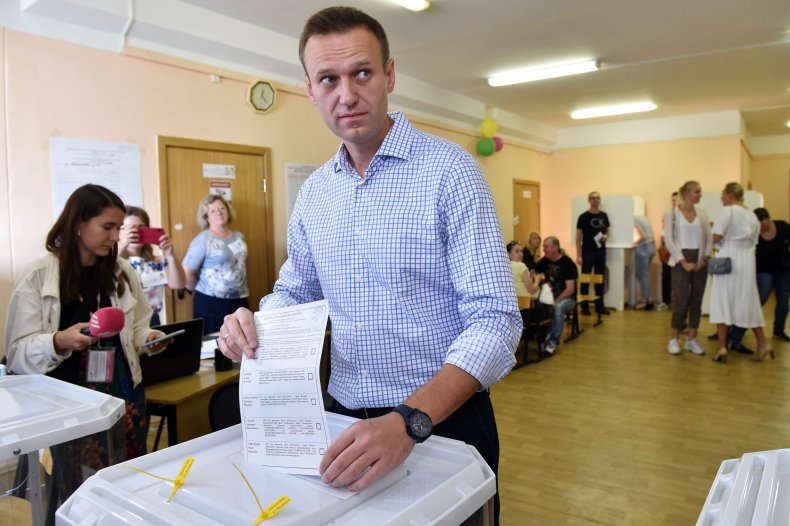 It follows Navalny's "smart voting" movement, which reduced the number of pro-Kremlin members of Moscow city council in last weekend's elections.
Navalny, a thorn in the side of President Vladimir Putin and the Kremlin, urged his supporters to vote tactically in the Moscow elections and back any non-government-related candidates, including members of the Communist Party.
The move has been credited with reducing the seats won by Putin's United Party, which ended up with only a slim majority on the Russian capital's City Hall.
Boyko, a Navalny associate, came second in the country's third-largest city with nearly 20% of the vote in the mayoral election.
Footage shows him holding a device that controls a drone hovering at his window outside his apartment.
He says that the drone contains his "very important" hard drives, which have "all our valuable digital information."
The footage shows him going to the door as officers are knocking on it, and saying through the keyhole: "Who's there? What do you want?"
"You have sealed up the keyhole, I can't check whether or not you are police. Who can I contact to check that you have the authority to enter," Boyko says.
"I have the right to call a lawyer during a raid," he added.
Separate footage later shared on his YouTube channel shows officers outside the building leading him away and putting him into an unmarked white van.
In front of a campaign board, he says that the authorities "have two clear goals. To intimidate and to ransack and they must achieve neither because they will not intimidate us."
"It is our city and we will continue our political actions," he added.
The raids across the country are linked to money-laundering charges Navalny faces, charges he says are politically motivated.
Russia's Investigative Committee alleges his FBK anti-corruption organization, which uncovers graft of government and regional officials, laundered 1bn roubles ($16 million) between 2016 and 2018.
In an online video, Navalny described the raids as the largest ever carried out by law enforcement officials. "Putin is very upset. It's clear that only Putin himself could give the order for such a large-scale operation," he said, according to The Guardian.