Russia Opens Patriotic Military Summer Camp Under Putin's Patronage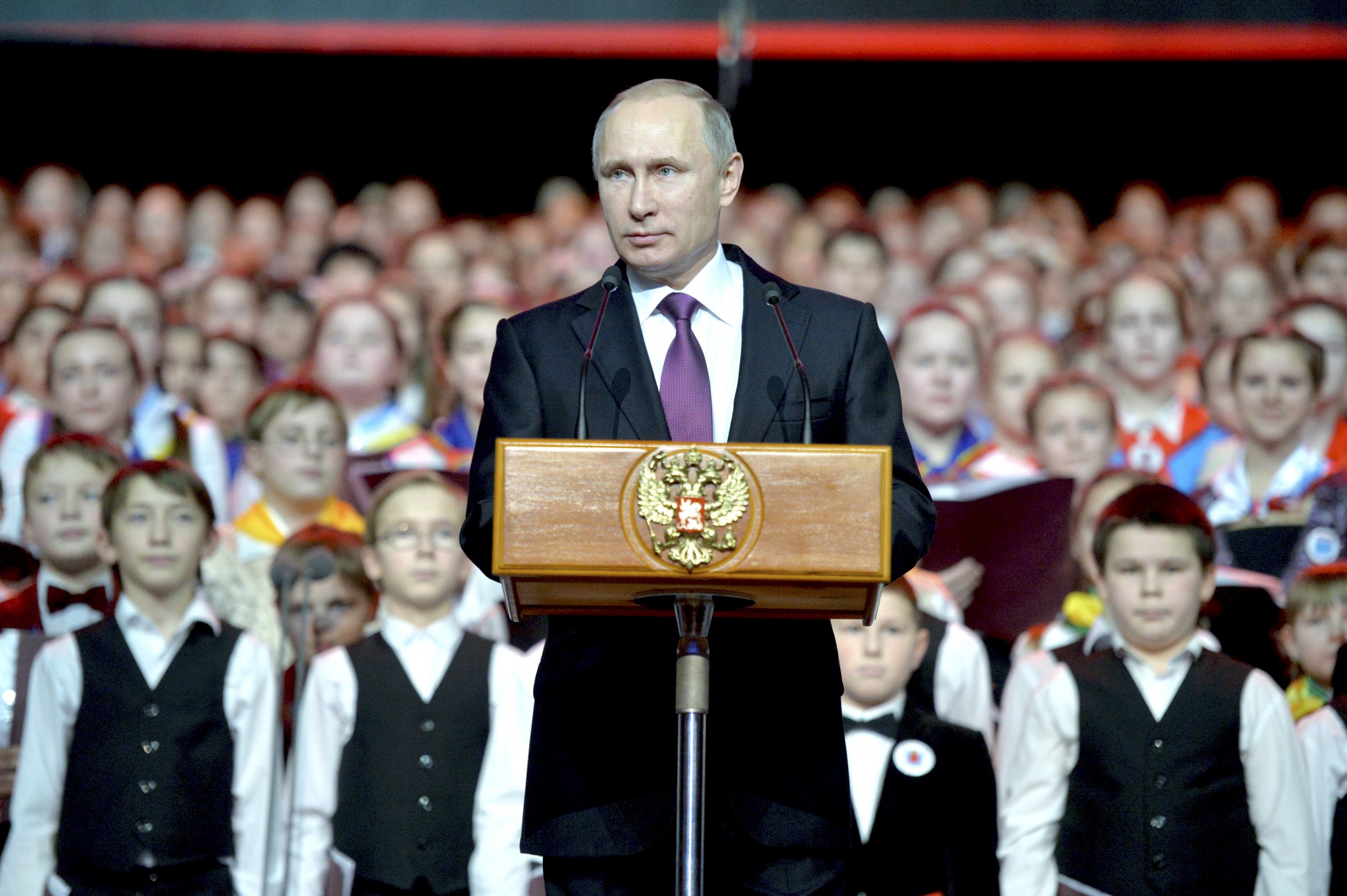 Russia is opening a "patriotic" summer camp for hundreds of veterans' children, including those from the conflicts in Syria and Ukraine, under the patronage of President Vladimir Putin.
Putin has presided over a significant militarisation of Russia in his third term as president, during which Russia has instigated military interventions in Ukraine and Syria. Russia's defence budget has also increased, despite the country falling into a recession.
Now veteran support charity Boyevoie Bratstvo (Battle Brotherhood) has unveiled a 10-day summer camp for the children of Russian veterans, as well as killed veterans from Syria and rebel-held east Ukraine.
The charity, whose activities are set up under Putin's patronage, announced that they will use the facilities of a military training ground in the city of Kovrov, in Russia's western Vladimir region.
There, around 600 children between the ages of 14 and 18 will spend 10 days being taught about life in the military, receiving physical and firearms training, competing in sports games and complete some form of artistic challenge, the deputy head of Vladimir region Viktor Kaurov told state news.
The camp opens its doors on Friday, effectively expanding on last year's patriotic federal camp, which was attended by over 100 youths from across Russia.
"Attendees of the patriotic camp will be 550 children from Russia's central and Volga federal regions, all municipalities in Vladimir region, as well as children of killed personnel from Syria's military and from southeastern Ukraine (Donetsk and Luhansk)," he said.
According to him around 20 visitors are expected from Syria, 20 from Donetsk and 10 from Luhansk.
Andrew Monaghan, Russian security expert for London-based thinktank Chatham House believes the camp is linked to a wider mobilisation of Russian society.
"I think it's part of a wider attempt to consolidate society, including ideas to provide military training and 'counter revolution education'," he says. "Importantly, also the Ministry of Defence has also established a Youth Army for teenagers, which gives some basic military training - alongside physical education and some military and state history. It's a voluntary movement, a nationwide programme to provide some basic training. Some of those involved do point out the traditions of such organisations in Russia."
During the Soviet-era Russian youths were encouraged to join the 'Pioner' movement, which resembled an analogue to the Western boy scouts, but receiving some basic military training and celebrating Soviet dogma. Monaghan believes the new camp is likely an anbiguous move, both promoting a healthier lifestyle but also attempting to advertise the appeal of a military career to youths.
"I think it's partly to do with summer camps and physical exercise for youth - so with important social and health implications, such as anti drugs/alcohol, crime, physical ill health, but yes, (it) also seems to be a recruitment effort for teens. Such recruitment efforts don't always work terribly well, don't forget."
Currently the Russian military is undergoing another snap drill, in what has become common practice to elevate battle readiness since 2013.