Russia Orders 1,200 Civilians to War Amid Counteroffensive: Ukraine
Russia has forced a "mass conscription" of 1,200 civilians to defend its occupation of Crimea, according to Ukraine's Defense Ministry.
Ukrainian officials said Wednesday that "military commissariats" of the Moscow and Leningrad regions—including Moscow and St. Petersburg—received instructions to engage militarily. The citizens, described as "Muscovites" and "St. Petersburgers," were "called up during the covert mobilization" and joined military units stationed in Crimea.
The conscription was allegedly ordered by Army General Aleksandr Dvornikov, the commander of the Southern Military District.
"Since combat operations are not yet being conducted on the territory of the Autonomous Republic of Crimea, these servicemen are not offered to sign a contract—which may indicate cost savings and reluctance to pay all the allowances specified by the legislation of the Russian Federation," Ukraine's Defense Ministry said.
"[So] 1,200 conscripts will serve and die under the blows of Ukrainian troops and at the hands of 'partisans' for a conscript's salary, which is about 5,000 rubles [about $82 U.S.)."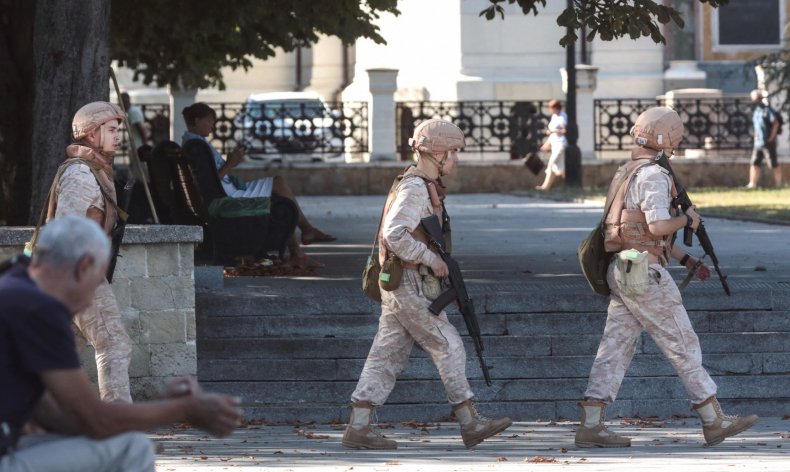 Russian funds will be preserved because the servicemen's families won't be compensated in the event of death, Ukrainian officials added.
Newsweek could not independently verify Ukraine's claims.
If true, the Russian move to bring in citizens to fight comes as Ukraine is in the midst of a counteroffensive that aims to further bolster reoccupation of what Ukrainian President Volodomyr Zelensky has repeatedly said is "Ukrainian land" and "ours" in Crimea.
"This war, which began with Russia's occupation of our Crimea [in 2014], with an attempt to seize Donbas, must end precisely there—in the liberated Crimea, in the liberated cities of Donbas, with our troops reaching the state border of Ukraine," Zelensky said on August 29 during a televised address.
The counteroffensive has zeroed in on the southern city of Kherson, claimed by Russia as its own early in the war, which began on February 24. About a month later, Ukrainians struck the Antonovsky Bridge over the Dnieper River, preventing Russian access to Kherson.
Former Ukrainian Member of Parliament Sergey Khlan, an adviser to the regional governor of Kherson, referred to the High Mobility Artillery Rocket Systems (HIMARS) that have become instrumental in stunting Russian command centers and ammunition depots in what he called "temporarily occupied Kherson."
"It is important to make sure that this equipment is not moved to the front line. And here we are watching strikes on the Antonovsky Bridge again," Khlan told Ukraine's Channel 24 in comments reported by Ukrainian media outlet UKRINFORM.
Ukraine's reports are similar to those made by the U.K. Ministry of Defense. On August 30, U.K. officials said that Russian forces in Kherson are "undermanned" even though it "has made significant efforts to reinforce its force on the western bank of the Dnipro [Dnieper] River around Kherson" since the beginning of August.
"There is a realistic possibility that Russia has moved to rationalize the several, semi-independent, operational commands which contributed to its poor performance early in the invasion," the U.K. Ministry of Defense said.
The General Staff of the Armed Forces of Ukraine said that Russia has lost about 47,900 people and nearly 1,100 enemy artillery systems between February 24 and August 31, with "the greatest losses" suffered in the Donetsk and Kurakhiv areas.
Newsweek reached out to the defense ministries of Ukraine and Russia for comment.