Russia Outraged by 'Charlie Hebdo' Sinai Crash Cartoons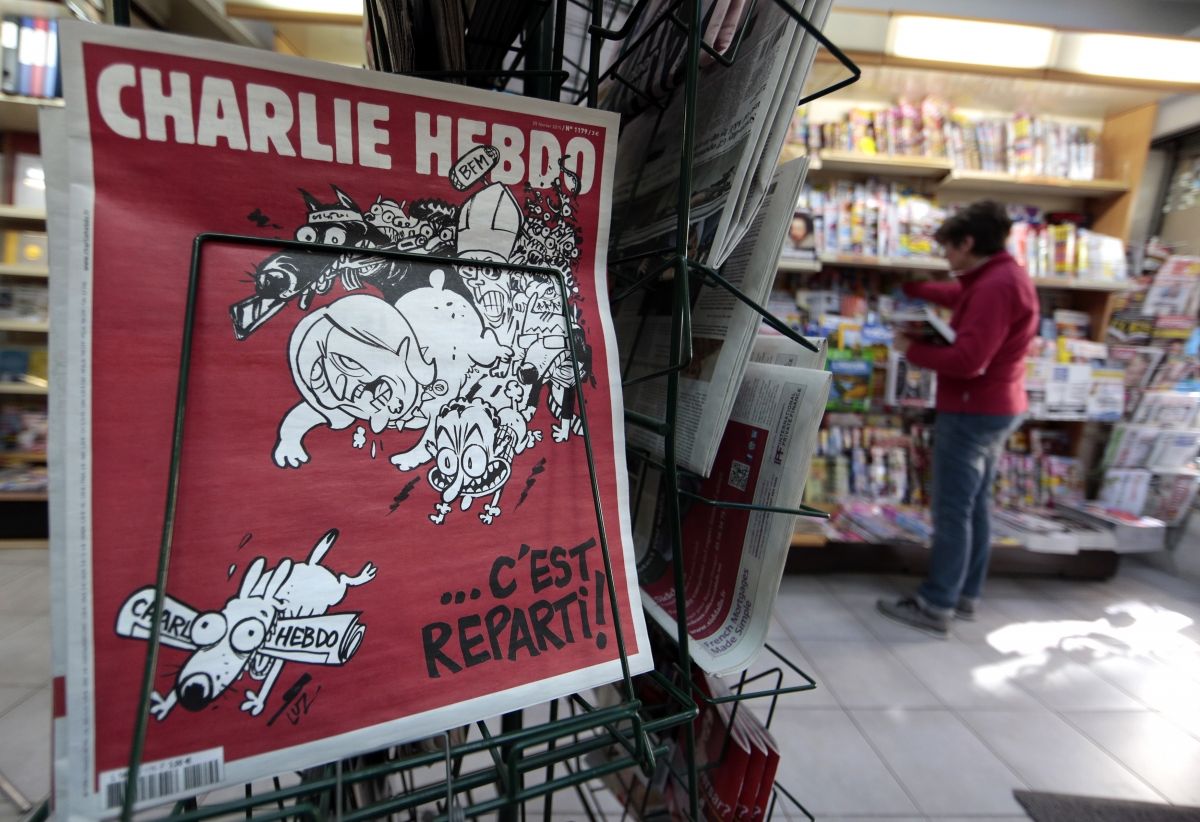 High-profile figures from the Russian government have expressed their outrage at Charlie Hebdo's cartoon depiction of the recent Russian MetroJet airline crash, with the Kremlin accusing the cartoonists of "sacrilege," and one lawmaker branding the magazine's staff "scumbags."
The French satirical magazine, which is infamous for its controversial, satirical caricatures, published cartoons in this week's issue depicting the ruins of the plane falling on a bearded militant, with the caption, "ISIS: The Russian air force intensifies its airstrikes."
The issue, which was published following Saturday's crash in which 224 people died, also contains a cartoon that shows a Russian holiday maker's flaming skull, next to the crashed liner with the caption, "The dangers of budget Russian travel," French broadcaster BFMTV reports.
A Kremlin spokesman, Dmitry Peskov, began his daily press address on Friday by repeatedly branding the cartoons "sacrilege," state news agency Itar-Tass reports.
"This has no relation to democracy, nor to the right of freedom of expression. This is sacrilege. We could not find [the cartoons] ourselves, but if they have been published, it is sacrilege. At least, that is how it is considered in our country," Peskov said.
"I do not presume to judge the morals of the French—that is probably their concern—but in our country this is sacrilege," Peskov added.
Although Charlie Hebdo is not published in the country, Russian citizens have been sharing the images on social media under a hashtag that translates to "I am not Charlie," a reference to the Je Suis Charlie ("I am Charlie") campaign that became a slogan of solidarity with the magazine after the deadly attack on its headquarters in January.
"Is anyone else still Charlie?" Maria Zakharova, spokeswoman for the Ministry of Foreign Affairs, wrote on her Facebook page. Speaking to state news agency RIA Novosti, she added, "Do you know why I am not Charlie? Because in my opinion they lie to us and to themselves."
"They say that no topic is off limits for their sense of humor. If that were the case, then even their cartoon of the dead Syrian boy would have been understandable. Not acceptable, but understandable. However [this would only be true] under one condition—if, on the day after the attack on the Charlie headquarters, they had released a new issue with caricatures of their dead colleagues in it."
Members of Russia's parliament, the Duma, were even more critical of the cartoon. Vladimir Zhirinovsky, the bombastic leader of Russia's ultra-nationalist LDPR party, told RSN radio station that Russia should set up its own version of Charlie Hebdo to "mock the whole of France, all of the French, starting with Napoleon."
Zhirinovsky also announced that he is gathering supporters for a five-day protest outside the French embassy, while fellow LDPR lawmaker Yarolsav Nilov told RIA that Charlie Hebdo had crossed a line and accused the magazine of "provocation."
"The worst punishment for an idiot is not to pay them any attention. This behavior is a great sin," Nilov said.
Alexander Romanovich, a member of Russia's social democrat party, A Just Russia, who is also deputy head of the Duma's international affairs committee, told RSN that the controversial magazine had "lost all sense of shame."
He added, "These are scumbags. This will lead to serious problems. It violates the good relations between the people of our two countries. This is a serious blow to our relations [with France]."
Viacheslav Nikonov, from the ruling United Russia party, also spoke to RIA about his outrage at the cartoon. "In this given instance Charlie Hebdo journalists are dancing on the grave of these people who died in a terrifying catastrophe," Nikonov said on Friday. "I believe these cartoons heavily smear France's image as a state and Europe's image, where such things are possible."