Russia Unleashes Devastating Assault Across Ukraine: 'Massive Attack'
Russian forces carried out a "massive missile attack" on key Ukrainian targets overnight, according to Ukraine's top soldier.
On Thursday morning, the Ukrainian General Staff of the Armed Forces said Russian rockets had struck the country's critical energy and civilian infrastructure overnight. General Valery Zaluzhny, the commander-in-chief of Ukraine's armed forces, said the country's air force had succeeded in shooting down 34 cruise missiles.
The General Staff said Moscow's forces had carried out 81 missile strikes, including 28 recorded Kh-101 or Kh-555 air-launched cruise missiles.
Five people were killed overnight in the western Lviv region after a missile landed in a residential area, local officials said on Thursday. Ukraine's Defense Ministry also said the attacks had caused civilian deaths and injuries but did not say how many.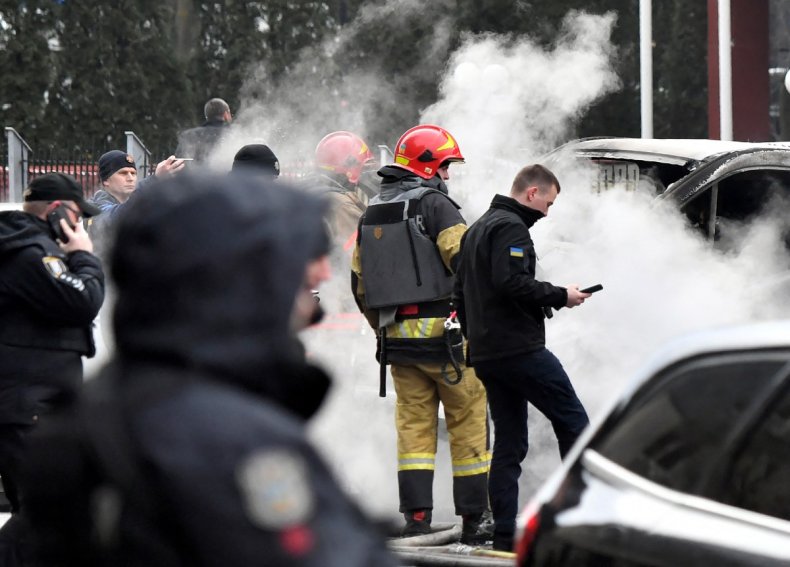 Moscow's forces have consistently targeted Ukrainian critical infrastructure, including energy supplies. Human rights campaigners Amnesty International said back in October that Russia intends to "undermine industrial production" and "sow fear and despair" in the Ukrainian population by targeting energy infrastructure.
A further 20 Kalibr sea-launched cruise missiles, and six Kh-22 anti-ship cruise missile strikes were carried out, the General Staff said. Russian forces fired six winged Kh-47 Kinzhal air-launched missiles, plus two Kh-31 anti-ship missiles and six Kh-59 guided surface-to-air missiles, according to the published information.
The Kinzhal hypersonic missile is impossible for Ukrainian air defense to intercept. A further 13 C-300 anti-aircraft missiles were launched overnight, the General Staff said.
Of eight launched Iranian-made Shahed-136 and -131 drones, half were shot down by Ukraine, Zaluzhny wrote in Thursday's update.
Ukraine's Ministry of Defense reported the attacks on its Twitter page and appealed to Western countries to help bolster its defenses against the missiles. "Ukraine needs more air defense systems," it said.
Writing on Telegram early on Thursday morning, the Ukrainian Internal Affairs Ministry said that information about "the night rocket attack will be made public a little later."
Russia's Defense Ministry has not publicly commented on the strikes. Newsweek has reached out to the government department for comment.
Ukrainian President Volodymyr Zelensky said on Telegram that it had been a "difficult night" of "massive missile attack[s] across the country."
He said strikes on critical infrastructure and residential buildings had been reported in numerous regions of Ukraine, including Lviv, Kyiv, Dnipropetrovsk, Odesa, Kharkiv and Zaporizhzhia.
Dnipropetrovsk regional governor, Serhiy Lysak, said the region had been targeted with missiles and drones, with one person reported dead.
The strikes had wrought "serious destruction" for the region's energy infrastructure and industry, he said, adding emergency services were working on the ground. Kyiv's mayor, Vitaly Klitschko, said that two people had been hospitalized and 40 percent of the city's residents have lost heating.
Ukraine's state nuclear operator, Energoatom, said on Thursday that the Zaporizhzhia nuclear power plant was in "blackout mode" for the sixth time since the full-scale invasion began. Energoatom said that the "last overhead transmission line" between the plant and Ukraine's energy system was "disconnected" just before 4 a.m. local time as a result of the missile strikes.
Vladimir Rogov, an official with Russian-backed authorities in Zaporizhzhia, told Russian state media on Thursday that the nuclear power plant disconnecting from external power had "nothing to do with shelling attacks, [and] nothing happened in the area that could have led to the power cutoff."
Ukraine's foreign minister, Dmytro Kuleba, said the missile and drone attacks had "no military objective, just Russian barbarism."
Ukraine's first lady, Olena Zelenska, took to Twitter to say it had been "another terrible and disturbing night for Ukrainians."
"But we know: enemy is furious because it is losing," she wrote.