Russia on Pace For 140,000 Dead Soldiers at War's One-Year Mark: Ukraine
Russia has reportedly lost so many soldiers in the Ukrainian war during the last 11 months that it could possibly see 150,000 total dead by the war's 1-year mark next month. A more conservative number predicts 140,000 dead Russian soldiers by a month from today.
These estimates come from Ukraine's Ministry of Defense. Ukraine estimates that Russia lost 690 soldiers yesterday, bringing Russia's total losses to an estimated 122,170 in the last 11 months.
The war between Russia and Ukraine hit its 11-month mark on Tuesday, and Russia's losses have piled higher in the last few months. With averages of 500-700 losses per day, Russia could possibly lose another 15,000-21,000 soldiers over the next 30 days, which could put its losses between 140,000-150,000 since the war began on February 24, 2022.
The defense ministry on Sunday listed 600 Russians killed, which brought the four-day total to 2,290 Russian casualties.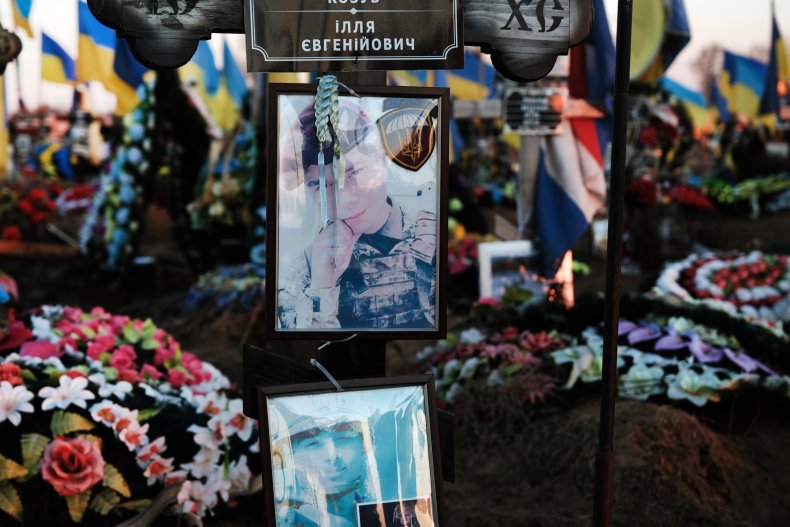 Ukraine President Volodymyr Zelensky during his New Year's address to the nation said Russia is "afraid" and that he senses "fear."
"They are afraid. You can feel it. And they are right to be afraid. Because they are losing. Drones, missiles, anything else will not help them. Because we are together. And they are together only with fear," Zelensky said.
Russia's war of aggression in Ukraine has now entered its 12th month, they but failed to take the capital of Kyiv, getting pushed back by Ukrainian fighters. Ukraine fighters have also shown a staunch defense in northern cities like Kharkiv, where they pushed Russian troops back toward the nearby border.
Russia, despite many losses in the war entering its 49th week, has shifted focus to eastern and southern Ukraine. That includes a strong presence in the Black Sea.
Ukraine is gaining more support from the West, particularly from the United States and Germany for tanks and new air defense systems that can protect the country from Kh-22 missiles, like the ones that destroyed Dnipro a week ago.
Ukraine's office of the Prosecutor General said it was Russia's 52nd Guards Bomber Aviation Regiment.
"According to preliminary information, the Kh-22 missile was used. This type of missile leads to the greatest human casualties, because the missile is extremely inaccurate, has a huge deviation. Therefore, the use of such weapons for targets in densely populated areas is clearly a war crime," the Ukraine office said in a Telegram post. "This type of rocket was used in Sergiivka and Kremenchuk. It can be launched by a single Russian unit - the 52nd Guards Bomber Aviation Regiment."
Many Western countries, including the United States, Germany and other allies have begun pledging more tanks to assist Ukraine as well. This includes a bipartisan crew of U.S. lawmakers who are urging President Joe Biden to act suddenly for support.