Russia's Anti-Mobilization Petition Passes 300K Signatures
More people have already signed a petition opposing Vladimir Putin's decree to mobilize the Russian population than would be called up for service.
As of Thursday morning, more than 327,000 people had signed a Change.org petition, "No to mobilization," opposing the move by the Russian president to call up reservists to join in his faltering invasion of Ukraine.
The petition states: "We, the citizens of Russia, women and men, oppose general and partial mobilization," adding that Putin has "no legal grounds," or any good reasons, for the decree.
"In the current situation of uncertainty, we are not ready to expose the men of our country— brothers, sons, husbands, fathers and grandfathers—to moral, or physical danger," states the petition, which people can sign as long as the war in Ukraine continues.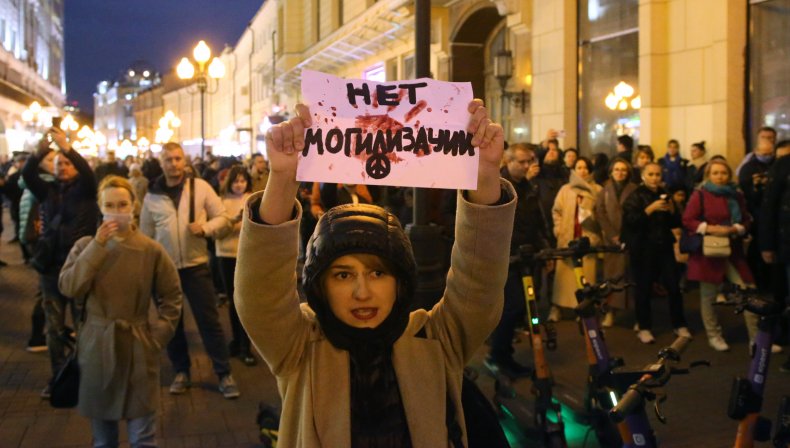 The decree to mobilize has sparked protests in 38 cities across Russia, leading to more than 1,300 arrests, with more than 500 each in Moscow and St Petersburg, according to human rights group OVD-Info.
Unsanctioned rallies are illegal under anti-protest laws and the Moscow prosecutor's office has warned that those who take part in demonstrations risk a jail sentence of up to 15 years.
While not a general mobilization, which would entail the call up of all citizens, there is still a lack of clarity on what Putin means by a "partial" mobilization.
Putin's defense minister, Sergei Shoigu, said it would prioritize a call up of military reserves with experience in the armed forces, although a lack of official detail has sparked confusion about who might actually be affected.
Sergei Krivenko, director of the human rights group "Citizen. Army. Law," told The Moscow Times that judging by the decree, "any citizen from the military reserve can potentially be drafted."
Analysts have said that Putin's decree is unlikely to provide any immediate gain for Russia's forces, who have been left reeling from advances by Ukraine's troops.
Dale Buckner, CEO of the international security firm Global Guardian, which has intelligence teams in Ukraine, said that the training before Russian troops are sent to their unit is "incredibly poorly run," which means Putin will be "throwing people in as fodder."
"The first challenge is, do they have uniforms and boots and basic equipment?" he told Newsweek. "You can take 300,000 people, you now have to train them; you have to equip them, and you have to professionalize them."
He said that morale among the Russian reservists would be low because many would not "morally and ethically" buy into Putin's war effort to do well on the battlefield.
"Many of them will be injured and killed, many of them will desert and many of them will not fight," he said.