Russia has been accused of playing up its bond with Pyongyang by airbrushing a smile on Kim Jong Un's face as he shook hands with Moscow's top diplomat.
Russian Foreign Minister Sergey Lavrov and other delegates met with North Korea's leader on Thursday, shaking hands and trading pleasantries. Although neither side announced any major policy shift, the symbolism of the public trip, less than two weeks from Kim's planned first meeting with a U.S. president, was evident.
Kim thanked Moscow for opposing U.S. dominance and politely asked about Russian President Vladimir Putin's well-being, but his scowling at the camera when shaking hands with Lavrov was a touch too severe for the Kremlin. By the time Russian state channel Russia-1 broadcast its weekly news review Vesti Nedely (The Weekly News) on Sunday, Kim's stern look had changed to a smile as the program's anchor declared that the trip showed the U.S. "the now common Russian-North Korean position."
Related: How Do Russia's Military Bases Abroad Compare to the U.S.?
In Russia, social media users were quick to mock the program, contrasting it with the official images and footage that both countries' governments had published. There, Kim's face remains serious in the posed photographs with Lavrov and with the rest of the Russian delegation.
"Vesti Nedely photoshopped a smile on Kim Jong Un's face," a parody Twitter account of the Russian foreign ministry wrote. "Everyone needs this. If there is something that somebody does not like, a smile gets photoshopped."
"Rossiya-1 showed a still from Lavrov's meeting with Kim Jong Un," Russia's popular meme source Lentach announced on the VKontakte social media platform. "But at the last moment they photoshopped a smile on so as not to darken the mood of Kiselyov's jolly content," the site mused.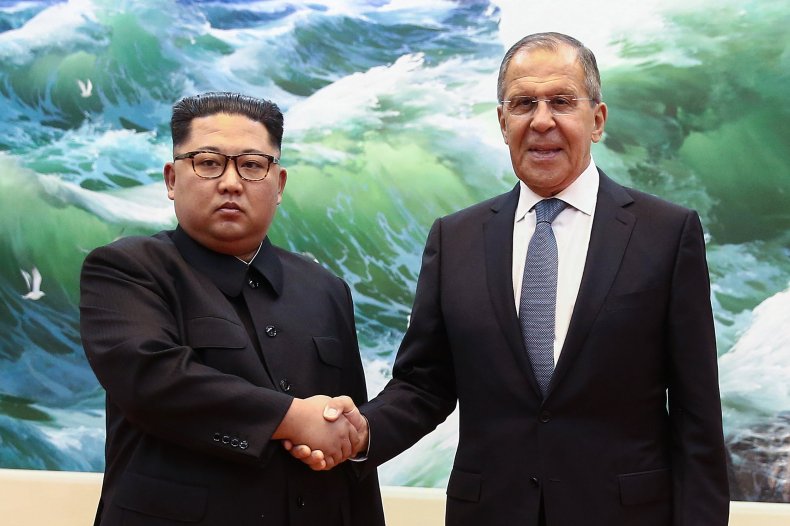 Dmitry Kiselyov's Vesti Nedely frequently discusses the possibility of conflict with the U.S. and gives weekly analysis of world affairs promoting Putin's image of strength, while stoking conspiracies abroad and casting Western nations as unstable or anti-Russian.
"When propaganda needs your smile," one Twitter user wrote in Russian, in response to the images. "They could have shown Kim kissing the hand of Putin's envoy but they felt a little modest so they chose not to," another tweeted. "But can they photoshop a smile on me too?" a third Twitter user quipped.
As reports about the pictures pread across non-state media on Monday, Kiselyov chose not to ignore the jokes at his expense and claimed the awkward image, whose colors were clearly edited, was genuine.
"The photographs are always taken with high-shutter-speed lenses," he told Moscow radio station Govorit Moskva (Moscow Speaks). "So all sorts of phases of expression turn out."
Despite Kiselyov's comments, the Russian foreign ministry also released footage of the handshake, where Kim's face is virtually entirely still when facing the cameras. The North Korean leader appears to grin widely when walking with the Russian diplomats and when facing them, but away from the lens.
The TV broadcaster did not immediately respond to Newsweek's request for comment on the alleged alteration of the images.