Russia Practices Winning War in Disputed Region NATO Just Told It to Leave Immediately
Russia has hosted a series of drills in Abkhazia, a Black Sea breakaway republic considered by much of the international community to be a part of neighboring Georgia, where NATO was pursuing rival maneuvers.
During a recent visit there, NATO Secretary-General Jens Stoltenberg told the Institute for War and Peace Reporting that NATO "recognizes the territorial integrity of Georgia within its recognized international borders" and calls "on Russia to withdraw its forces from Abkhazia and South Ossetia," a fellow pro-Moscow territory that declared independence in the 1990s. The two breakaway regions, which played a major role in the 2008 war between Georgia and Russia, host Russian military bases and have received renewed attention as Georgia pushed for NATO and EU membership.
Moscow has opposed the move, which would create a new front line between Russia and NATO. The latter has steadily expanded east in the years since the collapse of the Soviet Union. As Stoltenberg spoke with officials in Georgia, Russian troops fired grenade launchers, howitzers and mortars at "ground and air targets simulating infantry and enemy helicopters" in Abkhazia's Tsabal and Nagvalou.
Russian forces continued exercises through Monday, thwarting a mock militant takeover of a Gudauta checkpoint in the latest round of maneuvers involving some 500 military personnel training for combat in one of the so-called "frozen conflict" zones of the post–Cold War era in Eastern Europe.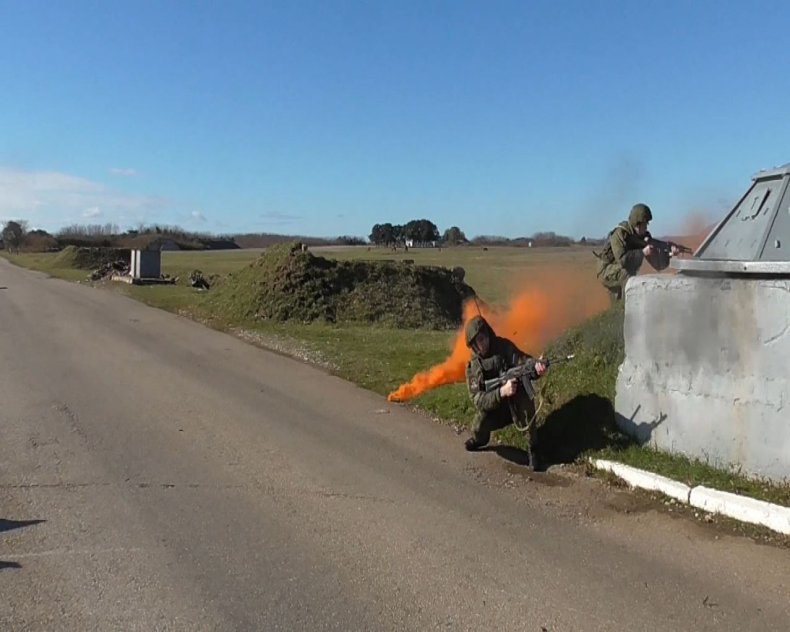 Russia's successful defense of Abkhazia and South Ossetia in its 2008 war with Georgia set off a downturn in relations between Moscow and the West. The two sides fell out further in 2014, after Russia annexed Ukraine's Crimean Peninsula amid a political uprising in Kiev and was accused of supporting an insurgency in eastern Ukraine. That same year, Moscow formalized its military partnership with Abkhazia, followed by South Ossetia in 2015.
In response to these moves, NATO formed four battle groups in the Baltic States of Estonia, Latvia and Lithuania, and in Poland. The region has since been the site of parallel military buildups and regular war games of historic scale. With the collapse of the Intermediate-Range Nuclear Forces (INF) treaty, both sides have threatened to deploy new nuclear-capable missiles across the region.
As Russian troops trained in Abkhazia over the past month, NATO held joint drills with Georgia near Tbilisi, its capital. In response to these exercises and Stoltenberg's visit, the Abkhazia Defense Ministry urged "Tbilisi and Brussels to realize the destructiveness of such a frank demonstration of their military ambitions" in a commentary posted last week to the region's official Apsnypress agency.
Yegor Kochiev, the South Ossetian representative to the Incident Prevention and Response Mechanisms, which involve members of the breakaway republics, Georgia, Russia and other European powers, "expressed concern, stating that in the event of any provocative actions, South Ossetia will turn to its powerful ally and we will defend our territories," according to a statement published days earlier by South Ossetia's official RES news outlet.
On Monday, NATO went on to send four warships—the Netherlands' Provinciën-class frigate HNLMS Evertsen, Bulgaria's Wielingen-class frigate BGS Drazki, Romania's Type 22 frigate ROS Regele Ferdinand and Turkey's Yavuz-class frigate TCG Yildirim—to Georgia's port city of Poti, located just about 30 miles from the de facto border with Abkhazia. That same day, Russian Foreign Ministry Sergey Lavrov met with Abkhaz Foreign Minister Daura Kove to shore up ties.
Responding to a tweet posted Thursday by Dutch Commodore Boudewijn Boots, who said the NATO ships "are looking forward to exercise #SeaShield and to our work with our Ukrainian and Georgian partners," Sergei Zheleznyak of Russia's lower house of parliament said Monday that "NATO's military maneuvers in the Black Sea are another senseless attempt to put pressure on #Russia for the #Crimea," according to the legislative body's own Twitter account.
He added that "even NATO itself does not believe in the possibility of #Ukraine or #Georgia joining the Alliance."