Russia May Be Preparing for 'Forced Evacuation' of Crimea
Russian forces in the annexed Crimean peninsula could be "preparing for a possible so-called forced evacuation," according to Ukrainian media.
Russian officials "visited houses and inquired about the residents" in Crimea, including whether households had children or elderly members, Ukrainian outlet Channel 24 reported, citing Eskender Bariiev, from the Crimean Tatar Resource Center non-governmental organization.
The collection of this information means Russian forces "are probably preparing for a possible so-called forced evacuation," Bariiev said, in a paraphrased readout by Ukrainian outlet Ukrinform.
Newsweek has reached out to Russia's defense ministry for comment via email.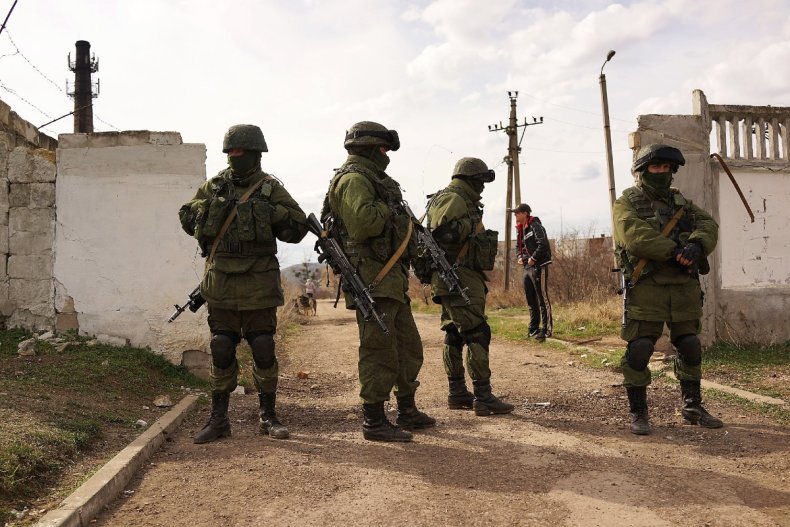 Crimea, to the south of mainland Ukraine, was illegally annexed by Moscow back in 2014. Ever since, Kyiv has reiterated its commitment to retaking the peninsula. Ukrainian media has previously carried reports of possible evacuations of Crimea's residents.
On Thursday, Ukrainian military intelligence chief, Vadym Skibitsky, said Russia was "really preparing for defensive actions" in Crimea, adding the "infrastructure is maintained in combat readiness."
"These are powerful land and aviation components that are located on the territory of Crimea," he said.
On Thursday, the head of the Russian-controlled authorities in Crimea, Sergey Aksyonov, told Russian state media outlet Tass that "under no circumstances" will Kyiv's forces retake the peninsula. This is because of defensive "measures that are being taken" on Russian President Vladimir Putin's orders. He added that Kremlin-backed authorities in Crimea were overseeing what state media described as "fortification works on the peninsula."
Russian sources have also indicated that Moscow is fortifying parts of Ukraine's annexed southern Zaporizhzhia region, according to the Washington-based Institute for the Study of War think tank.
Satellite imagery has shown an "increase" in Russian "fortifications" in Zaporizhzhia, the think tank said Wednesday, as well as more barriers and trenches appearing in the annexed Kherson region, just north of Crimea.
On Wednesday, Russian state media operating in the peninsula shared what it claimed to be footage of schoolchildren in Crimea receiving weapons training in classrooms.
Russian state media outlet RIA Novosti's Crimean arm quoted Crimean politician Vladimir Konstantinov as saying that kindergarten and school-aged children were now being taught in "martial arts" and "drill training."
In an accompanying video, a group of schoolchildren can be seen racing to handle weapons, dissembling and re-assembling what appear to be rifles in a race against one another.
Russia's education ministry has updated school curriculums to "include training with AK series assault rifles and hand grenades, military drill and salutes, and the use of personal protective equipment," the British defense ministry said on January 29, 2023.
Crimea is felt to be a "festering wound in Ukrainian society today," Rory Finnin, an associate professor of Ukrainian Studies at the University of Cambridge in the U.K., previously told Newsweek.
Russia "weaponized Crimea" with the start of full scale war in February 2022, Finnin argued, because Moscow used the annexed territory as a "launchpad" to attack Ukraine.