Russia Is Preparing a 'Surprise' for the U.S. To Retaliate for United Nations Visa Rejections
Russia's Foreign Minister Sergey Lavrov has promised a "surprise" retaliation after 10 Russian diplomats were denied visas to attend the United Nations General Assembly in New York this week.
Lavrov said Thursday that Russian officials are now working on a response. "We will prepare some measures," the diplomat told the Channel 1 TV station, according to the Tass state news agency.
"Don't deprive us of a chance to make a surprise," Lavrov added, refusing to provide any further details.
The ten diplomats refused visas included the Chairman of Russia's Foreign Affairs Committee Konstantin Kosachev. All were unable to travel to New York, leaving Lavrov to raise the issue with Secretary of State Mike Pompeo when the two men meet at the General Assembly.
The Kremlin summoned U.S. Ambassador to Russia Jon Huntsman to explain the failure to issue the visas, though Huntsman's deputy attended instead of the ambassador according to Reuters.
The State Department said it could not comment on the issue, as "visa records are confidential under U.S. law," RadioFreeEurope reported. The department also said it evaluates "each visa application on a case by case basis, consistent with existing laws and obligations."
Kosachev said the decision was "outrageous" and that there was "no explanation or justification" for it. "The United States breached its obligations to the international community and did not issue in due time visas to a number of members of the official delegation, including myself," he said, according to RadioFreeEurope.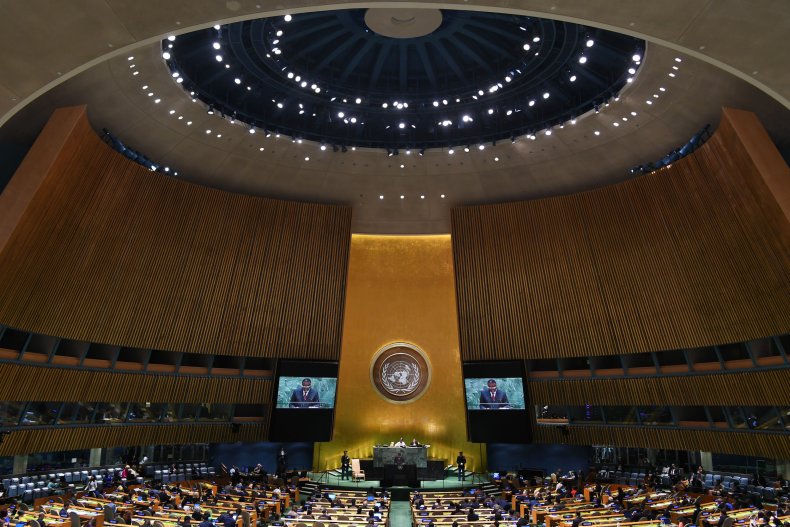 On Wednesday, foreign ministry spokesperson Maria Zakharova said the relevant visa applications were returned by U.S. authorities because they were submitted too early.
Zakharova said the decision is "an outrageous example of disrespect by the United States of America for members of the United Nations, as well as a failure to fulfill its obligations as host country to the world organization."
"Another act of disregard for the rights of sovereign states and international organizations and the inability to somehow comply with their own international legal obligations will be the central theme of the conversation between Lavrov and Pompeo in New York," Zakharova wrote on Facebook.
The spat prompted Russian lawmakers to propose moving the United Nations headquarters away from New York. State Duma member Natalya Poklonskaya, for example, suggested the building be relocated to the Crimean resort city of Yalta, which was part of Ukraine until Russia annexed the peninsula in 2014.
Poklonskaya said such a move would "end all speculations and outdated and very annoying fairy tales from overseas about the annexation of Crimea." The former prosecutor said the resort city is "a beautiful place" that would "encourage peace and constructive dialogue."