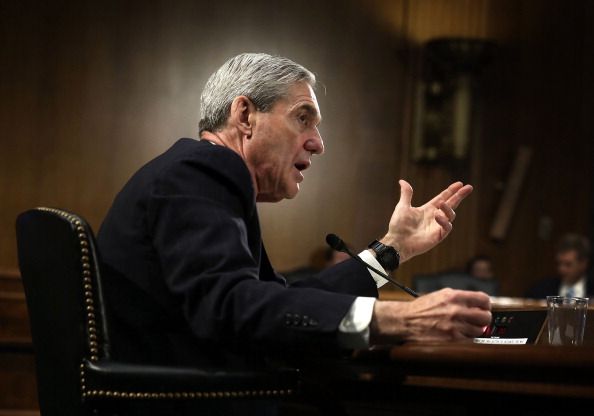 Republicans worked this week to discredit special counsel Robert Mueller following his indictment against President Donald Trump's former national security adviser Michael Flynn last Friday.
Yet legal experts argue that Flynn's indictment provides protection for Mueller against Republican attacks on his credibility, even as Trump continues to charge that there is a "witch hunt" underway.
Any attempt by President Trump to fire Mueller after Flynn pleaded guilty to lying to the FBI would lead to a "groundswell," Michael Weinstein, a former Department of Justice prosecutor who practices at the law firm Cole Schotz, told Bloomberg Businessweek on Thursday.
"It would look so objectionable, like the Saturday Night Massacre with Nixon," Weinstein said, referring to President Richard Nixon's efforts to quash the Watergate investigation.
Mueller is attempting to determine whether Trump's campaign worked with Russia to interfere in the 2016 election and if the president obstructed justice and tried to derail an FBI investigation into the matter. Some prominent Republicans have criticized the special counsel.
"Mueller is corrupt. The senior FBI is corrupt. The system is corrupt," former Republican Speaker of the House Newt Gingrich, told Fox News host Laura Ingraham on Wednesday night.
In May, Gingrich called Mueller a "superb choice to be special counsel" because "his reputation is impeccable for honesty and integrity." Now he and other Republicans want the investigation over.
At a press conference Wednesday, members of the hard-right Republican Freedom Caucus questioned whether Mueller's investigation is nonpartisan after The New York Times revealed last weekend that senior investigator Peter Strzok was removed from the team for sending text messages with anti-Trump political views.
Read more: Is the Mueller probe biased against Trump? FBI director says agents are allowed political opinions
"The question really is, if Mueller was doing such a great job on investigating the Russian collusion, why could he have not found the conflict of interest within their own agency?'' asked Freedom Caucus leader Congressman Mark Meadows.
During a House Judiciary Committee hearing on Thursday, Republicans also hammered FBI Director Christopher Wray on his agency's political impartiality. "At the very least, the FBI's reputation as an impartial, nonpolitical agency has been called into question recently," Representative Bob Goodlatte, the Republican chairman of the committee, said after the Strzok revelations.
Last weekend, Trump tweeted that the agency's reputation is in "tatters" and some commentators have speculated that the president may try to end the probe, evoking comparisons with Nixon's attempts to thwart investigations into the Watergate scandal.
On Saturday, October 20, 1973, Nixon ordered Attorney General Elliot Richardson to fire special prosecutor Archibald Cox after Cox subpoenaed taped conversations made in the Oval Office.
Richardson refused and resigned in protest. Deputy Attorney General William Ruckelshaus did the same after Nixon ordered him to fire Cox. Next in line, Solicitor General of the United States Robert Bork fired Cox and the event became known as the Saturday Night Massacre.
Weinstein, the former Department of Justice prosecutor, said that it would look suspicious if Trump tried to fire key personnel linked to the investigation. Nixon resigned the summer after the Saturday Night Massacre after articles of impeachment were drawn up against him.
On Wednesday, Deputy U.S. Attorney General Rod Rosenstein, who appointed Mueller as special counsel, told NBC News he is satisfied with Mueller's work. Rosenstein is responsible for the case after Attorney General Jeff Sessions recused himself from the Russia investigation because of his involvement in the Trump campaign.
Rosenstein said he was unable to comment fully on an ongoing investigation, but added: "What the American people will see is only if and when a case is charged. And there are several cases that have been charged to date."
At least four people—including Flynn and Trump's former campaign chairman Paul Manafort—have been charged in the investigation so far. Former Trump campaign foreign policy adviser George Papadopoulos has also pleaded guilty to lying to the FBI.
If Trump were to attempt to fire Mueller he could be accused of orchestrating a cover-up as the investigation probes deeper into his closest circle of advisers. None of the cases that have been opened so far would end with Mueller's dismissal.
"Any rational prosecutor would realize that in this political environment, laying down a few markers would be a good way of fending off criticism that the prosecutors are burning through money and not accomplishing anything," Samuel Buell, a former federal prosecutor turned Duke Law School professor, told Bloomberg.
Mueller's investigation has gathered evidence that could form the basis of cases at the state level as well, which Trump couldn't pardon, legal experts have said. The charges would also give Mueller ammunition if he filed a wrongful dismissal lawsuit.
Former Justice Department spokesman Matthew Miller told The Washington Post that the goal of Republicans is to "delegitimize Mueller in such a way that he can either be fired or can be ignored if he concludes the president broke the law."