Female Protester Punched in the Stomach by Russian Police in Viral Video Diagnosed With Brain Injury
A woman punched in the stomach by a police officer during protests in Moscow last weekend has suffered a brain injury, her lawyer has said.
Footage of Darya Sosnovskaya being struck by an officer in the stomach and being dragged away in the center of the Russian capital on Saturday, has been widely shared on social media.
The clip of Sosnovskaya, 26, sparked anger among many, who have accused the authorities of using excessive force in dispersing the demonstrators.
The singer Sergey Lazarev put up the video on Instagram and posted a message to his four million followers which read: "No matter what, a man cannot beat a woman!!...Shame on you!... I am against violence in any form!"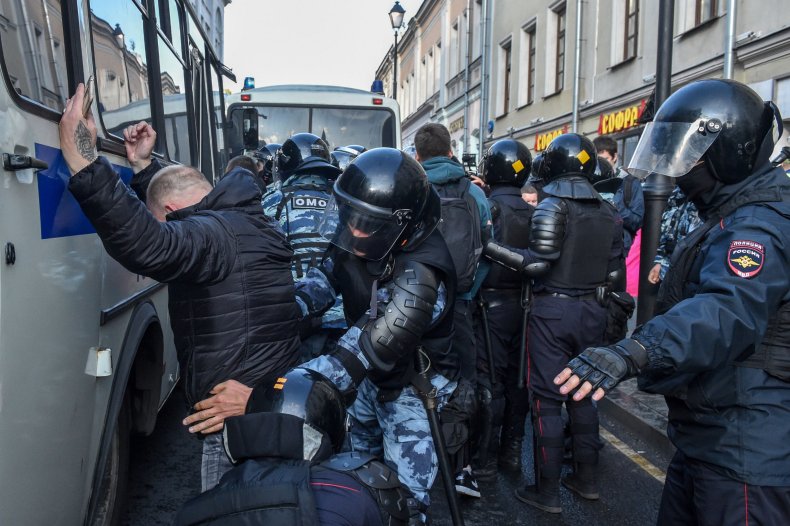 Sosnovskaya's lawyer, Tatyana Molokanova, told the state-run news agency TASS that doctors had examined her client and diagnosed her with a "closed brain injury and a brain concussion, as well as with a scalp contusion."
Sosnovskaya said she was detained after complaining to police about their arrest of a man who appeared to be disabled. She has filed a legal complaint.
Russia's interior ministry told the agency that 136 people were arrested for taking part in an unauthorized march which followed a rally that had been permitted by authorities.
The sanctioned protest attracted up to 60,000 people, making it the second largest rally since the Bolotnaya protests that ended in 2012 following a rigged Duma election in December 2011.
Russian authorities have rejected claims excessive force was used to disperse last weekend's protests which have been ongoing for five weeks to demand free elections in the city legislature.
It follows the decision of the electoral commission to disqualify opposition candidates from running for the Moscow City Duma, a legislative body that rubber stamps Mayor Sergey Sobyanin's policies.
Meanwhile, Russia's media watchdog, Roskomnadzor, has called on Google to stop YouTube users from posting information about unsanctioned political protests.
It said that if the web giant does not prevent push notifications about such protests, Russia would retaliate because it would consider it an "interference in the sovereign affairs of state."
Roskomnadzor said in the statement it would view it as "hostile and hindering to the conduction of democratic elections in Russia, and will reserve for itself the right to adequate response," according to The Independent.
Activists are planning another protest in Moscow on Saturday August 17. The graphic below, provided by Statista, illustrates Russian attitudes toward participating in protests.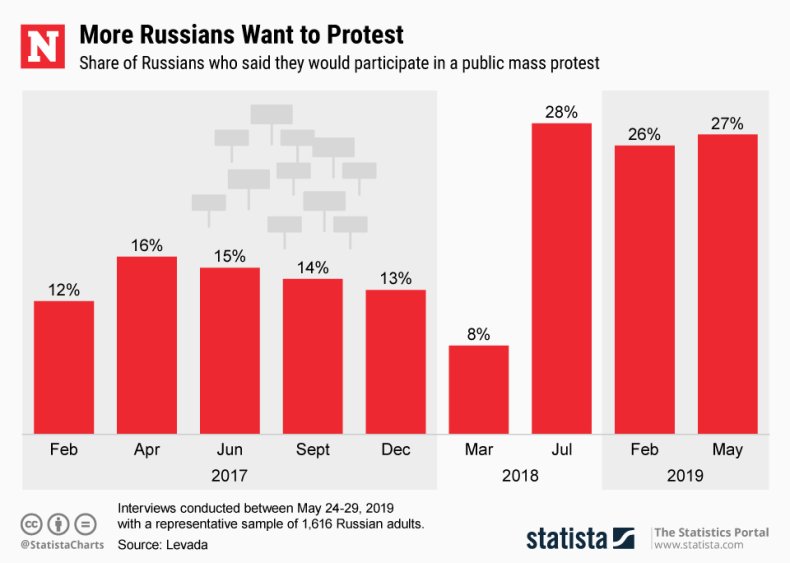 This article was updated to include an infographic.
Female Protester Punched in the Stomach by Russian Police in Viral Video Diagnosed With Brain Injury | World