Vladimir Putin has said Russia has the world's best armed forces and issued a threat about his country's nuclear missile capabilities.
The claim by the Russian president comes amid a statement from Ukraine's armed forces that Russia's army had lost more than 34,000 troops since the start of his invasion on February 24.
The Russian government newspaper Rossiyskaya Gazeta reported that Putin had told a meeting of the State Council on Tuesday that there are "no more effective armed forces in the world today than in Russia."
"The current situation will allow further improvement of the army," the paper said in reporting his comments.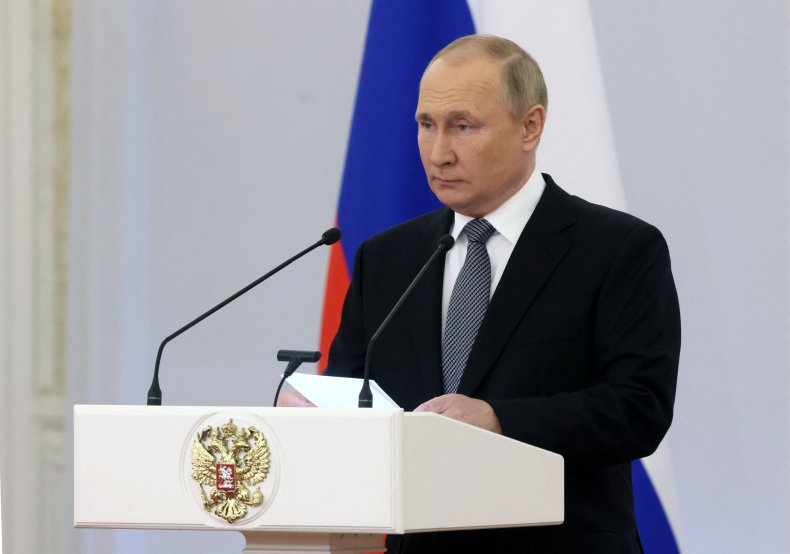 The General Staff of the Armed Forces of Ukraine said on Tuesday that Russia had lost over 34,000 military personnel during the full-scale military invasion.
The true number of Russian troop losses is difficult to verify. One estimate from the RUSI Defense Systems online journal this week put the figure at between 18,000 to 20,000. In its last update on March 25, Russia's defense ministry, which Newsweek has contacted for comment, said that 1,351 Russian soldiers had been killed.
Earlier on Tuesday, Putin also outlined a larger build-up of Russia's military. He told military graduates in Moscow that Russia had successfully tested the Sarmat intercontinental ballistic missile (ICBM) system which would be "on combat duty" by the end of 2022.
Branded "Satan-2" in the West, the Sarmat is thought to be one of the most powerful nuclear weapons at Russia's disposal.
In April, a successful test of the missile, which can carry nuclear warheads and decoys, raised fears of the war in Ukraine spilling over into a nuclear confrontation, a narrative pushed by Russian state television.
The Pentagon played down the significance of the missile test saying it had been notified by Moscow under the terms of the New START treaty, which was renewed in 2021.
However, the missile does raise security tensions, especially as panelists on Russia's Channel-1 have been discussing its use for strikes on western countries that support Ukraine.
On Tuesday, Putin also boasted that Russia's advanced anti-aircraft and anti-missile weapons are being delivered to his military.
The S-500 surface-to-air missile system, intended to replace the A-135 missile system currently in use, will become the basis of Russia's unified national air defense and missile defense system, news agency Tass reported.
Designed by arms manufacturer Almaz-Antey, the S-500 is believed to have a range of around 400 miles and can intercept targets traveling at hypersonic speeds, RT reported.
Putin said that the S-500 is part of a strategy to equip troops "with new weapons systems that will determine the combat efficiency of the army and navy in the coming years and decades."