A man is being treated for serious burns after he set himself alight in a street in St. Petersburg while carrying a sign which said "Happy Birthday Mr President," in an incident reported by Russian media as a protest.
Witnesses said the 71-year-old businessman set himself on fire outside the Gallery shopping center on Thursday and was heard screaming about the Russian president, who celebrated his 68th birthday that day.
The Megapolis news website reported that witnesses told of how the unnamed man started screaming "about President Putin's birthday and a gift" before setting himself alight on Ligovsky Prospect at around 5 p.m.
The action, the news outlet reported, was done "in protest," although it was not confirmed about what. Bystanders rushed to help extinguish the flames with clothing.
Video later showed a half-burnt sign and the man seriously injured, surrounded by police and pedestrians. The man, who according to the Fontanka.ru news website had operated a real estate firm for nearly 20 years, suffered first- and second-degree burns to nearly half of his body and had been placed under observation at a psychiatric institution.
A statement by the St. Petersburg branch of Russia's Ministry of Internal Affairs said: "A man born in 1949 made an attempt to set himself on fire. Police officers who promptly arrived at the scene handed the elderly man to doctors," AB News reported.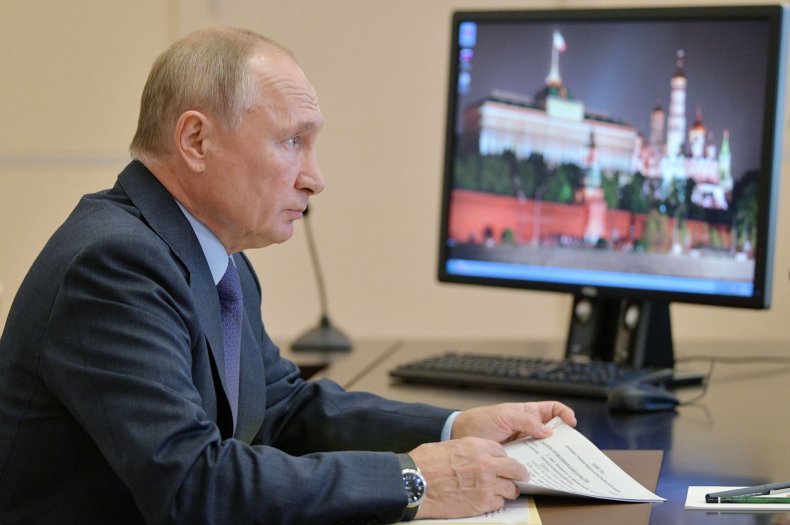 It was the second case of self-immolation in Russia within a week. Last week, journalist Irina Slavina died after setting herself alight in front of the police headquarters in the city of Nizhny Novgorod on October 2.
The day before, the apartment of Slavina, who was editor-and-chief of the online publication Koza.Press, which investigates politics and corruption, had been searched by the authorities. Before she set herself alight, she wrote on Facebook, "For my death, please blame the Russian Federation."
She faced pressure from the authorities over the past few years for her work, Meduza reported, and the independent Journalists' and Media Workers' Union has called for an investigation by Russia's federal-level police officials, investigators, and prosecutors.
"We are convinced that the reason for Irina's suicide was the continuous persecution and pressure on the journalist by government security structures," a statement by the union said.
Separately, Putin's birthday was also marked by a protest by the Pussy Riot art collective in which the group raised pride flags at five government buildings.
Activist Pyotr Verzilov, who is associated with the group, posted videos on social media of police arresting two women that he identified as activists Maria Alyokhina and Nika Nikulshina, Reuters reported.