One night in mid-March, Alan Malcher, a British military veteran, dropped into the Queen's Arms, a working-class pub in north London. He took a seat at the bar and ordered his customary pint of Foster's. Within a few minutes, a stranger sidled up, ordered a drink and started a conversation. He soon brought up Russian President Vladimir Putin and began saying positive things about the Moscow-backed separatist civil war in Ukraine.
"He was going on about Putin being a strong leader," Malcher recalls. "Somebody to admire." The stranger's comments, delivered with a thick Slavic accent, made Malcher's security antennae vibrate: He had recently joined a Washington, D.C.–based think tank involved in combatting Russia's stealthy infiltration of American social media. So when the stranger made passing reference to Malcher's army service, he felt a twinge of apprehension. "There's no way he could have known that except via LinkedIn," Malcher says, referencing the professional online networking site where he and other critics of Moscow had been active in international affairs discussion groups. An expert in information warfare, Malcher reasoned that the Kremlin had dispatched the stranger to the Queen's Arms with a message: We know everything about you. Watch your step.
Experts have increasingly called attention to Russia's use of covert "propaganda factories" to subvert democracy, flooding Twitter and Facebook with millions of computer-generated bots posting under false names (often unwittingly picked up and amplified by supporters of U.S. President Donald Trump). But its battle on LinkedIn to neutralize enemies has gone largely unnoticed. There, however, Newsweek has found that pro-Moscow forces have put constant pressure on the company to suspend or evict adversaries, many with long, distinguished careers in the U.S. military or its intelligence agencies. Not only has this muzzled credentialed critics and damaged professional reputations, but if Malcher's suspicions are right, the Kremlin's campaign to combat its adversaries on social media may have moved beyond cyberspace and into the streets.
Related: Russia's greatest weapon may be its hackers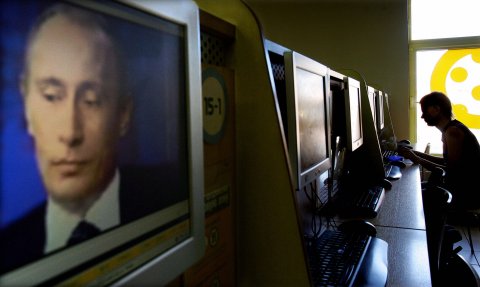 LinkedIn provides a rich hunting ground for Russian agents. Unlike Twitter and Facebook, most of its estimated 500 million, predominantly white-collar subscribers use it to advertise their expertise, seek employment or engage with peers in expert-based discussion groups. To bolster their credentials, most—even current and former U.S. national security officials—post detailed résumés and recommendations from their colleagues. That provides fodder for Russian intelligence to gather detailed information on its most formidable critics and cast doubt on the truth of those accomplishments.
"The Russian special services are for sure exploiting LinkedIn to gather personal information on certain targets and possibly recruit and blackmail them," says a close Kremlin watcher at a university in a former Soviet satellite state, asking for anonymity to protect himself. "They operate under fabricated identities and credentials, while the Russian propaganda and trolling campaigns are widely applied on the platform."
The pro-Moscow campaign has recently expanded—and, in some cases, gone offline—allege some American LinkedIn members who have been criticizing Russia's covert attacks on the West. A few days before Malcher was approached in a London pub in March, a former U.S. national security official who had been contesting Kremlin propaganda on LinkedIn says he was assaulted near his retirement home in France. "I was shopping at the local supermarket when I was stung on my lower-right thigh by something, probably with an umbrella," Giles Raymond DeMourot tells Newsweek. An hour later, he says, a doctor extracted bits of "what seemed like a wooden needle" from the wound. Lab tests determined it was "impregnated with carbapenem-resistant Pseudomonas aeruginosa," a potentially lethal "superbug," he says, and he's had to make several visits to his doctor for treatments. "I am still not out of the woods," he adds. (DeMourot supplied a hospital document confirming the wound was caused by "wooden splinters" and that "only an outside intervention [event] can explain the infection.")
He strongly suspects his assailant was connected to Russia. Still working as a defense and foreign policy consultant for private clients, DeMourot had been writing exposés of alleged Russian intelligence front groups and agents in France and Belgium "with names, places and dates" on LinkedIn. And he had been relentlessly singled out for rebutting Kremlin apologists about the seizure of Crimea and subversion of Ukraine. "At one stage," he says, "I received many…phone calls with death threats."
To DeMourot, the attack was a disquieting replay of a Cold War–era, Russian KGB assault on Georgi Markov, a Bulgarian dissident who died in 1978 after being injected with a poison pellet from an umbrella jab on a London street. Other critics have been attacked with poison too, notably an ex-KGB officer turned freelance investigator named Alexander Litvinenko, who died in London in 2006 after a Kremlin agent laced his tea with polonium.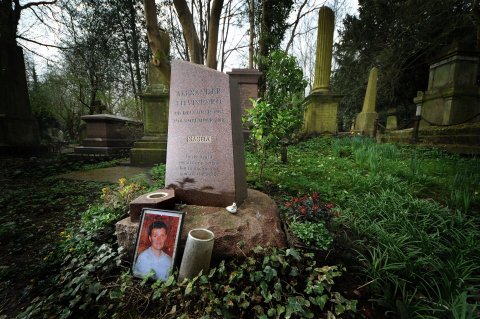 Paul Cobaugh, a former U.S. Army psychological warfare expert, says the accounts of DeMourot and Malcher sound right to him: "When I see influence operations, I know them." Cobaugh, who retired from the U.S. Special Operations Command in 2015, has also been harassed by Russian trolls on LinkedIn after posting comments critical of Moscow. (In August 2016, he wrote to Republican Representative Will Hurd of Texas, a former CIA officer, urging a congressional inquiry into "Russian abuse of…LinkedIn to achieve a national security advantage over the U.S.")
Cobaugh and other military and intelligence veterans and academics coalesced on LinkedIn in 2015 to combat dezinformatsiya, or disinformation, a branch of what Russian intelligence calls "active measures," the tactic of spreading false rumors that the Kremlin has employed since the 1917 Bolshevik Revolution. A century later, Moscow has recalibrated the technique for social media.
One of the battlegrounds was the International Relations Professional Discussions group on LinkedIn, founded and managed by DeMourot. There, foreign affairs specialists from academia and the government post mainstream media articles and commentary, frequently on the subject of Russia's so-called "hybrid warfare" tactics against NATO members and applicants. Soon, trolls arrived. "A group of about 40 of us from the West began exchanging notes," says Joel Harding, who retired from the U.S. Army's Intelligence and Security Command in 2003, "and we noticed a few of the profiles [on LinkedIn] were consistently not engaging us [in debate] but rallying the troops"—the defenders of Putin and the Russian invasion of Ukraine, critics of NATO, Trump-style European populists and the like.
A major target was Charles Leven, a highly decorated retired senior CIA operations officer with over 40 years' experience jousting with the Russian KGB and its successor spy agencies. Leven was the manager of several foreign policy and security-issues discussion groups on LinkedIn with a combined following of about 130,000 members. Commentary on pro-Kremlin propaganda sites like Russia Insider, a website founded in 2014 to combat "coverage of Russia [that is] biased and inaccurate," labeled him a "suspected pedophile" and pushed a long-discredited, KGB-generated story accusing him of embezzling funds from one of his Cold War–era Russian spies. On LinkedIn, Harding was also labeled a "pornographer" (a favorite meme used against Hillary Clinton and associates) following a lawsuit against him by a Malibu Media, a notorious Los Angeles company that lures browsers into clicking on links to X-rated movies then demands payment for "illegally" copying them. Harding settled out of court for $250, but the calumny was kept alive on pro-Moscow sites. Other Kremlin critics were repeatedly called a "bloody liar," "scum" and "whackos." A PBS documentary on Putin that Leven posted on LinkedIn was called the product of a "hardline meatpuppet propaganda machine." And so on.
To Leven, DeMourot, Harding and their comrades, such commentary was just another front in a larger Russian media campaign that veteran Kremlin-watcher Celestine Bohlen, now a columnist for the International New York Times, had called "breathtaking, even by Soviet standards." A key feature of the online effort was trolling, the tactic of injecting inflammatory, off-topic commentary into discussion groups and threads with the goal of defaming critics, provoking fights and chasing away thoughtful adversaries.
The verbal warfare peaked in the summer of 2016, as U.S. officials discovered Russian hackers breaking into voter rolls in California, Illinois and elsewhere. It also occurred around the time that the Moscow-backed hackers stole and promulgated embarrassing private emails from the Democratic National Committee and Clinton's campaign manager, John Podesta. Such activities were designed to help Donald Trump and "undermine public faith in the U.S. democratic process," an American intelligence report concluded in January.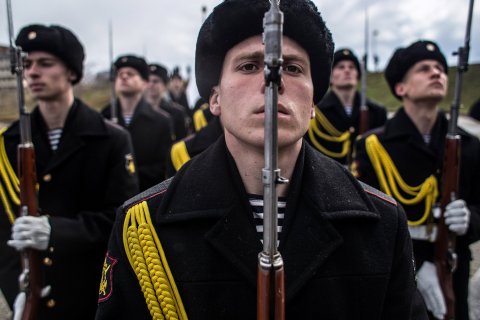 One of the most persistent critics of Leven and his cohorts was Yana Dianova, a top international law expert with ties to Roskomnadzor, the Russian internet regulator that censors opposition parties and foreign news reports critical of Moscow. A senior attorney in the Moscow office of Grata International, a firm based in Kazakhstan, Dianova has participated in two Roskomnadzor conferences, which are attended by senior security officials. In February, the firm drafted a paper for the agency putting a new series of internet censorship provisions in an uncritical light. She also is listed as an "expert' with the Moscow Center of International Business Assistance. The company offers clients advice on the Russian gas and oil sector, as well as guidance on real estate investing in Cyprus, an area of "primary concern" for money laundering, according to a 2014 U.S. State Department report.
Beyond her legal work, Dianova used LinkedIn and other media to insinuate that the bogus KGB embezzlement story about Leven had merit and suggested that Harding, the "porn addict," had done time in a "maximum correctional prison." She frequently employed a favorite Kremlin rhetorical tactic, "whataboutism"—responding to exposés of Moscow's interference in the 2016 elections with counter-narratives of U.S. support for pro-democracy groups in Russia. "Americans," she wrote on LinkedIn, "may vehemently claim that they are Russian propaganda fighters but [what] they actually do 24/7 here is quite similar to…CIA and other U.S. government social media trolls/disinformation programs."
She also leveled insults against her critics via LinkedIn and well-known Kremlin propaganda sites like the Russian International Affairs Council, a "soft power" arm of the Kremlin founded by former Russian President Dmitry Medvedev and chaired by Foreign Minister Sergey Lavrov. "In 2015 through 2016, Yana began making complaints" to LinkedIn management, says Harding, "calling us trolls, sending the screen shots in as evidence, getting a few of us temporarily restricted." In a June 27, 2016, LinkedIn post, she wrote that she had compiled a "list of at least a dozen" of her enemies, "with [their] background and contacts details, adding that "those whose job is to survey these activities are aware of them."
"Yana Dianova attacked me and my friends relentlessly on LI," says DeMourot. "The attacks were…accompanied with our photo.… Among the allegations was that I had been sent by CIA with Charles Leven to battle Russians on LI. [But] I was not a CIA employee and never met with Charles Leven. I know him only through the internet."
Dianova also "attacked a company I had set up in Paris" and later closed, DeMourot says. "She told LI my profile was a fake and that the company never existed." By raising unfounded questions about their backgrounds and credentials, DeMourot and the others complain, Dianova was "trolling," a violation of LinkedIn's user agreement. She vehemently rejected the sobriquet, but whatever her intent, her writings certainly set her critics aflame. One called her "Trollvana," another "a vicious attack dog." In one particularly nasty exchange, Harding called her a "pigsty pinup girl." LinkedIn, citing privacy rules, will not discuss individual cases.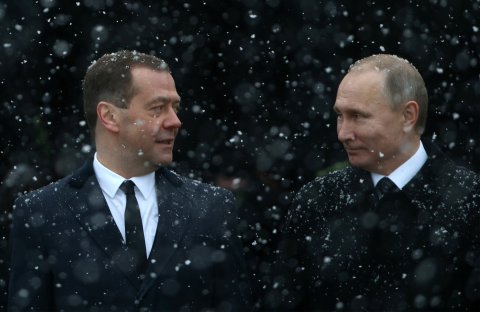 Dianova continued her attacks on Harding and company on Russia Insider. "If they have not been able respond with fact-based arguments, they will employ the lowest argumentative fallacies, including…ad hominem attacks," she wrote.
In a flurry of emails with Newsweek, Dianova offered to provide "a compilation" of "everything Charles Leven and his collaborators" have written about her—but only "in exchange" for Newsweek revealing its sources to her with screen shots of their comments. She promised she would "not disclose to anyone that you are the source of this information." Newsweek declined the offer.
In July 2016, LinkedIn suspended the accounts of DeMourot, Leven, his attorney James Berger and several others. A representative of LinkedIn's Department of Trust and Safety using the name "Scarlett" accused them of "repeatedly posting unwanted/inappropriate content, and using the platform to harass other members." (The red connotation provoked bitter cracks among the Americans.) The evictions were first reported a year ago by Kseniya Kirillova, an exiled Russian journalist in California who has received death threats and applied for political asylum. In an email to Newsweek, Dianova says the suspensions of Leven and Berger were "not due to my efforts."
Either way, such results can have professional repercussions beyond LinkedIn, many say. Berger's own expulsion from LinkedIn came up during a recent visit to another law firm, when an associate asked him why he had been banned. "It was unsettling," he says. "LinkedIn is a résumé-broadcast around the world. That's why their promise of professionalism is so important."
DeMourot, who has a Juris Doctor degree, regained his account only after sending a copy of his passport to LinkedIn to prove he was who he said he was. But others in the International Relations discussion group remain banned, including Leven and his attorney Berger, who received permanent membership bans without explanation. Both remain furious about it. "He and I both lost our LinkedIn memberships without possibility of appeal," Berger says. "That's the big deal."
Outside of LinkedIn, the attacks on Leven and the others were echoed on other Russian propaganda sites. Dianova "repeatedly defamed my professional ethics, reputation and loyalty to the country for which I've risked my life," Leven says through his attorney. He complains that she virtually labeled him "a thief" by publicizing the "long-ago-debunked allegation" that he had stolen money from one of his Russian spies. "Both U.S. and Russian intelligence officials agreed the story was a fabrication," Leven points out, citing authoritative books and a magazine article on the affair.