Russian President Vladimir Putin has made no plans to contact his incoming counterpart in the United States, where the Kremlin has expressed concern over political unrest surrounding the inauguration of President-elect Joe Biden.
Asked whether the Russian leader planned to call Biden, Kremlin spokesperson Dmitry Peskov told reporters Tuesday, "Not yet."
Peskov then shared his concerns over ongoing issues in the U.S. on the eve of an anxiously-awaited transition of power marred by accusations of a fraudulent election and deadly violence in Washington.
"You know that they have problems in the United States, so, of course, they are addressing their domestic issues," Peskov said, according to TASS, the state-run Russian News Agency.
He said Putin had no current plans to bid farewell to outgoing President Donald Trump either. "No, no contacts are planned yet."
Peskov said that such plans "may surface, but so far there are no planned contacts on the president's schedule."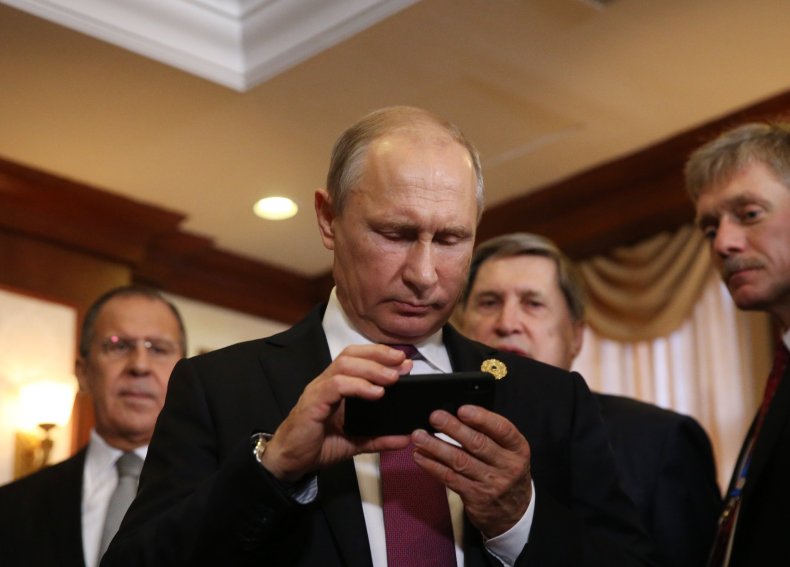 The relationship between Putin and Trump was largely seen as warm, though their two nations diverged on a number of high-profile issues of international concern. Biden, on the other hand, has had far cooler ties with a man he has accused of colluding with Trump in an attempt to influence the 2016 presidential election in the soon-to-be-former president's favor.
Though the circumstances of the two contests were far different, Moscow's contrasting reactions to Trump and Biden's respective victories have been the subject of analysis regarding Putin's outlook toward the two men.
Putin almost immediately congratulated Trump in November 2016, writing and then calling him to express his wish for a reset in deteriorating U.S.-Russia ties left behind by former President Barack Obama, whom Biden served as vice president at the time. Trump received a congratulatory call from the Russian leader just over a week after Inauguration Day 2017.
They would go on to correspond, call, meet or otherwise communicate on numerous occasions.
Biden, however, did not receive his congratulatory message from Putin until more than a month after the election. The official reasoning lies in Trump's dispute over the results, which he said had been artificially skewed in favor of his opponent. Putin sent his message on Dec. 15, a day after the U.S. electoral college certified Biden's win despite Trump's ongoing complaints, none of which have been validated.
Trump maintains grievances about his electoral defeat, but has since acknowledged his commitment to leaving office after a severe backlash over a pro-Trump protest that stormed the U.S. Capitol Building, resulting in clashes with security forces that left at least five people dead. Trump had rallied supporters to the area, calling on them to challenge the ratification by Congress of the Biden victory.
The dramatic event caught international attention, including from Moscow, where the speaker of the country's lower house of parliament called U.S. legal backlash against demonstrators hypocritical as compared to Washington's traditional foreign policy lines.
"Those who participated in unauthorized political actions everywhere were anointed by Washington as fighters for freedom and democracy," Russian State Duma speaker Vyacheslav Volodin told lawmakers on Tuesday, according to Tass. "When the same thing happened in the United States itself, they labeled these people as domestic terrorists who face 15-20 years in prison."
He then took his criticism to another level.
"These will be real political prisoners," he added. "Let's call a spade a spade."
The U.S. has long supported political upheaval, sometimes violent, in other countries, including Russia, where an attempted 1991 coup signaled the final months of the Soviet Union. Volodin highlighted U.S. backing for uprisings "in Europe, the post-Soviet space, the Middle East, Asia, Africa, and Latin America."
"Washington will have to admit that either this is a policy of double standards or they have people who have suffered for their political views," Volodin stated, arguing it was clear that the country "which lectures the whole world about the standards of democracy," has invalidated its own democratic ideology.
The remarks came a day after it was announced Russian opposition activist and politician Alexei Navalny would be held for 30 days following his detainment Sunday upon returning to Moscow from five months of recovering in Germany from an alleged poisoning blamed on the Russian government.
Both the Trump administration and Biden's transition team have been critical of Russia's treatment of Navalny.
"The United States strongly condemns Russia's decision to arrest Aleksey Navalny," Secretary of State Mike Pompeo said in a statement Sunday. "We note with grave concern that his detention is the latest in a series of attempts to silence Navalny and other opposition figures and independent voices who are critical of Russian authorities."
The top U.S. diplomat lectured Moscow on allowing civil liberties.
"Confident political leaders do not fear competing voices, nor commit violence against or wrongfully detain political opponents," Pompeo said. "The Russian people, like people everywhere, deserve a government that supports an open marketplace of ideas, transparent and accountable governance, an independent judiciary, and the ability to exercise their basic human rights of speech and assembly without fear of retribution."
He called on the Russian government "to provide a level playing field for all political parties and candidates seeking to compete in the electoral process." Pompeo added: "Aleksey Navalny is not the problem. We demand his immediate and unconditional release."
In a rare sign of congruence among rivals, Biden's national security adviser hopeful Jake Sullivan issued a similar message of criticism.
"Mr. Navalny should be immediately released, and the perpetrators of the outrageous attack on his life must be held accountable," Sullivan tweeted Sunday. "The Kremlin's attacks on Mr. Navalny are not just a violation of human rights, but an affront to the Russian people who want their voices heard."