Wagner Group convoys have entered a region south of the Russian capital, hours after the mercenaries' leader, Yevgeny Prigozhin, said they had captured military sites in Rostov-on-Don and would march on Moscow.
The Lipetsk governor said that the group had entered the region which is only 250 miles south of the Russian capital. It follows reports that Wagner troops were in Voronezh, a city midway between Rostov and Moscow.
Jay Truesdale, former U.S. diplomat who has served in Ukraine and Russia, told Newsweek that Wagner is capable of continuing its advance, especially given Russian military commitments in its full-scale invasion of Ukraine.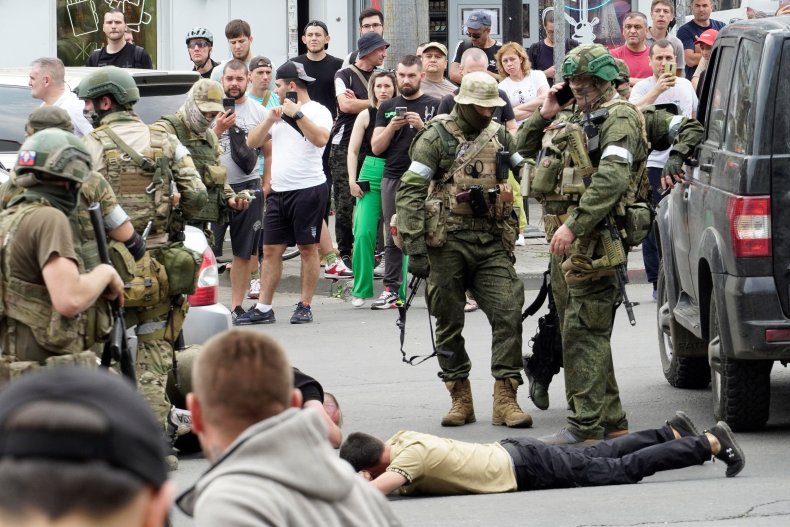 "The best military units are deployed in Ukraine, and Putin has relatively limited conventional and special operations forces to deploy for the purposes of a civil conflict," Truesdale, CEO of Veracity Worldwide, a geopolitical risk consultancy.
"He will rely on internal security services, which appear to be less capable than battle-hardened and committed Wagner troops.
"The threat from Wagner will be difficult to counter quickly, especially if Prigozhin can maintain command and control over the 25,000 troops—many of which are ex-prisoners that he claims are loyal to him.
"It's not inconceivable that Wagner will get all the way to the edge of Moscow, where it would confront defensive positions now being set up," he added.
BBC News has reported evacuations of public buildings across Moscow as the Wagner rebels advance and Russian soldiers have reportedly set up a machine gun positions on the edge of the city, according to the newspaper Vedemosti.
Earlier, Russian President Vladimir Putin described the rebellion by the mercenaries as a "stab in the back" and vowed "decisive action" would be taken during a televised address on Saturday. It comes a day after Prigozhin declared war on the Russian Ministry of Defense, accusing the Russian military of attacking Wagner positions in Ukraine.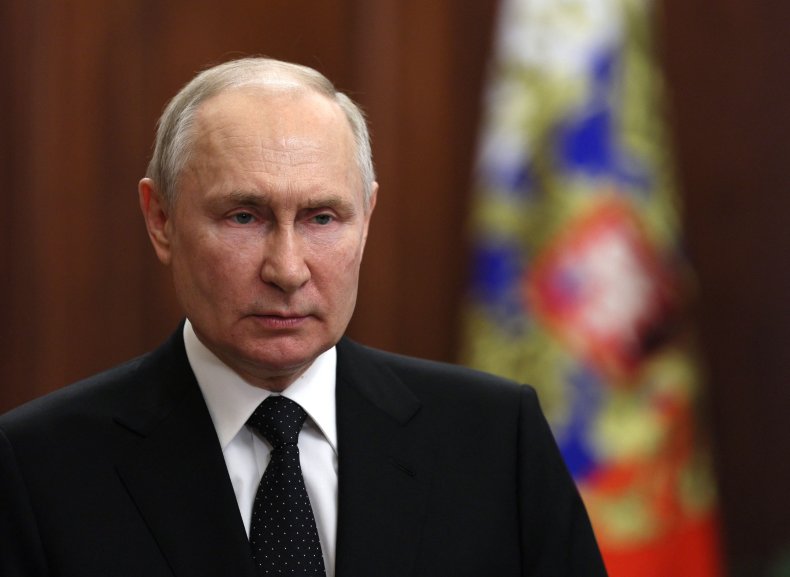 In an operation Prigozhin described as a "march for freedom", Wagner Group forces had crossed from occupied Ukraine into Russia in at least two locations.
British defense officials said Wagner is holding key security sites, including the headquarters which runs Russia's military operations in Ukraine.
"Those who have organized an armed rebellion will be held accountable," Putin said, without mentioning Wagner or Prigozhin by name, "those who have been drawn into this, I call on you to stop your criminal actions."
Putin said that the troops "who went on the path of treason will be punished and will be held accountable," adding, "the armed forces have been given the necessary orders."
"Personal interests have led to the betrayal of our country and the cause that our armed forces are fighting," added Putin.
Describing the rebellion, Putin referred to the year of the Russian Revolution. "It was such a blow that [was] dealt to Russia in 1917, when the country was waging World War I," he said.
He said that then, there was the "tragedy of the civil war" after the revolution in which "Russians killed Russians" and "political opportunists and foreign forces...divided the country."
"The one who organized and prepared the military rebellion, who raised arms against his comrades-in-arms, betrayed Russia," Putin said, "and they will answer for it."
After Putin's address, the Wagner Telegram channel said, "Putin made the wrong choice. All the worse for him. Soon we will have a new president."
The U.K. Ministry of Defense (MOD) said on Saturday that the loyalty of Russia's security forces, in particular the Russian National Guard, will be crucial to how the crisis plays out. "This represents the most significant challenge to the Russian state in recent times," the MOD said in its update.
Konstantin Sonin, a Russian-born political economist from the University of Chicago tweeted "one thing to watch what other Russian politicians say," noting how 10 hours into the rebellion, the "total disappearance" of Prime Minister, Mikhail Mishustin, Moscow's Mayor Sergei Sobyanin, "and other Putin's underlings is a bad sign for Putin."
Newsweek has contacted the Kremlin for comment.
Update 06/24/2023, 13:05 p.m. ET: This article has been updated with further information and comment from Jay Truesdale.