Increasing Number of Russians Willing to Protest Putin Regime as Trust in Leader Drops to New Low: Poll
Russians are becoming increasingly willing to protest as trust in Vladimir Putin declines while the nation battles one of the largest coronavirus outbreaks in the world.
Of 1,623 adults living in Russia asked between May 22 and 24, 28 percent said they would be willing to take to the streets over living standards, up from 24 percent who said they would in a similar poll in February.
In fresh surveys from the Levada Polling Agency, people in the nation were also questioned over their trust in politicians. Asked to rank which public figures they trusted most in an open ended survey question, 25 percent put Putin top.
Though this still made him the most trusted politician, the number placing him as the most trusted dropped three percent from April. It was also less than half of the figure which rated him so when the polling began in 2017. In November 2017, 59 percent of respondent placed him as number one.
In a press release, reported by The Moscow Times, Levada said: "The slow but continuous decline in the approval of Vladimir Putin's activities is recorded regardless of the survey methodology or how the questions are worded."
Among the respondents, 16 percent answered that they did not trust anyone. The polls were conducted over telephone, with adults aged 18 and over. They have a margin of error of plus or minus 2.4 percent.
Newsweek has contacted the Russian government for comment.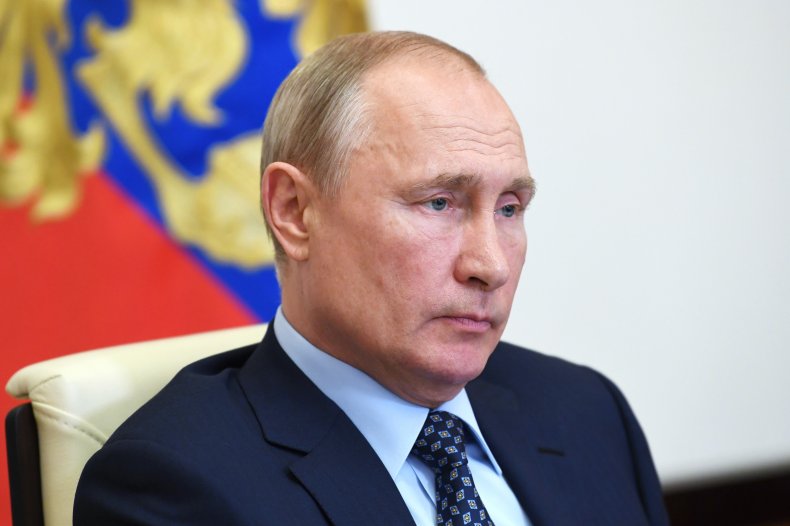 The drop in trust reflects similar polling conducted previously, when in April more than 70 percent asked in a poll by Public Opinion Research Center did not name Putin when asked: "Whom do you trust and whom would you not trust in solving important state issues?"
Just more than a quarter, 28.3 percent, responded Putin when asked that question. This showed a drop of 2 percent from when people were asked the same question by the state-funded polling organization in January.
The Levada poll comes as Russia suffers the third highest number of coronavirus cases of any nation in the world, according to Johns Hopkins University figures.
According to its data, Russia has seen more than 414,000 confirmed cases, placing it behind only Brazil and the United States. However, it ranks lower among countries for deaths, with 4,855 reported in the Johns Hopkins figures.
The numbers add that more than 175,000 infected with coronavirus have recovered.
Putin has faced questions over the nation's response to coronavirus and, as previously reported by Newsweek, medical workers in Russia have been angered by insufficient protections and promises of bonus payments which have then not happened.
The graphic below, from Statista, shows the countries which have suffered the highest numbers of confirmed cases as of May 29.