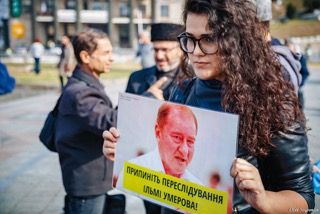 Last summer, a Crimean Tatar activist named Ilmi Umerov was receiving treatment for high blood pressure in a hospital in Simferopol when officers from Russia's FSB security agency hauled him off to a psychiatric facility. They said they wanted to evaluate him.
Umerov, a former deputy chairman of the Mejlis, the Crimean Tatar representative body, had been a vocal critic of Moscow's annexation of the peninsula. In May 2016, the FSB charged him with criminal separatism after he declared: "We must force Russia to withdraw from Crimea."
At the psychiatric facility, Umerov alleges a doctor quickly let him know he would be punished, not treated. "You just need to admit that you're wrong, and everybody will stop bothering you," Umerov said the doctor told him, in an interview with Euromaidan Press. "Simple as that."
When the activist would not make a deal, FSB officers detained him at the facility. During his time there, according to his lawyers, Umerov was kept in an overcrowded room with severely mentally ill patients, denied access to his heart and diabetes medications and forced to go long stretches of time without food. According to his daughter, Ayshe Umerova, neither she nor the lawyers were allowed to see her father when he was hospitalized. (The hospital staff and the FSB declined to comment on the matter.)
The facility released Umerov three weeks later, but he remained subject to prosecution. His trial is ongoing, and he faces a five-year sentence for his "public calls to action aimed at violating Russia's territorial dignity," according to the allegations.
Related: How Russia took Crimea without a fight from Ukraine
Human rights activists say Umerov's case is a troubling sign that punitive psychiatry has re-emerged in the former Soviet Union. The practice was reportedly developed by former KGB Chairman Yuri Andropov and during the 1960s widely used to punish religious and political dissidents, including well-known writers and artists. Victims would be released only after retracting ideas the authorities deemed dangerous to Kremlin rule.
Discarded after the collapse of the Communist system, punitive psychiatry began to reappear again at the turn of the millennium in Russia under President Vladimir Putin, as well as in other post-Soviet states, critics say. A recent report by Federation Global Initiative on Psychiatry, an NGO that monitors human rights in psychiatry in the former Soviet Union, has recorded more than 30 cases from 2012 through April 2017 in which human rights activists and journalists have been illegally detained in psychiatric institutions for up to 10 years. Analysts believe the real number of cases is considerably higher.
"Psychiatry is now part of a frequent procedure in criminal trials where there is no concrete evidence to substantiate the charges," says Yuri Savenko, the head of the Independent Psychiatric Association of Russia. "It is more economical [than gathering evidence] in terms of the effort and time to acquire a psychiatric evaluation."
Not everyone agrees. In a 2015 interview with the Russian newspaper Novye Izvestiia, for instance, psychiatrist Mikhail Vinogradov said punitive psychiatry is a "fairy tale" and that the majority of diagnoses have proved correct.
Human rights groups claim otherwise, saying Russian authorities have forced both adults and teenagers to submit to this practice. In May 2016, 16-year-old Gleb Astafyev was confined to a psychiatric institution for 15 days after a protest in Kurgan, a city some 1,200 miles east of Moscow. He had been demonstrating in support of the dissident performance artist Pyotr Pavlensky, who had spent a month in a mental hospital earlier that year.
Astafyev says his hospital stay included five days in the special ward for mentally ill patients, some of whom yelled and pounded their fists at night. "Every morning, we were given pills to take, but I managed to spit them out," he says. "I don't know what the medication was—it seemed to turn people into vegetables." (The authorities in Kurgan declined to comment.)
And then there was activist Alexei Moroshkin, who was forced to spend 18 months in a psychiatric clinic in Chelyabinsk, some 1,100 miles east of Moscow, until his release this June. Moroshkin was arrested in 2015 for promoting separatism on social media. He was reportedly given high doses of tranquilizers. (The authorities in Chelyabinsk declined to comment.)
"There is every reason to believe that Russia resorted to punitive psychiatry to incarcerate Moroshkin for no more than his civic position," says Halya Coynash, a member of the Kharkiv Human Rights Group.
In Russia and other ex-Soviet states, there's a social stigma surrounding mental health problems. So, as in Soviet times, putting activists in psychiatric facilities sends a warning to other their fellow dissidents and tacitly undermines their credibility. "The mentally ill," says Savenko "are perceived by the Russian public as dangerous, incurable, useless and harmful."
Punitive psychiatry has returned to Central Asia too. The most prominent recent case, human rights groups say, involves Jamshid Karimov, an Uzbek journalist and a strident critic of the late President Islam Karimov, who was also his uncle. (Uzbek authorities did not respond to inquiries about the case in time for publication.)
In 2006, Jamshid Karimov disappeared while visiting his mother in the provincial city Jizzakh. It was later discovered that officials arrested him and forcibly placed him in a psychiatric hospital in Samarkand, 60 miles from Jizzakh. Although initially ordered by a criminal court to undergo six months of treatment, Karimov was in fact not released until late 2011—only to be readmitted for another five years shortly thereafter. Karimov attributes his ultimate release, this past March, to his uncle's death in 2016. "I was kept in a dark room with bars on the windows and forced to take psychotropic drugs," he says. "There was always a guard watching me during visits from my family."
Despite these punitive measures, dissidents and others say the use of psychiatry to silence them hasn't worked. As Umerov, the Crimean Tatar, puts it, being institutionalized "has not weakened my resolve."
A version of this article first appeared in EurasiaNet.org, an independent news organization focused on social, political and economic developments in Eurasia