Russia is preparing for an offensive in Ukraine, Kyiv has warned, as it stepped up calls for an increase in weapon supplies from Western countries.
Oleskiy Danylov, secretary of Ukraine's National Security and Defense Council, told Ukrainian television on Monday that Kyiv expected Moscow's troops "to attempt to make a so-called final push," which could take place on the invasion's anniversary on February 24, or in March.
"We must prepare for such events every day, and we are preparing," Danylov said, according to Reuters. "The first and last question is always about weapons, aid to help us defeat this aggressor that invaded our country," he added.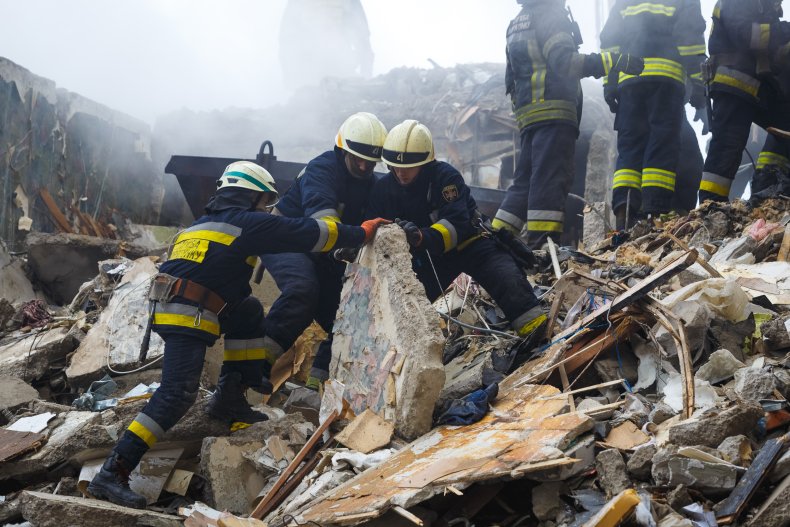 The call for more weapons follows Saturday's strike on an apartment block in the southern-central city of Dnipro, where Ukrainian officials said on Monday the body of a child had been found in the rubble, taking the death toll to 41. Ukraine's emergency services said 25 people remain missing. Moscow has denied responsibility.
In his nightly address, Ukrainian President Volodymr Zelensky said that the strike showed that Moscow was "preparing new attempts to seize the initiative in the war" and that the military action at the front "requires new decisions on arms supplies."
This "underscores how important it is to coordinate all the efforts of the coalition defending Ukraine and freedom." He praised the U.K. for its supply of British Army Challenger 2 tanks. "A new package of defense assistance has been announced - exactly what we need," he said, "tanks, other armored vehicles, artillery.
Ramstein summit
How to further arm Kyiv against Russian aggression will be the focus for Kyiv's allies during the Ukraine Defense Contact Group meeting at Ramstein Air Base, Germany, on Friday, hosted by U.S. Secretary of Defense Lloyd Austin.
Rafael Loss, the European Council on Foreign Relations (ECFR) coordinator for pan-European data projects, said that Friday's meeting has emerged as "a culminating point for the decision to supply Ukraine with a Western-produced heavy tank."
"Only a European coalition can bring to bear a large enough number of tanks because national stocks have dwindled since the end of the cold war," he told Newsweek in emailed comments.
Ukraine has been pushing for Leopard 2 tanks, which are more survivable than the T-72 when struck, a crucial factor amid dwindling experienced tank crews and commanders on both sides.
Berlin, which holds the export license for the German-made main battle tanks, has been reluctant to commit to sending the vehicles.
Loss said that the Leopard 2s, combined with infantry fighting vehicles such as the German-made Marder and U.S.-produced Bradleys, along with artillery and air support and air-defense assets, can help Kyiv liberate Russian-occupied territories.
"With reports of the Kremlin preparing new mobilizations, Ukraine's international supporters must act fast," Loss said.
"Any decision to supply Ukraine with Leopard 2 tanks on Friday should come with an industrial strategy to scale up production for spare parts, ammunitions, new vehicles, and other weapon systems to sustain and upgrade Ukraine's defense capabilities," Loss said.