Russia Reacts to Mueller Report News: We Told You So
Moscow has responded to the end of a nearly two-year U.S. investigation that found no evidence of collusion between President Donald Trump and the Russian government.
Kremlin spokesperson Dmitry Peskov told journalists Monday that, based on what's been made available about the findings submitted by special counsel Robert Mueller, his report "acknowledges the lack of any sort of conspiracy" between Trump's 2016 presidential campaign and Moscow. That same day, the Russian Foreign Ministry issued its own reaction, stating that "the main conclusion—that there was no collusion between D. Trump's campaign headquarters and Russia—simply could not be otherwise."
As the report noted, however, U.S. intelligence determined that Russian officials were involved in efforts to influence the 2016 elections. Last year, the special counsel charged 25 Russians, as well as three Russian entities, in two separate indictments for conspiring to defraud the U.S. by interfering in the election and hacking Democratic organizations.
The Russian Foreign Ministry once again denied these allegations, arguing that "Moscow has long been offering Washington a professional way of discussing possible complaints regarding the impact on electoral processes."
"Hopefully, in time, Washington will build up enough courage and officially recognize that there was not only any 'collusion,' but that all the insinuations about 'Russian intervention' were a groundless slander invented for use in the domestic political struggle of the United States. Then, probably, in this story will be nevertheless put an end," the ministry wrote.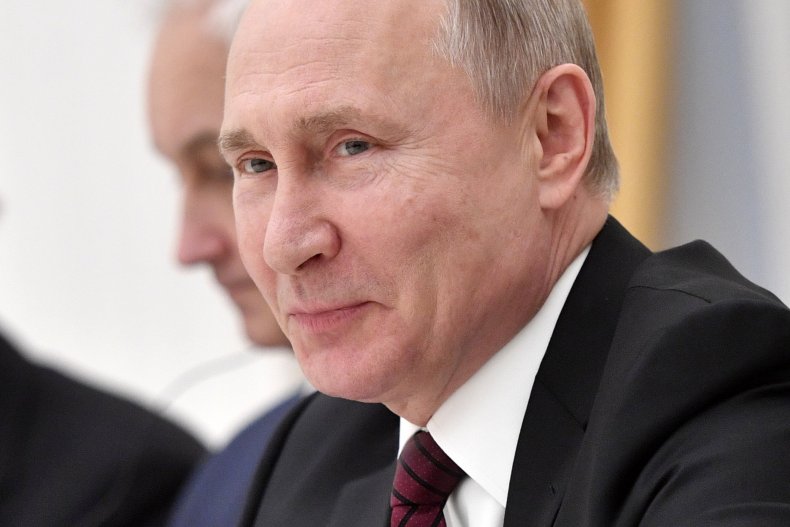 Attorney General William Barr released a four-page summary Sunday describing Mueller's report, which "did not find that the Trump campaign, or anyone associated with it, conspired or coordinated with the Russian government in these efforts, despite multiple offers from Russian-affiliated individuals to assist the Trump campaign." Mueller did not reach a conclusion as to whether or not the president was guilty of obstruction of justice—noting "while this report does not conclude that the President committed a crime, it also does not exonerate him"—though Barr found the evidence "not sufficient" for charges.
The report's assertion of deliberate Russian interference was ignored by Russian officials, who argued that they—and Trump—had been validated in their skepticism of what was seen by critics as a politically charged effort to take down Trump. Russian President Vladimir Putin often supported Trump and used the same language as him, with both the White House and Kremlin calling the move a "witch hunt."
Russian Senator Konstantin Kosachev, who heads the foreign affairs committee in Moscow's upper house of parliament, said Monday on Facebook that "the outcome of the Mueller report has now dealt Trump's team a full hand of trump cards." The politician said the outcome "was what was known in Russia from the beginning" and that Trump's "chances for re-election starting from yesterday seem to be much stronger."
"The results of the Mueller investigation are a disgrace for the United States and its political elite," Russian Senator Alexei Pushkov tweeted Monday, later mocking MSNBC host Rachel Maddow for frequently discussing the investigation on her show. "It has been confirmed that all these allegations were fabricated. The media played a shameful role in stoking this campaign based on lies."
Russian Senator Frants Klintsevich told local news site Economy Today that Trump's innocence would be inevitable, remarking that "the most influential country in the world declares the triumph of law on its territory, although the charges against the Russian Federation, and against Trump, have nothing to do with the law, they don't have any proof—two years of lies and provocations."
Despite their mutual satisfaction with Mueller's results, there were few signs that tension between the administrations of Trump and Putin would abate anytime soon. In a readout released Monday, the Russian Foreign Ministry made no mention of the investigation or its findings in describing a call between Russian Foreign Minister Sergei Lavrov and Secretary of State Mike Pompeo. Instead, it focused on their rival views on Syria, Ukraine and Venezuela.
"Having noted the fundamental differences in the positions of Russia and the United States, the heads of the foreign affairs agencies agreed to continue contacts and the exchange of assessments on the aforementioned and other issues of international life, as well as on problematic aspects of bilateral relations," the statement read.
Washington has hit Moscow with sanctions over its election interference, involvement in Syria and Ukraine, and poisoning of a former Russian spy in the United Kingdom, and relations between the two have continued to deteriorate under the Trump administration, which has stepped away from international agreements such as the Iran nuclear deal and Intermediate-Range Nuclear Forces Treaty.