Was Russian TV Reporter Raped on Ukraine Front Line? What We Know
Ukrainian media have reported allegations that forces linked to the Chechen president Ramzan Kadyrov attacked two employees of Russian state TV network NTV working from a city occupied by Moscow. NTV has denied the claims.
The allegations were widely circulated on social media including Twitter, where one of the alleged assailants was named as Kadyrov's nephew, Hasan Ibrahimov.
The Ukrainian Telegram channel Ishi Svaekh posted on January 30 what it said was a statement that NTV sent to Russia's Investigative Committee on January 21 about the alleged attack. Next to the post, the Telegram channel accused Russian authorities of trying to cover up the story which had been "banned from being covered in the news so as not to 'discredit the army.'"
Newsweek has contacted NTV and Russia's Defense Ministry for comment.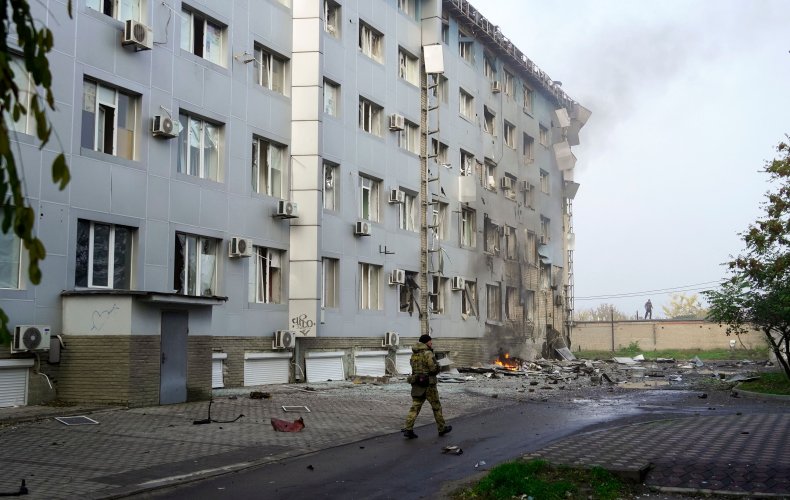 The allegations have been reported by other Ukrainian media outlets which named the alleged victims, though Newsweek is not identifying them. Kavkaz Realii, which is affiliated with U.S. government-funded news organization Radio Free Europe, also reported the claims.
They stem from a document, the authenticity of which is unconfirmed, that said a male and a female working for NTV, were in Ukraine's southern Zaporizhzhia region on assignment on January 17.
At the restaurant of a hotel where they were staying in Melitopol, a southeastern Ukrainian city that remains under Russian occupation, the employees were approached by a group of people in camouflage uniforms.
The group introduced themselves as "fighters of the Akhmat battalion," according to the unverified document. They then allegedly attacked the NTV employees.
The male suffered moderate injuries and was treated at the hospital. The female employee was subjected to "violent acts of a sexual nature," the document said.
On January 30, NTV, one of the three main Russian state channels, rejected the claims in a statement on its Telegram channel which said, "we officially declare this to be nonsense."
However, Kavkaz Realii said NTV had claimed its initial statement had said that the employees were not even in Melitopol and had been instead in Yekaterinburg, which is located in Russia. This part was apparently edited out by NTV, according to Kavkaz Realii, which said it had screengrabs of the initial post to back this up. Still according to the Radio Free Europe affiliate, one of the alleged victims' latest report was dated January 30 and was about the eastern Donbas region, in Ukraine.
Akhmat is a Chechen paramilitary formation serving with the Russian armed forces in Ukraine. It is suspected of involvement in violence against, and killings of, civilians.
Kadyrov has tried to take a prominent role in the war in Ukraine, mocking Russian commanders and Moscow's military failures.
His fighters are known as "Kadyrovtsy" or "Kadyrovites" and human rights activists have said many Chechen soldiers were recruited against their will. Before the war, they were accused by rights groups of extrajudicial killings, kidnappings and torture.