Russia Reports 652 COVID Deaths, Highest Total in Pandemic
Russia reported 652 new COVID-19 deaths on Tuesday, the highest daily total the country has reported during the pandemic, the Associated Press reported.
A new surge of infections took over the country, registering over 20,000 new coronavirus cases and around 600 deaths every day since last Thursday. On Tuesday, 20,616 new cases were recorded.
The surge is blamed on the population's lax attitude in regards to taking precautions against infection, rules on social distancing and low vaccination rates. Even though Russia was one of the first countries to announce and deploy its coronavirus vaccine, only 14 percent of the population have received at least one shot.
Overall, Russia has reported nearly 5.5 million confirmed COVID-19 cases and 134,545 deaths.
For more reporting from the Associated Press, see below.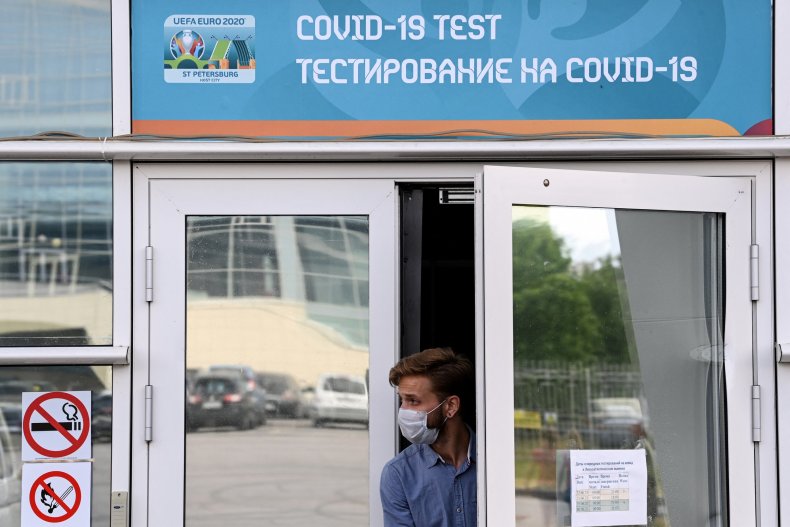 Dutch Health Organization Tells Government to Make Vaccine Available to Teens
A Dutch health organization is advising the government to make the Pfizer COVID-19 vaccine available to all children age 12-17.
The Health Council of the Netherlands says vaccinating teens would reduce school closures and help rein in the COVID-19 pandemic. The council is an independent panel that advises the government on public health issues.
Health Minister Hugo de Jonge is expected to announce a decision Wednesday on vaccinating that age group.
Sri Lanka Announces Travel ban
Sri Lanka announced a 13-day travel ban on passengers from six Gulf countries.
The Civil Aviation Authority of Sri Lanka says passengers with a travel history in the past 14 days to Qatar, United Arab Emirates, Saudi Arabia, Oman, Bahrain, and Kuwait won't be permitted to disembark in Sri Lanka starting Thursday. The restriction will continue until July 13.
Authorities have said they were concerned about the surge of coronavirus-infected passengers who had arrived from that region.
The announcement on travel ban came a week after Sri Lanka ended a 30-day lockdown. But public gatherings are still banned and schools, religious places, bars, hotels and gyms remain closed. Sri Lanka has seen a sharp increase of positive cases and deaths since April because of the celebrations and shopping by the people during the traditional new year festival.
The total number of confirmed cases has reached 253,618 and 2,944 deaths.
Hungary Donating Vaccines
Hungary will donate half a million COVID-19 vaccines to other countries in Central and Southeast Europe as its vaccination drive slows and supplies pile up.
An early vaccination leader in the European Union, Hungary has struggled in recent weeks to use up its available stocks of vaccines. With 67 percent of its adult population having received at least a first dose, until recently Hungary had the second-highest vaccination rate in the 27-member EU.
But other European countries like Belgium and Finland have since caught up as most Hungarians who want a vaccine have already received one. While a daily average of 60,000 first-dose shots were being given in mid-May, on Tuesday that number was scarcely over 9,000.
Speaking to reporters in Poland on Monday, Foreign Minister Peter Szijjarto said that Hungary would provide Bosnia and Montenegro with 200,000 doses each of the Chinese-manufactured Sinopharm vaccine, noting that the jab has been approved for emergency use in both countries.
"The more protected our neighbors are, the safer Hungary will be from a health perspective," Szijjarto said.
The foreign minister said on Sunday that Hungary would donate 100,000 doses of an unspecified vaccine to the Czech Republic, since "there is plenty of vaccine available so the Hungarian government can help those who are less well off."
Hungary — the only EU country to approve the Sinopharm vaccine — purchased 5 million doses of the jab, contributing to the early surge in its vaccination program.
But according to figures from the European Centre for Disease Prevention and Control, more than 3.1 million of the country's Sinopharm doses remain unused.