Russia Will 'Respond' to 'New Threats' Created by Trump's Space Militarization, Russian Army Official Warns
A leading Russian Army general warned that his country will "respond" as the United States, under President Donald Trump's leadership, takes steps to militarize outer space.
"The Pentagon has lately stated repeatedly that they intend to use space for their military purposes. For this, a new type of forces is formed—space forces, which creates a pretext for militarizing space," Russian Armed Forces and First Deputy Defense Minister Army General Valery Gerasimov said this weekend, Russia's Tass news agency reported.
"All these actions may lead to an escalation of the military-political situation and emergence of new threats, to which Russia will have to respond with reciprocal and asymmetrical measures," he warned.
The Trump administration is asking Congress to grant the Pentagon $2 billion over the next five years to launch the Space Force, following a February directive by the president. Last June, Trump announced he was pushing the initiative forward. Leading scientists raised concerns. Laura Grego, a senior scientist with Union of Concerned Scientists, warned that the move could "increase the likelihood of conflict."
Gerasimov pointed out that the U.S. has withdrawn from historic missile treaties, citing the 2002 withdrawal from the Anti-Ballistic Missile Treaty as well as the Trump administration's recent decision to pull out of the Intermediate-Range Nuclear Forces (INF) Treaty. He also said there was talk of ending the New Strategic Arms Reduction Treaty (New START).
At the start of February, Trump's Secretary of State Mike Pompeo announced that the U.S. would withdraw from the 1987 INF Treaty, signed by former President Ronald Reagan and Soviet Union leader Mikhail Gorbachev. The U.S. has accused Russia of violating the agreement's terms, but Moscow has pushed back, accusing Washington of disregarding the treaty. Under the deal, ground-launched nuclear and conventional missiles with ranges from 310 miles to 3,417 miles were banned. With the agreement's collapse, fears of a new arms race have been raised.
"We cannot be the only country in the world unilaterally bound by this treaty, or any other," Trump said following Pompeo's announcement. "We will move forward with developing our own military response options and will work with NATO and our other allies and partners to deny Russia any military advantage from its unlawful conduct."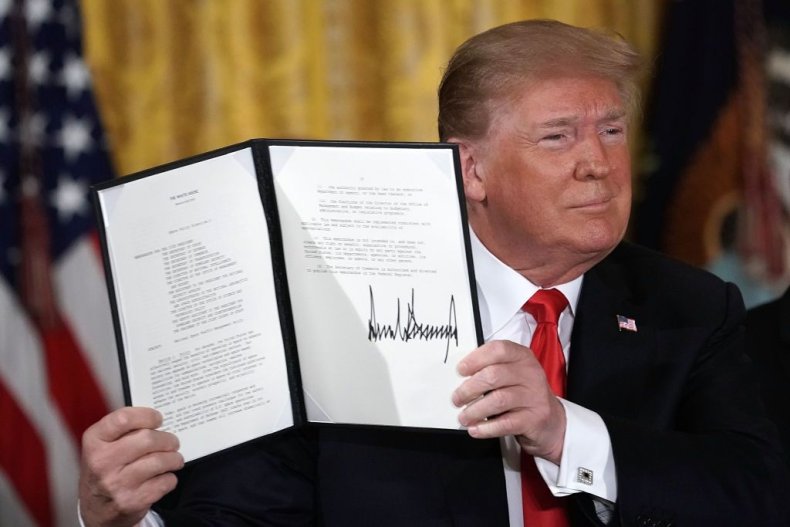 Later in February, Russian President Vladimir Putin said that his nation's missiles could be turned on U.S. "decision-making centers" if Washington were to deploy more missiles throughout Europe.
"We don't want confrontation, particularly with such a global power as the U.S.," Putin said. "I'm saying this clearly and openly. Russia will be forced to deploy weapons that can be used…against the decision-making centers that are behind the missile systems which threaten us."
Pyotr Tolstoy, deputy speaker of the Russian State Duma (lower house of parliament), warned that the end of the INF Treaty represented a significant threat.
"Our American colleagues are confident they defeated everything and everyone in the Cold War and can continue to impose their will on European countries like they did before, and so they have decided to leave the treaty," Tolstoy said. "I would like to point out that this move will make life more dangerous for people in every European country."