Russia 'Running Out of Steam,' 'Growing Desperate' in Ukraine War: Experts
Officials in the United Kingdom said Friday that Russia is "running out of steam" and "growing desperate," arguing that the "illegal invasion" of the country has "backfired on the Kremlin."
In a text-based video posted on Twitter, the U.K's Ministry of Defence stated that tens of thousands of Russian troops have been killed or wounded since the invasion began in late February, and that Russia is "resorting to hiring convicts and recruiting from Russia's poorest areas" in order to find more soldiers.
The ministry adds that "several thousand of Russia's front line armoured vehicles have been destroyed," and that the nation has been "forced into a greater reliance on old Soviet-era equipment, such as personnel carriers offering limited protection, and tanks last produced in 1973."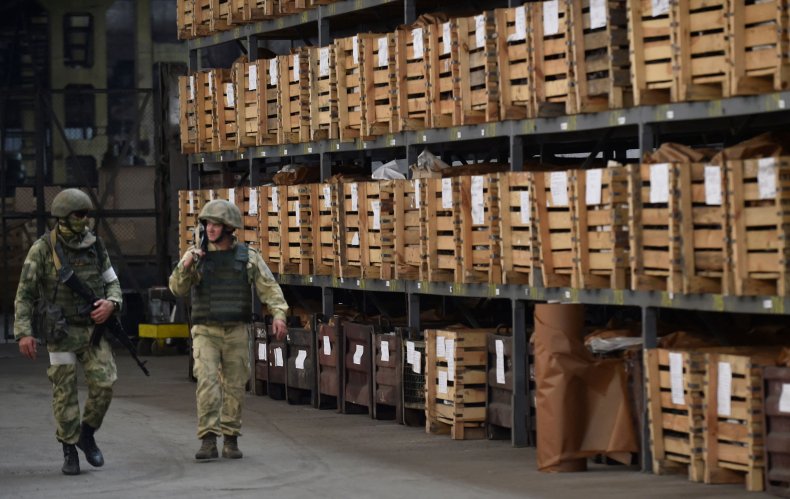 "Its campaign is grinding, incredibly inefficient and leaves huge destruction in its wake," the ministry continued, adding that the Kremlin is increasingly using "older, less-precise missiles for strikes, killing and injuring innocent people."
"These outdated tactics are a sign of Russia's desperation amid its equipment shortages and tactical deficiencies," the ministry said. "Putin's war is built on lies. Russia will not win this conflict."
Richard Moore, the chief of the U.K.'s secret intelligence service, MI6, tweeted out the video on Saturday, and wrote: "Running out of steam..."
Newsweek has reached out to the Russian Foreign Ministry for comment.
Earlier this week, the U.K's Ministry of Defence said that Russia's attempts to target Ukraine's anti-ship capabilities in the Black Sea are being hampered by its poor intelligence. The ministry added that Russian officials will continue "to prioritize efforts to degrade and destroy Ukraine's anti-ship capability," but that its ability to do so is "likely routinely undermined by dated intelligence, poor planning, and a top-down approach to operations."
Also this month, the British ministry said Russia's military is being held back by poor vehicles and military equipment.
"The ageing vehicles, weapons, and Soviet-era tactics used by Russian forces do not lend themselves to quickly regaining or building momentum unless used in overwhelming mass–which Russia is currently unable to bring to bear," the ministry wrote in an intelligence update on Twitter.
The ministry also said that as Russia was assembling reinforcements near Ukraine this month, it was placing soldiers in "ad hoc groupings," and equipping them with poor equipment.
"Despite President Putin's claim on 07 July 2022 that the Russian military 'has not even started' its efforts in Ukraine, many of its reinforcements are ad hoc groupings deploying with obsolete or inappropriate equipment," the ministry said in a statement.