Russia Shows Off 'Invincible' Weapons in Huge Victory Day Military Parade in Moscow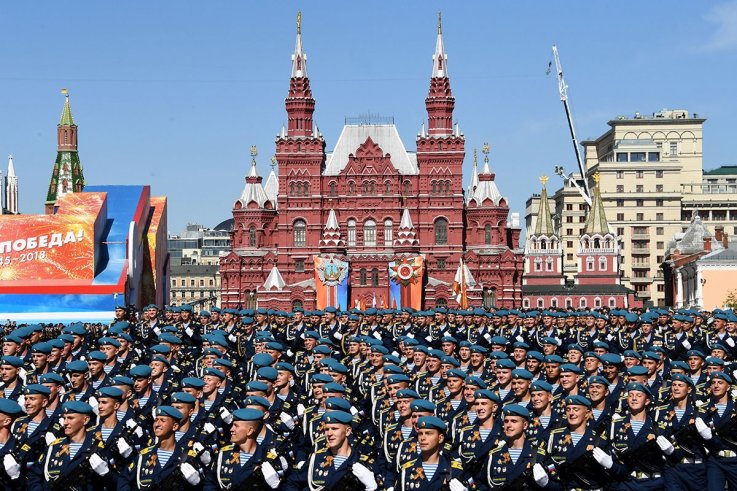 Russia has mounted an impressive display of military strength on Moscow's Red Square in scenes reminiscent of the huge parades held during the Cold War. President Vladimir Putin watched as advanced jets carrying a hypersonic missile he has touted as "invincible" screamed overhead.
Part of an annual event marking the Soviet Union's World War II victory over the Nazis, Putin looked on as thousands of troops marched past him and columns of tanks rumbled across the famous square.
Putin reviewed the parade from a tribune packed with Soviet war veterans, some of whom wore rows of campaign medals and clutched red roses. Israeli Prime Minister Benjamin Netanyahu, in Moscow for talks on Syria, was also present, as was Serbian President Aleksandar Vucic. Hollywood actor Steven Seagal, who was given a passport by Putin in 2016, was also a guest.
Weapons displayed on Red Square included the Yars mobile intercontinental nuclear missile launcher, the Iskander-M ballistic missile launchers, and the advanced S-400 air defense missile system, which Moscow has deployed in Syria to protect its forces.
The first public outing of the Kinjal (Dagger) hypersonic missile, carried by advanced MiG-31K interceptor jets, was one of several world premieres for Russian weapons. Putin disclosed the Kinjal's existence in March along with other missile systems he touted as unbeatable, describing how it could evade any enemy defenses. Russian media have said it can hit targets up to 1,250 miles distant with nuclear or conventional warheads.
Russia's most advanced fifth generation Su-57 stealth fighter, which has undergone testing in Syria, also took part in the parade for the first time, as did an unmanned armored reconnaissance and infantry support vehicle, the Uran-9. Armed with a 30mm automatic cannon, a machine gun, anti-tank missiles and a rocket launcher, it looks like something out of a Hollywood science fiction film.
An unmanned de-mining vehicle, the Uran-6, was also put on show, as were Russia's latest military drones and an armored vehicle designed to support tanks on the battlefield dubbed "The Terminator" by its maker. An advanced Russian military snowmobile fitted with a machine gun, the Berkut, built to bolster Moscow's Arctic ambitions, also traversed the cobbled square.
The Moscow parade was one of many which took place across Russia involving a total of 55,000 troops, 1,200 weapons systems and 150 war planes in 28 Russian cities.
— Reuters.