Russia Is Sabotaging NATO's Expansion by Undermining Historic Diplomatic Deal, Greek Officials Say
Greece's Foreign Minister Nikos Kotzias has accused Russia of attempting to sabotage a historic diplomatic agreement with Macedonia in order to stop the expansion of the North Atlantic Treaty Organization (NATO) into Eastern Europe.
"Russia must realize that it cannot disrespect the national interests of another state because it feels it is stronger," Kotzias told reporters in a series of interviews over the weekend. "Greece has decided to send a message to the east and the west, towards all its friends and others, that regardless of who is violating the principles of national sovereignty and respect toward us, measures will be taken."
The statement was made shortly after Athens announced that it will expel several Russian diplomats for their alleged interference in the country's foreign policy. Greece accused the Russian officials of attempting to stir up opposition to a historic agreement reached with its tiny neighbor the Former Yugoslav Republic of Macedonia.
For decades, Macedonia was unable to join NATO or the European Union because of a longstanding dispute with Greece over what the country's name should be. In mid-June, the two countries agreed that Macedonia's official name will be the Republic of Northern Macedonia.
The agreement must still be ratified by the Greek and Macedonian parliaments. But the historic accord is expected to pave the way for Macedonia to join both NATO and the EU in the near future. NATO invited Skopje to join the alliance just days after the initial agreement with Greece was signed.
Russia has long been opposed to NATO's expansion, particularly in parts of Eastern Europe that it considers part of its sphere of influence. Moscow, for example, was reportedly unhappy when Macedonia's neighbors Albania and Montenegro joined NATO in 2009 and 2017, respectively. The Kremlin allegedly attempted to stage a coup in Montenegro in 2016 to prevent the country from joining the Western military alliance.
Many analysts have warned that Russia will attempt to incite nationalist sentiments in both Greece and Macedonia in order to derail the name agreement and prevent Skopje from joining NATO. Most recently, reports alleged that a Russian businessman based in Greece had been funding Macedonian politicians and opposition figures who oppose the name deal.
"Russia has been seeking to stop NATO expansion for years, this was clear already in Montenegro…The expulsion of Russian diplomats and the Greek response is a good sign. First, it signals the seriousness of the government's commitment," Florian Bieber, a Balkans scholar at the University of Graz in Austria, told Newsweek.
"Second, support in both countries is limited for the [name] agreement following years of nationalist rhetoric. The support of Russia for opponents [of the deal] highlights that these supposed patriots are ok to let their cause be used and abused by Russia for its own agenda…This discredits their own nationalist claims. Thus, while Russia might continue to thwart Macedonia's NATO membership, its role might inadvertently strengthen those who support the compromise and NATO accession," Bieber added.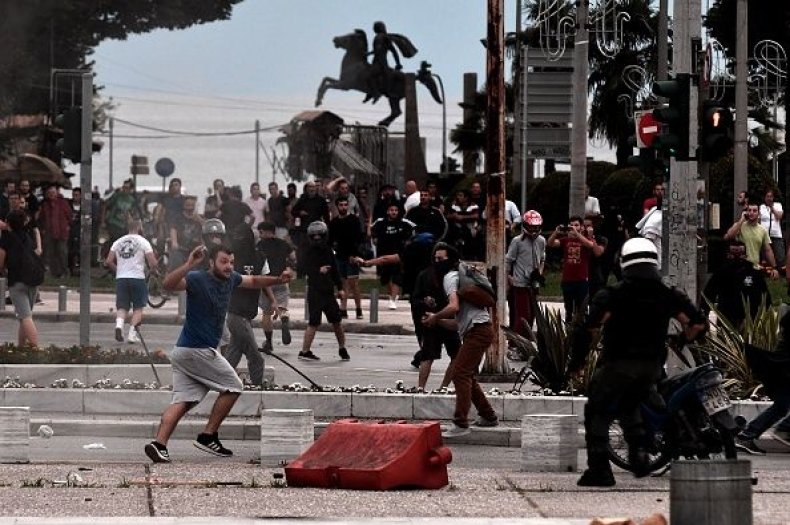 Greece's left-wing Syriza government has previously been accused of being too close to Moscow, but experts say the name agreement is more important to Athens than its relationship with Russia.
"Greece has been a friend of Russia's but the name deal with Macedonia is [a] top priority for [Greek Prime Minister Alexis] Tsipras," Balkans analyst Dimitar Bechev told Newsweek. "Moscow's actions come at a cost. Russia has no great stake in the issue, it just wants to undercut NATO and EU enlargement."
Russia's government reportedly summoned the Greek ambassador over the weekend to express its displeasure with the Greek government's statements and decision to expel Russian diplomats. Russia denies that it has been funding protesters and opposition leaders who oppose the name deal.
Last week, Russian Foreign Ministry spokeswoman Maria Zakharova accused Greece of "dirty provocations" and pledged that Moscow would respond to the expulsion of its diplomats.