Moscow's Sheremetyevo International Airport, the largest airport in Russia, has announced a furlough of 20 percent of its staff along with a freeze on future hiring as international travel from the airport has plummeted due to sanctions levied against Russia over the invasion of Ukraine.
The United States and Europe have closed airspace to Russian flights, prompting the country to also close its airspace for American and European flights, which has slashed the number of people traveling through the Moscow airport, Reuters reported.
The airport said in a Telegram post on Monday that the furloughs began March 16, and that affected employees would be paid two-thirds of their normal wages. It had previously announced through Telegram the closure of two of its five terminals and one runway because of the "restrictions on international air transport."
Sheremetyevo is the airport where WNBA star Brittney Griner was detained last month by Russian authorities.
"We especially note that personnel consulting has been organized for employees, interaction has been built with employers in Moscow and the Moscow Region in related and other industries to assist employees in further employment if necessary," an English translation of the Telegram post read.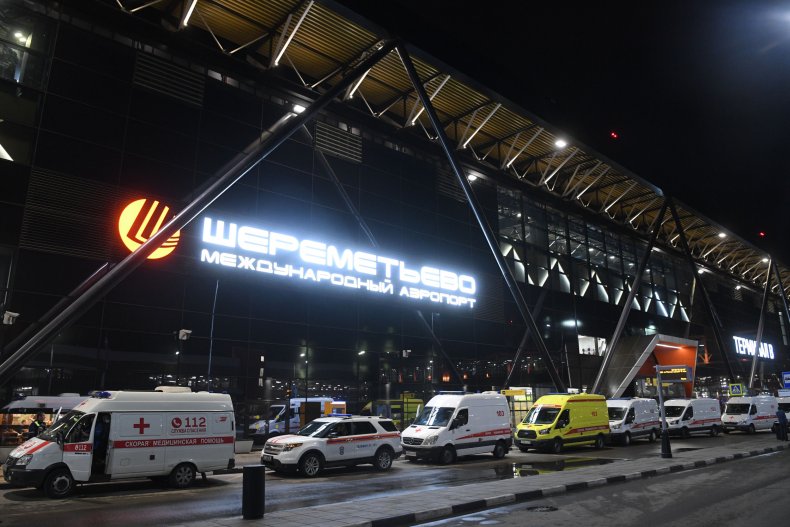 The translated post also stated that the airport has seen a "practically 70 [percent] reduction" in the "production load" of the airport.
Aviation 24, a Belgian news outlet, reported earlier Monday that the airport had furloughed up to 40 percent of its staff, which Sheremetyevo disputed as "false information" in its Telegram post, stating that the correct number was 20 percent.
Sheremetyevo is the largest airport in Russia in terms of passenger and freight traffic, according to the airport's website. Sheremetyevo saw nearly 50 million passengers in 2019, the last full year before the pandemic began and halted significant amounts of international and domestic travel.
Earlier this month, Russian airline Aeroflot said it was halting international flights everywhere except Belarus due to "circumstances that hinder operating flights," citing concerns from Russia's federal aviation agency that foreign-leased planes may be seized by Western governments because of sanctions.
The Russian invasion of Ukraine has had a dramatic effect on the nation's economy as hundreds of companies from around the world have faced significant public pressure to withdraw their businesses from Russia. While many companies like Starbucks and Coca-Cola have already left, others like Burger King and Marriott have faced criticism for either their refusal or inability to do so because they may not have the legal ability to close the properties, Newsweek previously reported.
On Monday, the Biden administration said that American companies should encrypt data or take other measures to protect information because of the possibility of a Russian cyberattack as retaliation for American sanctions.
Update 03/21/22, 5:38 p.m. ET: This story was updated with additional information and background.
Update 03/21/22, 4:52 p.m. ET: This story was updated with additional information.