Russia Blocks 'Saw'-inspired Website That Reports LGBT People, Encourages Them to Be Hunted Down and Tortured
A Russian website that encourages viewers to expose and hunt down LGBTQ people has been taken offline—but activists warn it could easily return.
With its branding stolen from the horror movie franchise "Saw," the website has reportedly been hosting the personal details of homosexuals since last year, campaigners say. It has promoted an event called "Chechnya's Comeback"—urging readers to find and attack gay people.
The website—titled Saw—was referencing the purge spearheaded by Chechnya's authorities in 2017, in which men suspected of being gay were brutally targeted. Some victims returned home on the cusp of death, while others were "disappeared," Human Rights Watch says.
When it emerged, the website was designed for users to upload images and information about gay people, including their addresses. It would then profit from the sale of data.
LGBTQ activists in Russia have said the admins charged members the equivalent of $3 to search for the personal data of people suspected of being gay. If a person found their details had been uploaded to the database they were forced to pay about $25 for their name's removal.
More recently, the website's activities appeared to escalate by publishing the private details of top LGBTQ campaigners and journalists, according to reporting by Gay Star News.
Some of those named on the Saw website reportedly received death threats. The outlet said one victim was Misha Tumasov, who runs the Russian LGBT Network, noting he was repeatedly singled out on the website. Tumasov has temporarily left the country.
It was Russian LGBT Network which first highlighted the Saw website had gone offline, confirming the outage Wednesday. Still, it was not clear how long it would remain down. "This resource has been blocked before. Let's try to make sure that it never opens again!" the post read.
It is not clear how many physical attacks are directly linked to the website's anti-gay stance. When it emerged last year, Gay Star News reported at least three men were assaulted after it surfaced. The news outlet posted an image purporting to show one of the first victims.
Pink News reported in April last year similar hunts had taken place on the social media network VKontakte— the country's version of Facebook. The outlet reported an image of one victim of the so-called game had been posted to the Saw website, showing the person in hospital.
Russian LGBT Network said it is unknown how many attacks have been caused by the site's threatening updates and noted attempts to locate the admins have failed. It stated: "We think it was created with one sole purpose—to bully the LGBTQ community and incite hatred."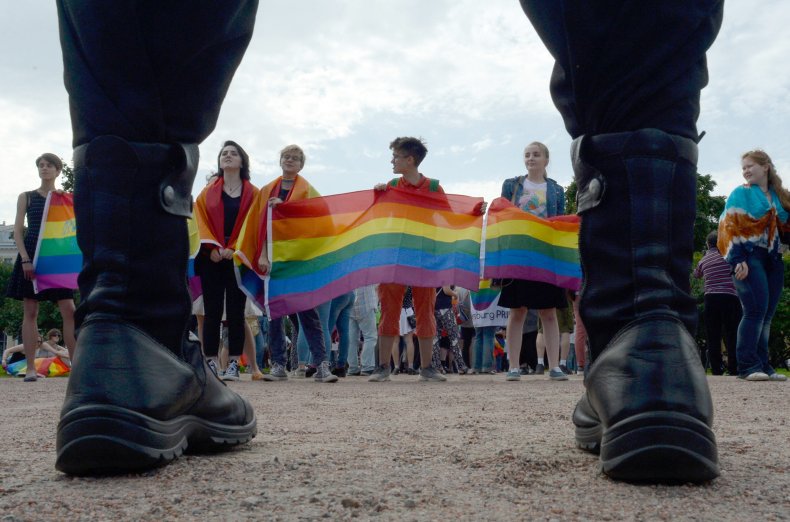 Tumasov told Gay Star News at the time: "I've never seen anything like this. The killing and torturing of gay people, they call it a game… I'm sure it will spread quickly."
He added: "What is frightening to us [is] that this has structure, it has a system. It's the first time we have seen an organised approach to homophobic violence, it's very dangerous."
Campaigners and activists say a Russian "gay propaganda" law, introduced by president Vladimir Putin in 2013, has left the LGBTQ community living in fear. The legislation bans the "promotion of non-traditional sexual relations to minors" and has been used to take websites offline and stop LGBT groups from working with youths and teenagers, according to Human Rights Watch.
The Russian LGBT Network is now calling on anyone who is concerned about the Saw website to report it to authorities, including the FSB and Prosecutor General's Office.
"Despite the media attention, law enforcement agencies have still not done anything to find the creators of this 'game' and bring them to justice," the group's July 17 blog post stated.