Russia Says Americans 'Did Not Listen to What Their President Said' at Trump-Putin Summit
Russia has responded to the recent controversy surrounding President Donald Trump's statements and subsequent clarification after his first bilateral summit with Russian President Vladimir Putin.
Moscow's Ambassador to Washington Anatoly Antonov explained Wednesday the Russian government's position following the U.S.-Russia summit Monday in Helsinki and the ensuing media fallout.
"It seems that some of them (U.S. politicians and journalists) simply did not listen to what their president said as the president defended national interests. Even now, speaking to you, I am afraid to say anything positive about the American president, because when American journalists or politicians read my interview, they will say that Russia is again interfering in internal affairs and providing assistance to Donald Trump, that's all confirmed. See what happens?" Antonov told reporters, according to Russia's state-run RIA Novosti.
In a joint press conference following his meeting with Putin, Trump appeared to dismiss U.S. intelligence community reports accusing Moscow of an alleged plot to influence the 2016 presidential election. The president claimed the following day that he meant the exact opposite of what he said at the summit, but reiterated his support for working closely with Putin.
Trump has long denied accusations that he sought or received help from the Kremlin in defeating his Democratic opponent Hillary Clinton in 2016, and conclusive evidence of his direct involvement not yet surfaced. Last year, Trump seemed to accept reports from U.S. spy agencies signaling Russia's interference in the presidential election. During their summit on Monday, however, Trump appeared to back Putin's denial of Russian interference.
"All I can do is ask the question. My people came to me, Dan Coates came to me and some others, they said they think it's Russia. I have President Putin; he just said it's not Russia," Trump told reporters. "I will say this: I don't see any reason why it would be. But I really do want to see the server."
Related: Will War in Syria End? U.S. Allies Prepare to Rebuild Ties to Assad After Trump's Talk with Putin
After calling on intelligence agencies to focus instead on the alleged disappearance of tens of thousands of emails on a private server used by Hillary Clinton during her tenure as secretary of state, Trump added that "I have great confidence in my intelligence people, but President Putin was extremely strong and powerful in his denial today."
The remarks were met with outrage by a number of prominent people in the media, the intelligence community and politics. Others, however, such as libertarian Republican Senator Rand Paul defended Trump. Republican Senator John McCain of Arizona, who chided Trump's performance in Helsinki, has previously accused Paul of "working for Vladimir Putin" over his rejection of mainstream U.S. national security goals.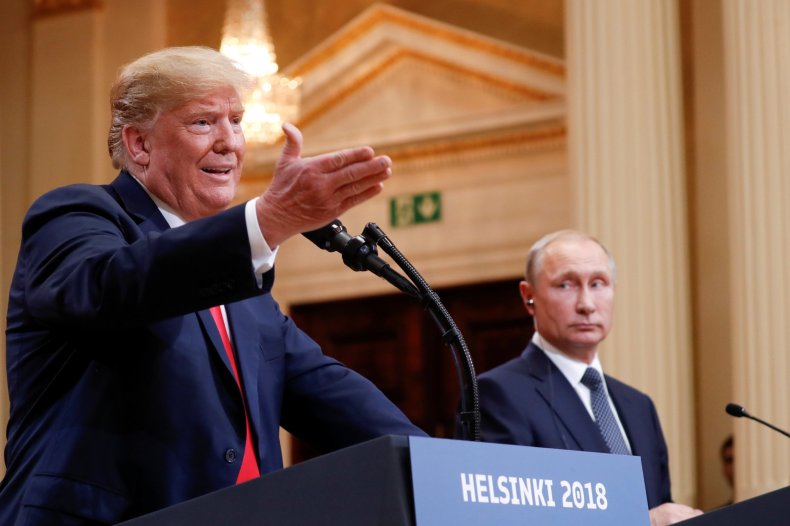 While diverging on many top issues, both Democrats and Republicans have largely resisted Trump's effort to mend U.S.-Russia ties, which deteriorated under President Barack Obama. Under Obama, the U.S. helped to expand the NATO Western military alliance in response to Russia's 2014 annexation of Crimea amid Ukraine's political uprising. Relations further deteriorated when the Obama administration accused Putin of working with Trump to undermine Clinton.
Trump has for years publicly expressed admiration for Putin and upon taking office in early 2017, said he supported a closer relationship between the world's top two military powers. In a tweet posted Wednesday, Trump wrote, "Some people HATE the fact that I got along well with President Putin of Russia. They would rather go to war than see this. It's called Trump Derangement Syndrome!"